The Thai Tims story is one that has inspired many people in the Celtic family. Yet it has done more; it has brought people to the Celtic family. Here Blaž Močnik, a football journalist from Slovakia, tells the story of Natasia Kenda, one of those people…
There are literary millions of stories of how one becomes a Celtic supporter and every one of them is at least a bit special. For instance, you can't be bothered with football, you haven't even heard about Celtic FC, but you can still become a fan.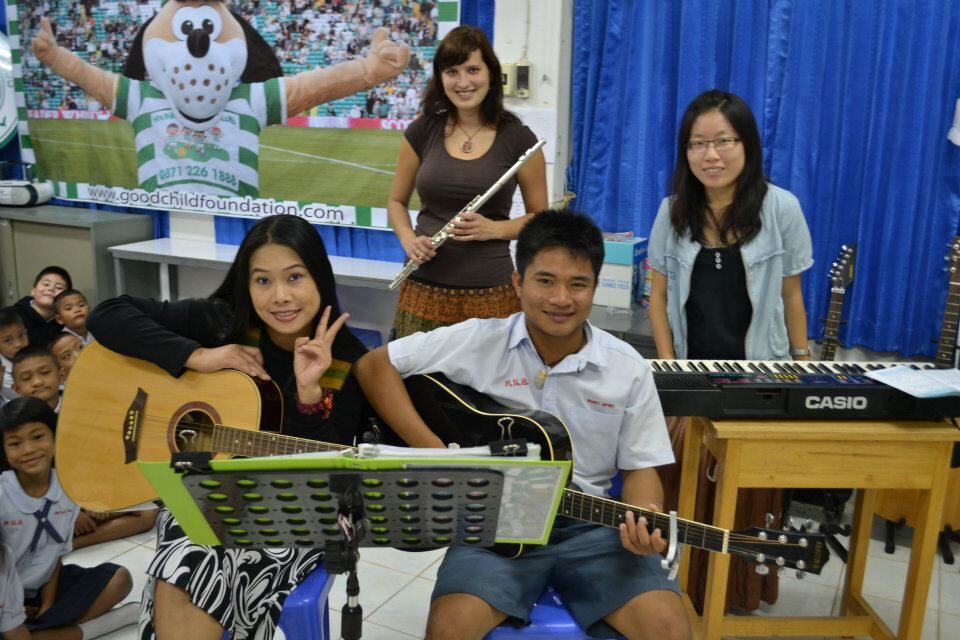 You might be "just" a voluntary worker who goes to Thailand – like Natasa Kenda from Slovenia. A while ago my girlfriend mentioned that she gave a lift to a girl who will go and teach at "that school where that Scottish boy who was murdered taught.
"I couldn't believe how small the world can be. Not only was that girl from Slovenia, she was also from my wee town. I just had to meet Natasa, of course. I suspected that she might have heard about Celtic by that time, but that was just about it. Being a student of Special Education she found her way to Ireland where she spent seven months as a worker at Caring and Sharing Association (CASA) in Malahide. Towards the end of her time there she began to search for new goals and adventures. While Googling she came across Good Child Foundation and obviously the sad story of Reamonn Gormley.
"I wanted to know everything about that school so I found a lot of articles and clips about Reamonn. What a tragedy! So I applied and very much to my joy I got picked up" she said.
You can well imagine how the story moved on. You can find Natasa on YouTube singing with the Thai Tims. She probably wore a Celtic top more often than most of us lately.
"You could feel Celtic every day. The kids loved to sing Celtic songs. I have to learn a few more myself. The green and white gets under your skin.
"I was never really into football, but in the future I will be more than excited to hear of a Celtic victory. Right the other day I heard that Joe Ledley scored and I thought to myself – I know him.
"But what I find fascinating about Celtic is all the charity that is involved with the club and the connection of the fans. I wore Celtic shirt with pride because now I know that in reality the club is much more than just football."
Her three-month experience in Thailand is behind her now. As far as I know the farewell was quite emotional: "The school is just a perfect place for voluntary work in between all the kind people and most wonderful kids on the planet. I was sad to leave. But maybe just maybe it was a bit easier because I will see some of the kids again."
And many of you out there just might bump into her outside Celtic Park. You may have recognised her when she was playing a flute with the Thai Tims when they sang at Celtic Park a few season back.
—————————————————————-
We now have only 12 SIGNED copies of Caesar & The Assassin remaining and expect these to be gone over this weekend. We will not be getting any more so this is your last chance to get a SIGNED copy, which is available at a discounted price. You can order direct from CQN by clicking HERE or by clicking on the photograph below. You can also check out all our other great Celtic books and DVDs – including the new 4 IN A ROAR DVD using this link. All earlier orders have been send so should be arriving round about now. Enjoy! 
Click Here for Comments >