CQN this morning will attempt to explain how the idea of a club separate from an operator only appeared after the 5 Way Agreement. A few months ago two CQNers met with Neil Doncaster in his offices at Hampden. This meeting happened weeks before the Supreme Court's judgment established once and for all that Rangers cheated.
Doncaster was asked what the SPFL would do in the event that BDO were unsuccessful in their appeal to the Supreme Court. The Chief Executive of the SPFL outlined pretty much exactly what was released in their statement last week.
Their minds were closed in advance. They were prepared for the judgment in favour of HMRC and had a pre-prepared position. He also confirmed that they would not look at the Wee Tax Case, stating, incorrectly, that this had been dealt with by Lord Nimmo Smith.
This was reported on CQN at the time and a detailed note of what the Chief Executive of the SPFL said was given to both Celtic FC and also to the Res12 guys.
Doncaster also used his flip-chart to explain to these two Celtic supporters why the supporters of Celtic and every other club in Scotland were mistaken in believing that Rangers were a new club, ignoring completely the position these supporters outlined previously in a newspaper advertisement before Celtic's first ever match against the new club.
To these two Celtic supporters, it felt like Doncaster was performing a trial run for what was to follow when the Supreme Court issued its judgment.
His same club logic hit the rails when after he had concluded his same club presentation he was asked to explain why Sevco could not fulfill the friendly match against Kelty Hearts which was cancelled two days before the 5 Way Agreement was signed because Sevco 'were not yet a football club' according to their Head of Security.
Doncaster could not explain this. He had never considered it, indeed he seemed to be completely unaware of the match against the small Fife club that was cancelled.
His entire presentation hit the rocks as his logic went out of the Hampden boardroom window.
The Celtic blogger James Forrest is planning to write further about this Kelty Hearts testimonial match which was a complete sell-out. CQN wrote about it earlier this year and you should take the time to read this article, which is titled THE CURIOUS CASE OF THE CANCELLED KELTY HEARTS TESTIMONIAL AND WHY IT BLOWS OPEN THE RANGERS CONTINUITY MYTH HERE.
The following article examines how the same club myth happened and how UEFA deal with the concept in a way that secures the integrity of their competition and addresses the moral hazard the 5 Way Agreement has introduced to Scottish Football. Please read it and please share this article as widely as possible.
The 5 Way Agreement happened two days after the Kelty Hearts cancellation. Up until this point the press coverage was consistent, Rangers had died when their CVA was rejected and they were placed into liquidation.
Every person associated with Rangers, former manager Walter Smith, former captain Richard Gough and many more also acknowledged the truth of the demise of the Ibrox club.
Then came the 5 Way Agreement and Doncaster's myth, created two days after Sevco couldn't play Kelty Hearts because they weren't yet a club, and we are expected to buy into this. Not now. Not ever, Mr Doncaster.
The fightback starts here…
THE BIRTH OF MONSTER MYTHS
It's amazing the stuff you come across when reading publications from the past that have created the present. In the past (call it PL for pre liquidation) everyone thought:
a) Rangers a club who were viewed as a single corporeal entity much as a human being is thought as such rather than being of mind, body and spirit.
b) Rangers the club went bust because they could no longer operate as a going concern.
On a) the following is interesting from the examination of preliminary issues in the first stages of the LNS Commission on 12 September 2012 AFTER the 5 Way Agreement was reached at end of July 2012.
" The relationship between SPL Limited and Oldco is one of contract.  By its membership of SPL Limited a contract was constituted in accordance with the terms of the Articles of Association of SPL Limited (SPL 85) and the Rules of the Scottish Premier League ("SPL") (SPL 86).
 Both SPL Limited and Oldco are companies incorporated under the Companies Acts limited by shares.
 Rangers Football Club ("Rangers FC") was at all material times owned and operated by Oldco. 
Rangers FC has no separate legal personality but it has an identity which is recognised by the Articles of Association of SPL Limited, the Rules of the SPL, the parties to the agreement at SPL 100 and Newco, see SPL 40. "
So the then SPL recognised Rangers identity but the contract between SPL and Rangers was with something else called "Oldco" (how many titles did Oldco win, anyone?
This is where the myth of separation of club from operator grew from the soil of the 5 Way Agreement borrowed from SPL Articles, like an immortality certificate. It kind of begs the question, if Rangers FC has no legal personality does that mean that legally Rangers FC never existed at all? Absurd isn't it?
Is one of the reasons  TRFC/RIFC are finding it difficult to get a credit line from a bank is because a bank is not sure if it is loaning money to a corporeal legal entity or to an identity formed from  SPL rules which is incapable of repaying loans having no legal personality?
Would it not have been so much simpler to say Rangers FC were a football club that is a legal entity with membership of the SFA?
Hmm that sounds familiar. Oh yes. it's what Article 12 of UEFA FFP says about licensing applicants that
(A licence applicant)
"may only be a football club, i.e. a legal entity fully responsible for a football team participating in national and international competitions which
(either: a) is a registered member of a UEFA member association and/or its affiliated league." and
((b) has a contractual relationship with a registered member (hereinafter: football company)
Which contract under Article 45 has to be a written contract for a football company to be an applicant for a UEFA Licence.
As no such written contract existed before 2011 – an abstract identity not being able to write) it is safe to say that to UEFA Rangers FC (PL) were a standalone football club. (and do we know if a written contract exists now between TRFC and RIFC?).
All this cognitive dissonance caused by the interpretation given to SPL Articles is enough to make any number of heads spin.
Now if you are still with me let's move on Billy Connolly style to the idea we all had that something (we are no longer sure what) went bust.
This is from a summary Duff & Phelps Report to creditors in July 2012.
" As part of a wider agreement with the Joint Administrators which was finalised prior to the CVA meetings, Newco was obliged to purchase the business, history and certain assets of the Company should the CVA fail. Accordingly a going concern sale to Newco completed shortly after the meetings, which has resulted in the Joint Administrators achieving the second objective identified on the previous page, as a better result for creditors has been achieved than if the Company had been wound up without having first being in Administration."
A going concern sale??? Of what? It has to be The Rangers Identity, because the only place Rangers FC were going of concern was liquidation.
But how can an identity humph a stadium etc to a new company and can an abstract identity with its history really be sold?
Did Duff and Phelps mean Newco would be a going concern, which with the debt dumped by Oldco would be true, but the language suggests the legal entity that was Oldco, (or is it its identity as Rangers FC?) never went bust.
Myths are what happen when you get sophistry merchants involved in the running of our game, like Pharisees* they know how to use words to justify their deeds with absolutely no feel for the ethics, the underlying spirit (in this case of sport) that words are meant to convey.
* The word Pharisee is derived from an Aramaic word meaning, "separated." They were a group that held to the immortality of the soul, the resurrection of the dead, and punishment in future life.
How apt, but without waiting.
https://www.blueletterbible.org/faq/don_stewart/don_stewart_1316.cfm
Is Regan GamaLIEl and Doncaster Nicodemus?
=====================================
At this point the reader if bored can exit but the above (with some cosmetic changes) was originally a post on SFM that provoked the following really interesting responses from HP:
====================================
A.
This part rips my knitting 
Rangers Football Club ("Rangers FC") was at all material times owned and operated by Oldco
It is factually incorrect.
The original SPL articles (which remained in force till 2005) had no such construct as "owner and operator".
Even if you accept the separation of Club with company (which I do not) the articles on which this fantasy relies, only came into existence in late 2005.
So even if you are an avid adherent of the continuity myth, the very best it gets you is a Club created in 2005. Prior to that the SPL articles just had plain old association football clubs which were all companies. Rangers FC WAS oldco
https://beta.companieshouse.gov.uk/company/SC175364/filing-history/MDE0MTg4MzA1OGFkaXF6a2N4/document?format=pdf&download=0
On 23 May 2005 a General Meeting of the SPL agreed Articles which included references to clubs as follows:

Scottish Premier League Club means a football club which is for the time being a member of the Company in accordance with the Rules;
…… and under Share Capital
Shares shall only be issued, allotted or transferred to or held by football clubs entitled, pursuant to these Articles and the Rules, to be Scottish Premier League Clubs.
======================
On 21 July 2005 the SPL AGM changed the Articles re clubs to read as follows:
Club means the undertaking of an association football club which is, for the time being, entitled, in accordance with the Rules, to participate in the League;
…… and under Share Capital
A Share may only be issued, allotted, transferred to or held by a person who is the owner and operator of a Club and if a Member shall cease to be the owner and operator of a Club then such Member shall cease to be entitled to hold a Share.
Consider the "owner and operator" always to be an association football club.
Thereafter, substitute the word "Club" (with a capital C) in the articles and rules with "SPFL Franchise" The franchise system began in 2005.
=============================
To which the following contribution was added by EJ
===========================
I've discussed the reason for this change with HP previously.  My understanding was that it was to enable the SPL to be able to sanction "owners and operators" of clubs who did not hold an office within the club, e.g. Vladimir Romanov. That was achieved by creating a separation of the club and its owner.
Romanov had been critical of the SFA ever since Linesman Andy Davis' intervention to award a last minute penalty to Rangers at Tynecastle in March 2005, that provoked a reaction by Saulius Mikolunis.  Hearts were fined by the SFA in April after the decision was publicly criticised by a director, Sergejus Fedetovas.  However, Romanov could not be sanctioned as he held no role at the club.
Move forward to October 2005 and further Romanov's comments about referees resulted in another SFA fine for Hearts.
A BBC report on that fine included the following comment:

The SFA closed a loophole in May that had allowed Romanov to air his outspoken views with impunity because he has no official post at Tynecastle.
http://news.bbc.co.uk/sport1/hi/football/teams/h/heart_of_midlothian/6084480.stm"
==========================
The above produced further clarification from HP.
=========================
EJ.  I think have different views on why the change was made. Both may be equally valid.
You will know that the SPL is constituted in a way that each member club became a shareholder in the SPL. The regulations were written with an assumption that each club is a company that can legally own a share.
You may also remember that back in 2004 there was an attempt to create SPL2.
However, Brechin City won what was SFL League 2 in 200/05 – so would be a candidate club for the proposed new division of the SPL.
Problem is, Brechin City is an unincorporated body. It has no legal personality to own shares or anything else.
http://www.morton-fraser.com/knowledge-hub/unincorporated-associations-facts
The new regulations should have allowed the shares to be registered by a club committee member. Under the original articles the holder of the SPL could only be the club itself.
===================================
Based on the above exchanges, whether the change was made because of Romanov or to cater for changes in the way clubs were constituted (or not) it would appear that the change in definition in the SPL rules in 2005 has been used in a manner not originally intended when introduced differently in the Five Way Agreement and was given further unquestioned veracity in the preliminary to the LNS Commission enabling Neil Doncaster to  later justify that a club can  achieve immortality while its owner and operator suffered a painful death. He can justify the idea because he invented it.
The secret Five Way agreement provides three "defintions" of "Rangers"
They are described in one of the Parties to the Agreement as
(4) THE RANGERS FOOTBALL CLUB PLC (IN ADMINISTRATION), a company incorporated in Scotland (registered number SCO 004276) whose registered office is at Ibrox Stadium, 150 Edminston Drive, Glasgow G51 2XD ("RFC") acting through the joint administrators (defined below)
Then described under Recitals  as
D) RFC is a public company limited by shares which
(i) is a full member (as defined in the SFA Legislation (as defined below ) of the SFA.
(ii) owns one of the twelve Shares in the SPL : and
(iii)OWNED AND OPERATED AN ASSOCIATED FOOTBALL CLUB KNOWN AS "RANGERS" FC (defined below ) which played in the Scottish Premier League during season 2011/12
and under Defintions and Interpretation  is described as
"Rangers FC" means an association football club OPERATED BY RFC which played in the Scottish Premier League during season 2011/12 and previously.
The above would be drafted by SPL lawyers under instruction from the SPL (Doncaster) in 2012 and this is where concept of RFC as a PLC owning itself as a club (an ethereal entity rather than the legal entity UEFA define as an applicant) entered the vernacular.
Given the history of why changes were made in 2005 this separation construction of July 2012 appears to be an invention of the SPL to allow the appearance of continuity for commercial purposes.
In UEFA FFP Regulation terms under Article 12 the concept of a club being operated by a company is only recognised if there is a written contract between a club and the company that operates it.
UEFA recognise applications from football clubs that are either clubs in effect operating themselves or companies who have a written agreement with a club to operate them. (see above extracts from Articles 12 and 45)
Unless a written agreement between Rangers FC and an operating company can be produced there was no operating company and "holding company" is not a term recognised in UEFA rules but the term football company is used and defined.
Presumably Rangers International Football Club have a written contract with The Rangers Football Club and it was RIFC who applied for a UEFA Licence for this season 2017/18?
This separation construction from the SPFL introduced in 2012 is where the commercial rubber hits the integrity road.  It is not what the original change in the definition in 2005 was intended for and it opens the door to
a) moral hazardb) stifling investment.

c) dubious, perhaps criminal, funding sources as a result of
See that Neil Doncaster, wits he like and where would Scottish Football be without him now?
Meanwhile listen to the new CQN Podcast – The Celts for Change below. Paul Dykes does not miss Doncaster in his opening remarks!
You can order your GOTCHA! t-shirt from CQNBookstore.com, now with Strip the Titles on the back.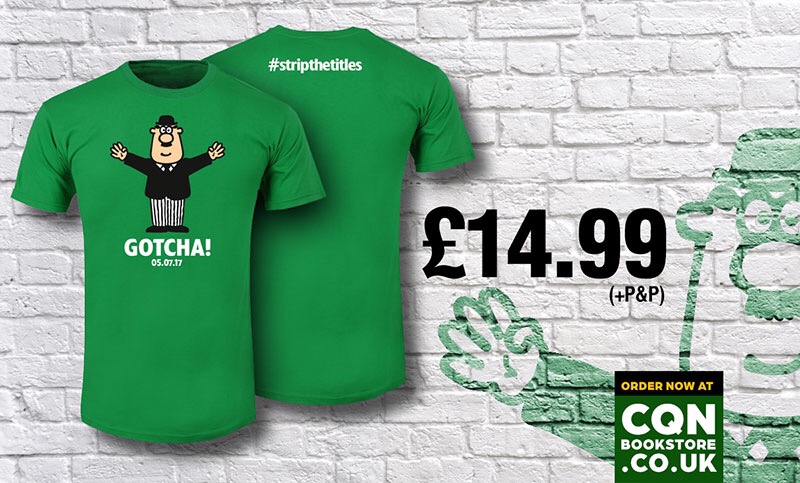 Click Here for Comments >