There was an old adage in show business, "Never follow Sinatra".  If you were on a bill with Frank, make sure you appear before him; do not wait until the audience was whipped into a frenzy.  No one could match his success, after him, the audience would be inattentive and disruptive.
We talked about this before when discussing the rolling managerial shambles at Old Trafford when their crooner hung up his mic.  It wasn't apparent to me at the time, but Moyes is no Sinatra and never would be.  Their fourth tribute act is now clinging to his job while everyone knows he is not a good fit.
My friends, this is where we are right now.  Our own Sinatra left early last year for the Midlands without dropping a trophy and scarcely a defeat.  Neil Lennon took the interim job on the condition he would be considered for the permanent position.  Having delivered league and cup and enhanced his CV, he should have let some other mug try their vocal chords out on an audience that had been taken to the heights with unmatched regularity.  But that was never going to happen, he wanted the Celtic job, so would you or I.
Now you, me, Neil and apparently half the world texting me knows we don't have Sinatra, and we're midway through a gig.  Does anyone have Dean Martin's number?
We hit the jackpot recruiting Brendan Rodgers in 2016.  Though not without his weaknesses (cough), he was highly talented with personal connections to the club.  The parallels with Martin O'Neill are clear, both transformed Celtic on the field and commercially.  Had there been a comparable option prepared to come to Glasgow in 2019, that commercial success would have made the decision clear, but there wasn't.
The Dean Martin-types (Pochettino) are not coming.  They know not to follow Sinatra and they absolutely know not to walk into a club displaying the toxic withdrawal symptoms winning 11 consecutive domestic trophies apparently expose.
If a new manager arrived today and won the Scottish Cup, he would be forgiven if he checked for hemlock before supping from it.  That will deter those further down the food chain (Howe) from coming.  Anyone building a serious CV, with options opening out before them, would know there is a huge risk to career progression coming to Celtic this mid-season.  Instead, we would get those struggling for a job, or those who have never worked at our size of club/budget/pressure.  This is not all conjecture.
What is happening in the dressing room is important.  In the summer, several players had offers to treble their wages elsewhere but the manager asked them to stay, as it was a big season for the club.  None of them 'pulled a Dedryck', there was no manoeuvering.
This week, I heard independently from two people with access to the goings-on at Lennoxtown who assured me the players are 100% committed to the manager.  Everything is going wrong but the criticism and hostility has cemented their 'sporting bubble'.  I doubt any with options to leave will want to stay at the end of the season, with or without this trauma, but some of our top performers are here because Neil Lennon asked them to give it one more season.
What happens if you sack Neil Lennon and ask an assistant coach to step up, bring in an unemployed drifter, or appoint someone from a smaller club who has never learned from or been tested at this level, is open to conjecture.  The possibility that you trip into the scenario Manchester United took feels highly likely.
As we all know, sacking your manager is the easy part, appointing a better successor is far more important.  Objectively, we have a far higher chance of making a horrendous mistake that bringing in a competent turnaround expert right now.  Our chances of getting it right in the summer will be influenced by how we, fans and club, react to the curtain coming down on our run of successive trophies.  Read the headlines and ponder, what kind of masochist are we going to end up with next?  This narrative needs to change or we will mix our own poison.
I'm not going to tell you we're going to win 10-in-a-row because I don't think we will.  I don't think Neil will take us there and I don't think anyone else will come in and make the difference.  None of us are accustomed to the defeats we have experienced in recent months, it is a bitter pill.  If we fail, the regrets will be long lasting, but short of a transformational appointment that is not going to happen today/this week/this month, we need to figure out how to get through this crisis without becoming a toxic destination for an aspiring manager.
And please, for all that he has gone through in our name, respect Neil Lennon, forever a Celtic hero.
Celtic: Fifty Flags Plus One, an anthology of how Celtic won each of their league titles, is available now.  Starting with our first title in 1893, it details how Willie Maley brought consistent glory, then the sparse successes over four decades before Jock Stein arrived in 1965 and the more contemporary wins since.
It will rekindle memories you had forgotten and give insight into how the leagues were won.
SPECIAL OFFER, free copy of Seville, The Celtic Movement, while stocks last!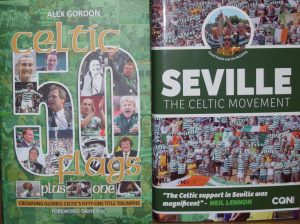 Click Here for Comments >