CELTIC new Bhoy Alistair Johnston is destined for the very top.
That's the no-nonsense verdict of former Scotland and Newcastle defender Steven Caldwell, brother of ex-Hoops captain Gary.
Johnston is poised to pick up his first medal at the Hoops in the Viaplay League Cup Final against Michael Beale's Ibrox side at Hampden on Sunday.
The Canadian right-back, who cost £3.5million from MLS club CF Montreal in January after starring for his cuntry in the World Cup Finals, has hit the ground running since his arrival and quickfire debut in the 2-2 draw at Ibrox on January 2.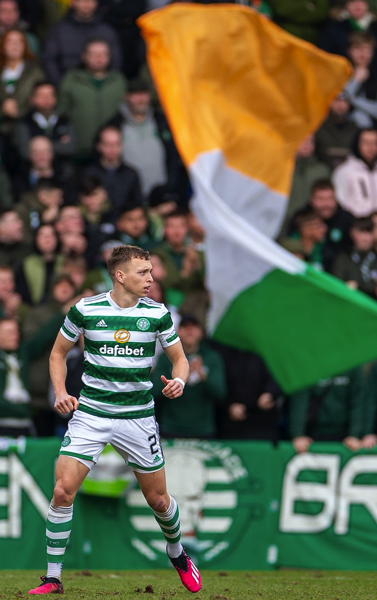 FLAG DAY…Alistair Johnston already has the full backing of the Celtic support.
Johnston has already made the fans forget all about Josip Juranovic, now playing in the Bundesliga with Union Berlin following his £10million switch, and is ready to play his part in the holders' defence of their silverware at the national stadium at the weekend.
Caldwell is convinced he will not fail in his task.
The one-time centre-back got to know the player during his time working with the Canadian national team.
Forty-two-year-old Caldwell, now a top TV pundit for Canadian network TSN, said: "Alistair was a lad who first came into the Canada squad when I was coaching the defensive group.
"His real strength is his mentality in terms of the way he applies himself and how professional and athletic he is.
"He's a voracious learner, always wanting to get better, challenge himself. He has an honesty, a sort of British mentality in the way he takes things on the chin and pushes forwards.
"The way he took different positions and philosophies and his positive outlook make him a real special player and person."
I'M WATCHING YOU…Ange Postecoglou keeps an eye on Alistair Johnston as the Celtic defender tussles for possession with St Johnstone's Zak Rudden.
Caldwell, speaking to the Scottish Sun, continued: "Coaches want someone who does his job and adds to their game. He's done both every year and if he keeps that up then in two or three years he could be at a really high level.
"With his mindset and the way he wants to learn, he'll only get better. There are areas he can improve and he'll be the first to admit it.
"But I think Alistair can play in the Premier League, for sure.
"He won't be getting carried away, though, and will want to establish himself at Celtic. He'll want to be one of the top three or four performers there every week.
"If you play with a club like Celtic and show your personality every game in front of 60,000 fans, there's no doubt you'll be on the radar of Premier League teams.
"So, I think he's got the potential to play there in the next two or three years.
"He wants to be the best and is a great boy everyone warms towards. You've seen his interviews, he's so unique in how positive he goes about things. It's infectious, it rubs off on people. When you come to selection you want him out there because you know he'll roll his sleeves up and get stuck in.
BY THE RIGHT…Alistair Johnston fires a drive past Dundee United's Craig Sibbald. 
"He's hardy, he's up and down, can run all day and can come into that inside position Ange Postecoglou likes because he's had a background as a No 6 and No 8 in his youth football days.
"So, he's well capable of going on to the next level. That step of training with better players and challenging himself in European competitions and the big games in Scotland should allow him to make that growth which might have been harder if he'd stayed in the MLS."
Twelve times-capped Caldwell, who moved to Toronto 11 years ago, added: "Alistair's rise is incredible. I actually use him as an example when I'm out and about as a great Canadian story.
"Everyone here talks about pathways and thinks they are always really straight.
"I try to explain to them a pathway is a fancy word for finding your road to your top, wherever it is.
"You have to show grit and determination to get there. Alistair's story is so unique. He was playing semi-pro a few years ago for Vaughan in League One Ontario.
"He was a midfielder back then. We think everyone has to be that childhood prodigy at 16, but it only happens for a few people in a generation.
ONE OF THE BHOYS…Alistair Johnston joins in the celebrations along with Aaron Mooy and Kyogo Furuhashi as they congratulate Filipe Jota after his opening goal aganst Dundee United at Tannadice. 
"Everyone else has to fight and scrap for a career and he was in that boat. He had a good first season at Nashville and he showed promising signs, but there was never a point where he was setting the heather on fire.
"He then got his big move to Montreal. He's never been a nine out of 10, but always a seven. To me, that's such an enormous strength in a defender and shows you're someone you can rely on as a coaching staff.
"Now he's playing for Celtic. That's all in the space of a few years. You'll find your way and it'll come through hard work, perseverance and dedication.
"I had some great chats with Alistair when we were in the national squad. Celtic's interest came after I'd left, but I really enjoyed his company and I wanted to help him to be better. I sent him a text when he joined Celtic.
"He's a smart lad, so he'll have learned quickly that effort and commitment are a minimum when it comes to playing at Celtic.
"He hasn't wilted and has raised his game. It shows there is more potential and that can only be exciting for Celtic and the lad himself."
Click Here for Comments >