SCOTT BAIN endured a torrid European debut in Celtic's 2-0 loss to Valencia at Parkhead on Thursday night.
It was the 27-year-old goalkeeper's first taste of action at this level and was he blameless as Brendan Rodgers' side collapsed in front of their own fans.
Bain hadn't lost a goal in his previous seven games in 2019 since taking over the No.1 position from Craig Gordon.
However, that changed when he had to pick the ball out of the net twice against the Spaniards following two efforts when his defence went AWOL on both occasions.
It was a painful setback for the ex-Dundee shotstopper, but he insisted he will learn from it and emerge a better goalie.
Bain said: "Obviously, it's not great when you don't get the result, but it was an experience that will help me in the future.
BLAMELESS…Scott Bain is exposed as Valencia open the scoring through Daniel Cheryshev.
"I will be able to grow from it and I hope to learn from it.
"The pace of the game, for example. It is a lot quicker, so when I get the ball it's about getting it out quickly and making the right decisions.
"We can be slightly better in terms of getting into positions and wanting the ball a bit more.
"We always try to play, but my learning is also about situations when, if we can't get into position quickly enough, to go a bit longer on it. That's something I'll take from the game on Thursday night.
"Does it mean sacrificing principles? No. We always have permission to go slightly longer if it's on.
"We played out from the back well, but just got a bit sloppy at the end of the first-half.
"There are other things to learn from this such as the atmosphere and how to handle the occasion."
Bain, who is likely to keep the gloves for tomorrow's crucial visit to Kilmarnock, has refused to accept the European tie is over as the Hoops prepare for Thursday's return in the Metsalla.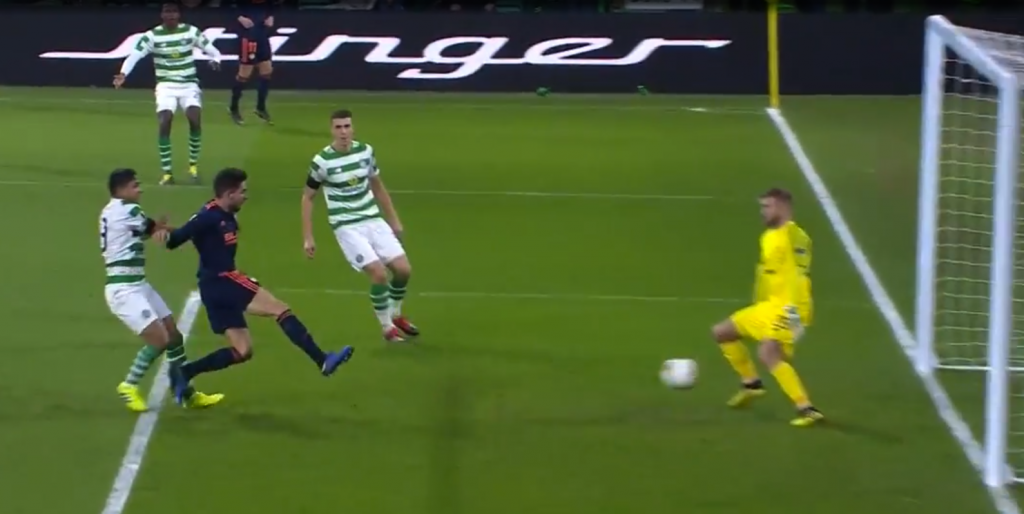 BLAMELESS…Scott Bain has no chance as Ruben Sobrino fires in No.2 from close range.
He added: "Valencia are a really good side, they are well organised and waited for us to make mistakes. They pounced when we did.
"We actually kept the ball really well in the first 20 minutes and moved it well. But on that stage you get punished.
"They were waiting for a mistake and are a really good side who play their formation well. That's something we will learn from for the next game.
"Valencia had great quality. You see the ball that was played in for the second goal and they had it on the pitch at all times.
"It was a hard one to take as I felt we could have taken something out of it, but we still go into the second leg confident.
"We've seen them now and I don't think there is anything to fear. We just need to take care of the ball more and make our passing a lot slicker in the final third to create chances. If we can go there and get the first goal the tie is not over.
"If we did get it we'd have every chance to go on and win the tie. All is not lost yet."
Click Here for Comments >