CRAIG GORDON continued his impressive clean sheet run last night as Celtic eventually swept aside Raith Rovers to reach the quarter finals of the League Cup. Gordon has NEVER lost a goal in this competition while playing for Celtic and he intends to keep the clean sheets coming as the holders set about defending the Cup they won last March.
That 2-0 Cup Final win over Dundee United was a key moment in the big keeper's career as it represented for him personally an important victory over the injuries that had threatened his career. Speaking about this in last night's match day programme Craig said:
"It was very special, for that reason. It was the first cup I won since coming back to football.
'When I made my return, the first goal was to get out on the park to play so to finish the season with a double was pretty special.
"It was special for me to be able to have my kids out there and have the family there watching me was a great day. We went back to Celtic Park afterwards and at times it was strange. There was almost a sense of relief.
"Not in winning the cup itself but the fact that I had got back to that level and was able to do that.
"It was the end of that journey and the beginning of a new one. I had managed to get to that point and could reset my goals and then improve on that.
Gordon pulled of a few important saves last night as a weakened Celtic side made hard work of overcoming a stubborn Rovers, until Kris Commons produced a moment of magic just before the internal. However the second goal did not arrive until Johansen's late strike and Raith Rovers prior to that pushed players forward and cause a few scares in the Celtic penalty area. The big goalie was not to be beaten and he clearly has his eyes on winning more silverware this season, starting with the League Cup.
"I'd love to defend it. It had been a while since Celtic won the League Cup previous to that victory so it's good to see if we could go and defend it.
'We want to win every competition we go into so hopefully we can have a good run.
'Last year's run couldn't have gone much better really, through the entire cup campaign. I didn't lose a goal and to do that in any cup run for many games is great because there are a few banana skins in cup competitions.
"It's also difficult to play as many matches as we do and still come out with a result that gets you through to the next round.
Celtic's journey to Hampden last year was anything but easy – semi-final apart – so Gordon's clean sheet record in this competition is all the more impressive
"When you look at the teams we played as well, we didn't get any easy ties the whole way through.
"We had to work hard for that cup and to do that without losing a goal is some achievement.
'Our performances were solid and keeping a clean sheet allowed the team to go and express themselves and play with a little more freedom. Certainly the performances in that respect were pretty good.
"We played Hearts at Celtic Park and that was probably better for me that it was there. It's always strange to play against a former club but I don't think there were too many players that I would still remember but it's always a bit different.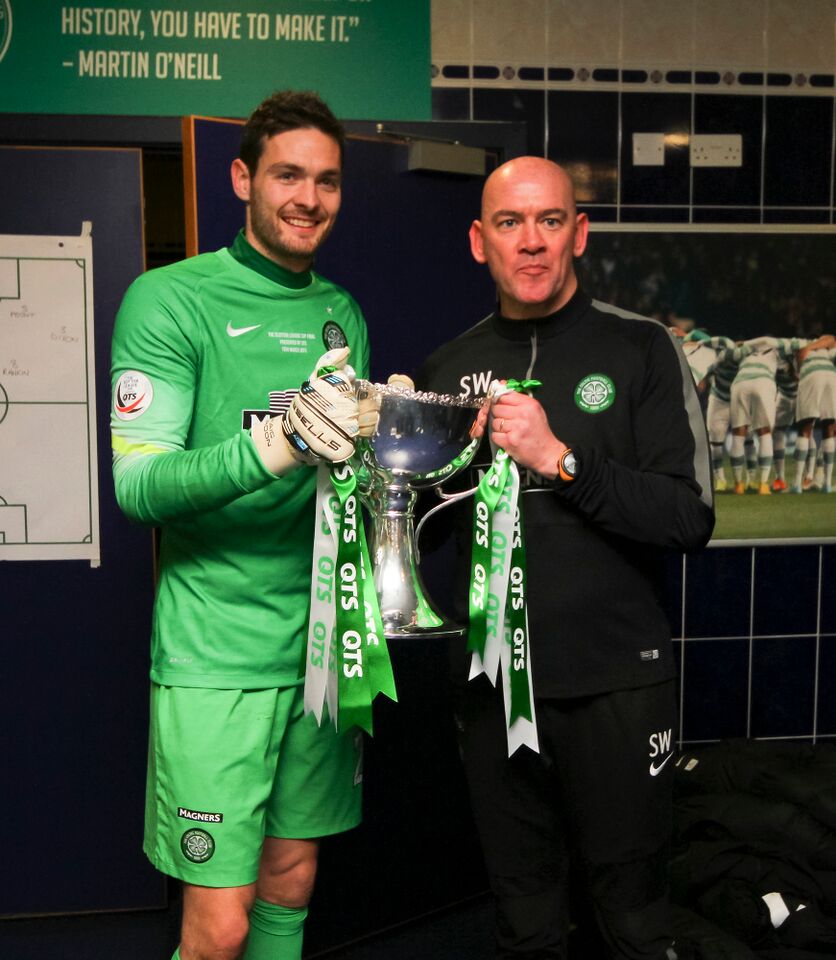 "It was good to keep the clean sheet, do well in that game and remind the fans that used to cheer you that you're still capable.
'Knocking them out was a good thing for Hearts really as it meant they could concentrate on the league and try to get promoted. I thought I was doing them a favour and thankfully it worked out well for them!
"It's good to have them back in the league and it's a good place to go and play football. We're playing them on Boxing Day in the league and that's the match my family have already earmarked as one they'll all go to.
Recalling his day at Hampden for last season's league Cup Final win, Gordon said:
"Celtic actually get the opposite dressing room to the one that I am used to with Scotland, the only one I've ever been in before.
"Doing the walk in reverse from where I normally come out of the tunnel was odd but when you get out there and hear the fans, the atmosphere and the sense of occasion it's definitely something special.
"I knew what to expect from the fans but going out there was great. When there are that many fans there to back you and try to help you win the copy definitely notice it when you step on to the pitch. It makes you realize exactly what you're playing for.
"It was a great day, a great run and some good games so hopefully we'll experience it again. We have a few new guys in the squad and I'd love to take them along on that journey and show how good it can be when you get to semi finals and finals.
"The games you can be involved in with Celtic is a great feeling so hopefully we can have more of the same."
Click Here for Comments >