Oh Captain, my Captain….
"I'm really looking forward to meeting the Captain. Scott Brown in someone I've admired  from a distance for a number of years. His drive, determination and quality are going to be important for me."
23rd May, 2016.
The quote above is from Brendan Rodgers first official engagement as Celtic manager, his introductory press conference. He was answering a question about how much change he though would be required in the squad and he immediately singled out his Captain for specific attention. He didn't mention any other players by name, just the Captain, perhaps giving a little bit of insight into his though process as he set out to reshape a big – and largely underperforming –  Celtic squad.
In general terms, the importance of the Captain's role has declined in importance over the years, but it's something Rodgers clearly views as an important part of his managerial model. He has placed an emphasis on the importance of the captain's role during his time at Swansea (where he built a close and effective relationship with Gary Monk) and at Liverpool, where he inherited Stephen Gerrard and appointed Jordan Henderson as captain.
Rodgers has continued this pattern at Celtic. His first significant act as manager was to fly his Captain to London for a one to one meeting to discuss the team and the season ahead. Clearly, Scott Brown has a huge part to play in the Rodgers revolution. So what can Rodgers expect from Brown the player and Brown the Captain as the season unfolds?
Scott Brown has been something of a divisive figure amongst the Celtic support in recent seasons, at times coming in for some fierce criticism of his level of performance and what he offers the team. A common theme on fans forums has been that the team functions better when he isn't playing, as he slows the play down and stilts fluidity. A view, incidentally, not shared by Celtic's various managers (Brown has played under 5 managers, including Rodgers). Apart from his first season, Brown has been a first pick under every manager. The good news is that Scott's form in the embryonic phase Rodgers Celtic is making everyone think again – he is fully fit, revitalised and playing out of his skin!
Scott has been Celtic captain since 2010, his six-year stint amazingly means he has now held the role for a longer period than the last three captains – Neil Lennon, Jackie McNamara and Stephen McManus – combined! This would suggest Scott is doing something right in the role and is a leader in the squad and although he does receive criticism from some fans, he is praised by many for his battling qualities.
We will return to Scott's role on and off the park in more detail shortly. There is a related subject that is worth looking at here, potentially the most serious issue Celtic faced when Rodgers took over. Rodgers himself referenced it, speaking at the press conference to announce the signing of Kolo Toure.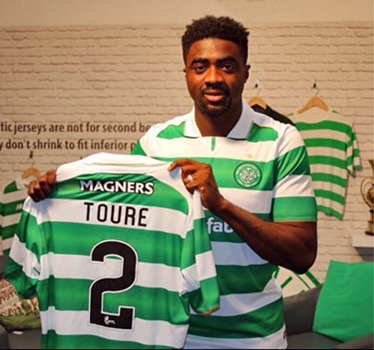 "He (Toure) is a wonderful professional – got big experience – and I just think, with a lot of young players in the squad, he can help them and be of great assistance to the like of Scotty, Scott Brown, who's a wonderful leader, but he needs support and help around him as well. So it'll be nice for Scotty to have someone behind him who's got that big game experience".
Brendan Rodgers, 23rd July.
A month into the Celtic job, this is a telling observation. It would suggest his initial assessment of the current squad has identified the lack of experience and leadership as a significant factor, one he needs to address quickly.
This will come as a surprise to absolutely no one. The squad we have now is essentially Ronny Deila's squad. I don't want to revisit the Ronny era, but when I do look back over his tenure, the word that comes to mind is weak. They were weak when it mattered. Weak in big games.
Last season, for example, the closing stages of the CL qualifier with Malmo at home was weak. A fraught and nervy team conjured up a mini collapse in the closing stages (Johansson's bizarre behaviour at the last minute corner?) The entire 90 minutes of the return leg in Sweden was weak and at times, petulant. In the Europa League group stages, we capitulated weakly and lacked belief– no wins, despite being ahead in three of the games. Domestically, we lost semi-finals to Ross County (1-3) and newco Rangers (penalties) and although it ultimately didn't matter, we lost twice away at Aberdeen, our closest challengers. There was a weakness when faced with the big occasion.
We are still mainly relying on the same players as last season.
The intention here isn't to be mega critical (honest!) but to look at where we can improve. There is one fix that jumps straight out.
Last season we very obviously lacked leadership and character. To be fair to Ronny, he did recognise something was wrong and attempted to address the issue. He signed Calton Cole and Colin Kazim-Richards to add some muscle and experience, though if Ronny thought they were the answer, you have wonder what questions he was asking!
With the signing of Toure, Rodgers has added presence to his squad. As well as being an accomplished footballer, Kolo is also a leader in the dressing room and on the park, Rodgers noted this at Anfield and Toure was one of the names considered to be Captain when Gerrard left the club. His performances so far at Celtic have shown he is a natural leader and an excellent communicator.
Leadership in a team is critical. The greatest Celtic team I have seen was the Martin O'Neill team between 2002 and 2004. O'Neill built a squad of leaders, physically imposing, but also with a presence that went beyond sheer physicality. The team had leaders, big characters throughout and at times won games by sheer willpower and driving each other on. (It is worth noting that Paul Lambert, Neil Lennon, Johan Mjallby, John Hartson, Henrick Larsson and Stan Petrov all captained their countries at one time or another – facing a team with 6 international captains in it must have been a rare experience for the opposition!)
To build that type of capability takes time and money and it will be a work in progress for Brendan Rodgers to import that type of character in the squad. He is doing this remarkably well so far but building this mental strength in a very young squad is not a quick fix.
Which brings us back to the Captain.
In his Celtic team, Rodgers needs a leader. Actually, he need lots of leaders, leaders all over the park. The Captain should be at the hub of this, the leader of the leaders, if you like. A captain can lead by example and raise the level of expectation and performance. A Captain can set the tone about what is accepted and what is not acceptable.
This Celtic squad is very, very young. The are there to be moulded and led, to have good habits instilled in them. To be led. The Captain needs to set the standard for the rest.
There is a story of Mark Bosnich's first day at training as a Man Utd. player, following his transfer from Aston Villa. Alex Fergusson was away and Bosnich turned up an hour late for training, having got lost – and strolled onto the training ground, smiling……. Only to be met by a volcanic Roy Keane. "What the f**k do you think you're doing? You're an hour late. This is Manchester United, not Aston Villa. Don't be f**king late again." Message received and understood, as Bosnich later confirmed! Like him or not, Keane was a stand out as a captain and leader, setting high standards for himself and his team mates. In contrast to Bosnich, on Keane's first day at Man Utd., he paid a taxi to drive to the Carrington training ground and followed the taxi in his own car, arriving an hour early. Standards. For all his faults, Keane was a dressing room general and he made sure the level of expectation was known and he set the bar high.
My hope is that Scott Brown will fill this role in Rodger's Celtic. I have mixed feelings about Brown the player – at times excellent, at other times he can lack precision and direction but I hope Rodgers will find him a role to maximise his abilities. So far the signs are good.
So what can Brown offer the team? He can be a frustrating player. My own bug-bear with Scott is that he gets overly theatrical – the manic staring, the posturing, the confrontations with players and officials that achieve so little, the cheap bookings and cheap suspensions they bring.
When he first arrived at Celtic, Scott had a tendency to showboat – a favourite of his was to look one way, then pass the ball the other. It sometimes came off, it sometimes didn't, but what was noticeable was that as soon as he started to do that, his overall play suffered and he became a much less effective player. The same pattern is true of his game in general – when he gets distracted and involved in stuff outside of his core game, his performance level drops. What worries me is that this season we will have no shortage of distractions.
We have the unwelcome prospect of a Glasgow Derby with the newco Rangers team this season. As the game approaches, press and fans will start to build up the Scott Brown/Joey Barton head to head. I expect Brown to get involved in this, whether in barbed comments to the press pre-match, or on field posturing and I would have a concern that the focus on Barton would have more of a negative impact of Scott than on his opponent that day.
I hope the impact of Brendan Rodgers – and Scott's own maturity – will mean he will not engage with any of the nonsense and simply dominate his opponent on the field. From the manner of his performances so far under Rodgers, I am greatly encouraged that Scott will deal with this better this season than at any other time in his Celtic career.
So we hope we see the player we know is in there – a fit and motivated Scott can be a vital player for Celtic this season, the fulcrum around which the team can flourish. He is better placed to achieve that by focusing on his game and leaving the theatrics to one side. The signs are good so far.
Scott has positively extended his role at Celtic over the last few seasons, he has been a regular fixture at Development Squad games, playing a part in the coaching and match day set-up. HIs long term plan is to take the UEFA badges and move into a coaching role. Great stuff in a captain and leader.
Brendan Rodgers will continue to bring leadership and character into his squad and Scott Brown will be his dressing room voice and on field general – his first among equals. This won't guarantee Scott a place in the team – at Swansea, Rodgers dropped his long term captain Gary Monk, replacing him with a younger, in form player. Rodgers has that ruthless streak. If he is to retain his place in the team as a player and as captain, Scott's form performances will need to be of the highest standard.
And that is exactly as it should be as a new chapter is Celtic's story begins in earnest.
If you would like to write for CQN please email david@cqnpublishing.co.uk
Click Here for Comments >