ONCE UPON A TIME IN THE KINGDOM OF GOVANIA is the new fantasy story book, set in medieval times and written by Australian based CQN poster Mea Culpa. It is illustrated in full colour throughout by graphic artist Cartuja, of Unrepentant Internet Bampots fame, and is an Escaped Goat Production for CQN Books. 
Once Upon a Time in the Kingdom of Govania there lived a famous knight, Sir David the Lamb Giver.
For many years the poor people of Govania had suffered terribly after Jockstein the Great, who ruled the neighbouring kingdom of Celta, had won a magnificent victory for the people of Celta. Their warriors were heralded as the mightiest champions of all Europia. But not in Govania.
..and so began the monumental battle between good and evil. This is a tale of corruption, hubris and escaped goats!
This is a fantasy. A work of fiction. It wouldn't do for anyone to go thinking that these events actually happened now would it?
Here Mea Culpa answers some questions about his new book which is published early in July. Once Upon a Time in the Kingdom of Govania will be exclusively available from CQNBookstore.com  – You can pre-order your copy, of this hilarious, limited edition story book HERE for only £9.99 plus P&P…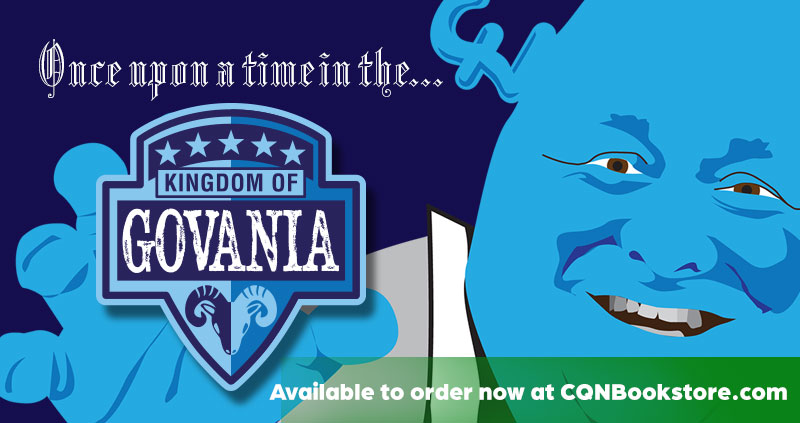 Your first ever book is about to be published by The Escape Goat Productions. It's called Once Upon a Time in the Kingdom of Govania and is a full colour, illustrated fantasy story book. What is it all about and where did you get your inspiration from?  
Once Upon a Time in the Kingdom of Govania is a collection of tales recounting the demise of RFCil and the dawn of the Sevco  Football Club, transported in time to medieval days where Knights fought duels and battles to assert their claims to titles and power.
The first chapter is titled The Return Of The King and is the original tale, intended as a one-off summary of the downfall of RFCil, the birth of Sevco FC and return of King David the GAS to his holy anointed seat of power on the Ibroke throne.
Inspired ironically, by a Sevconian work colleague who refused to countenance the notion that the death of RFCil was the fault of SDM, constantly referring to him as a "Knight of the Realm."
Whenever he referred to SDM in this fashion it always conjured images in my mind of SDM perched in the saddle, in suit of armour, fighting off all-comers as he strove to lead his mighty warriors in battle.
When Dave King became King David, atop his throne of power at Ibroke, the story coalesced.
A few too many wines and a keyboard…I posted this in the early hours (UK time) from my home in Australia on Celtic Quick News and thought that was that.
So how does the story progress from there and why did you write more than your original CQN post?
Never intending to write anything other than the original tale, I returned from holidays to learn that the original story had been re-posted  as an article on CQN and  this was accompanied by calls for more. People thought that it was very, very funny. So, I gave it a go. CQN asked if I would like to turn the fantasy into a story book and I thought why not?
What Lies Beneath introduces the analogy of plumbing to tell the tale of how the ill-founded policy of spend, spend, spend brought about the death of RFCil and continues to haunt Sevco FC to this day, in their Medieval world.
Gardening problems also seem to haunt the Sevconian empire at this time!
The story moves on to  chapter 3 which is titled From Banquets to Bouquets. Here I introduce the Medieval SFA, referees and clubs battling each other for positions at the top of the table…
A story of RFCil's demise from the position of greatest honour at the annual banquet until wreaths are laid on the coffin as it is lowered into the ground.
Then A Ship Lost At Sea. No re-telling of the tale of the downfall of RFCil and the birth of Sevco FC can be complete without the key figure, Camel O'Givilia. His behind the scenes manipulation of events successfully oversaw the unavoidable death of RFCil and the new dawn of Sevco FC.
Attempts to seat Sevco FC at the top table are thwarted by Sir Turnbull of Hutton. Then Lord Dimmo the Dunce finds an easy solution to the problem of undeclared deeds at Ibroke.
How on earth do you tell the tale of Internet Bampots from Medieval days?
Good question. In Hark The Heralds they make their appearance in Once Upon a Time in the Kingdom of Govania.
This chapter is about the daily battle for the hearts and minds of the people, fought over by the Caledonian Heralds and the Internet Barntops, a topic of endless debate in the taverns throughout the land.
The sixth and final chapter of the story book is A Govanian Carol.
Whilst on holiday back home in dear old Scotland, I struggled with the notion of how to tell the tale of the demise of RFCil in the form of the great Dickensian Christmas tale.
Sir David the Lamb Giver endures a night to remember, haunted by Phil Ma Golly Wolly, before making a fateful decision…
Tell us about some of the main characters in your Medieval fantasy?
My favourite characters are unsurprisingly: Sir Googly of Ayes, Mash the Scrotum Gripper and Baxendale de Porno.
Sir Googly of Ayes: Inspired by the images of Craigy Whyte standing outside the door of Ibrox, informing the jeering supporters that he had taken the step of putting the club into administration. His eyes almost popping out of his head as he strained to be heard.
Mash the Scrotum Gripper: A hideous ogre, who takes control of businesses by the short & curlies and squeezes the life out of them. Will Sevco FC ever escape his grip? We still don't know the answer to that one.
Baxendale de Porno : Of course, when you are seeking advice on financial matters you immediately turn to an expert in making Medieval pornography! Just when you thought this tale couldn't get any more ridiculous.
You first posted the opening chapter on CQN appropriately enough on April Fools Day 2015. How said earlier that it was it received? Can you tell us about that?
When I had almost completed my first posting, I paused with my finger over the "Post Comment" button, somewhat nervous at how it might be received. The guys/gals on CQN can be a bit brutal at times. However, it was only intended to give others a bit of a giggle and more than likely, folks would simply scroll on by. A simple 'click' and it was done. There was no way back now.
Much to my great surprise many people really liked it. Here are some of the comments I received:
"Mea culpa : Mea lika! Excellent!" HH – Jonny the Tim
"Mea Culpa : Superbia!" – Tamrabam
"Mea culpa : Absolutely brilliant, the funniest, and best summarisation of the dead 'uns." sunny calmachie
"Mea Culpa – great breakfast reading this morning, thank you ;-)" Jobo Baldie
"Mea Culpa..Top Bhoy…Always good to start the day with a hee haw:))" – starry plough
"Mea Culpa 03.51  Brilliant hilarious got the bhoys in my office in stitches with the Govania tales of woe. HH" – Thindimebhoy
"mea culpa- absolutely first class!!!" – goldstar10
"Mea-Culpa Outstanding, a great breakfast laugh :))" – tonydonnelly67
"MEA CULPA Superb,mate. Thanks. Latin-ising the names will have them frothing at the gills even more than usual!" – BOBBY MURDOCH'S CURLED-UP WINKLEPICKERS
"Mea Culpa 03.51  Fantastic. TT" – TinyTim
"Mea Culpa Belter :-))" – FourGreenFields
"mea culpa 03:51 on 1 April, 2015 The Saga of Govania:  A tour de force.  A great way to start the day."- 'GG
"Mea culpa  Bravo! Looking forward to the next chapter." –  Teuchter ár lá
"Mea Culpa: Absolutely superb!" – Cosy Corner Bhoy
"Mea Culpa … Taking CQN back to its best.  Thank you …" – Hrvatski Jim
"mea culpa, Superb post on that last thread." – Petec
What do you think of the characters on the graphics? Is that how you imagined them to be?
So far I have only seen a few of the characters. Seeing them 'come to life' is fantastic.  Everyone conjures up their own images of characters from stories they read. 
I am truly stunned any of this has taken place.
And finally can you give us a summary of your book?
The Saga of Govania has been enjoyed by many CQN readers. Almost as much as the true saga itself.
Now with 6 chapters to enjoy, Once Upon A Time In The Kingdom Of Govania takes a light-hearted look at some of the stories behind the demise of RFCil and the trials of the afterbirth, Sevco FC.
Among the feedback I have had so far are these kind words:
Absolutely brilliant! The funniest and best summarization of the dead hun!
Got the bhoys in my office in stitches …
A great breakfast laugh!
Taking CQN back to it's best.
A tour de force.
Oh and when is Once Upon A Time In The Kingdom Of Govania.
Has to be 12th July – so just a few weeks away!
————————————
*Mea Culpa has indicated that he wished his fee for working on this book to be donated to the next CQN Malawi School Kitchen appeal.
**Any resemblance to any football club, either dead or alive, is entirely deliberate.
***Once Upon a Time in the Kingdom of Govania is a limited edition book brought to you by Escape Goat Productions. You can order your copy HERE or click on the image below. It costs almost ten times the price paid by Criag Whyte for Rangers FC.
Click Here for Comments >