ANGE POSTECOGLOU can look back at Celtic history for inspiration – if any, of course, is required – as he prepares for Sunday's High Noon showdown at Ibrox.
Martin O'Neill was a man on a mission at the start of the 2003/04 campaign following a season of near misses that saw the Hoops surrender the league title on goal difference on the last day of the campaign.
And there was also the frustration and disappointment of the UEFA Cup Final extra-time defeat to Jose Mourinho's Porto in Seville to contend with and overcome.
PRIZE GUY…Martin O'Neil with the league and Cup at the end of season 2003/04.
In an almighty backlash, O'Neill and players made Rangers pay a terrible price for their uninvited intrusion on their progress. The Parkhead side won all four of their Premier League derby confrontations and completed the whitewash for the first time in over thirty years by knocking Alex McLeish's men out of the Scottish Cup at the quarter-final stage.
If revenge is, indeed, a dish best served cold, O'Neill and his team had dined in some fine style and enjoyed a veritable feast.
The story of an intriguing – and, ultimately, successful – silverware crusade is recalled by author Alex Gordon in his Celtic tribute book, '50 Flags Plus One', a publication which highlights all of the club's championship triumphs to date.
Here is an edited extract of the chapter covering one of the most satisfying offensive expeditions on Celtic's glorious trophy trail.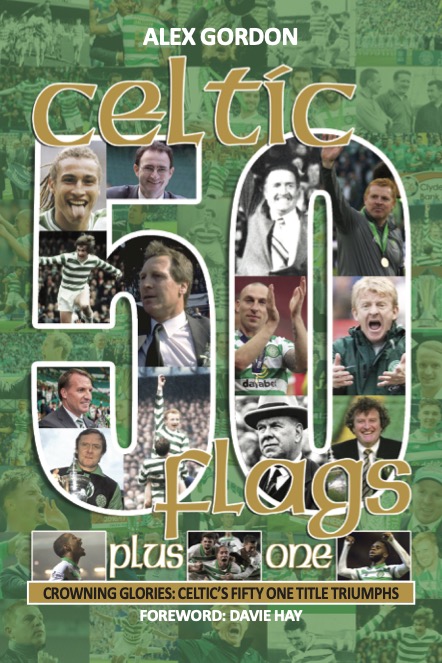 ON APRIL 18 2004 in Ayrshire, Henrik Larsson set up Stiliyan Petrov for the only goal of a tough game against Kilmarnock to clinch the championship with six assignments still to be faced. It was a far cry from last year's nerve-shredding last-minute finale.
History books will show Celtic beat Kilmarnock 4-0 at Rugby Park at the same time Rangers overcame Dunfermline 6-1 at Ibrox. Both teams completed the campaign on ninety-seven points with the Govan side showing a goal difference of plus seventy-three to Celtic's seventy-two.
Larsson struck woodwork late on and Mikel Arteta scored his team's sixth goal with a penalty-kick in stoppage-time. It was heartachingly close, the slimmest margin possible for the trophy to shift across Glasgow – for all of twelve months.
Once normal service had been resumed, O'Neill commented: "It was nice to win it here, especially after what happened last season and I think I sensed even then an inner-determination to go for it this time. Now that we've won it and been terrific throughout, I think we've deserved this success. All sorts of players have been exceptional through this run."
CRASHING SUCCESS…John Hartson thumps the winner past the despairing Stefan Klos. 
A raging desire to prove himself all over again had propelled O'Neill into the new season. First up, there was a visit to face Dunfermline at East End Park on August 9. Yes, the same Dunfermline team that had collapsed 6-1 to Rangers at Ibrox to enable them to run up the sort of scoreline required to wrest the title from the Parkhead trophyroom.
Chris Sutton, live on television, accused the Fifers of "lying down to Rangers" and the SFA found him guilty of bringing the game into disrepute and were swift to act by imposing a suspension upon the Englishman. He wasn't available for selection for the first game of the term.
It didn't help matters that John Hartson was also injured and O'Neill went into the new programme with Larsson and Maloney leading the attack. It was a frustrating afternoon which ended with Celtic failing to score in a league game for the first time in twenty-one months. Dunfermline didn't score, either, but they were just delighted to have ended a thirteen-game losing sequence against the Glasgow team.
GOVAN GLEE…Martin O'Neill keeps a straight face as he embraced by assistant boss john Robertson in the Ibrox dug-out.
Rangers had won all seven of their league games prior to the meeting with Celtic at Ibrox on October 4. Alex McLeish's side had also scored twenty-six goals into the bargain and were coasting along quite nicely. O'Neill's men had responded well to their initial blank and had picked up maximum points in six successive triumphs while amassing eighteen goals.
It all shaped up splendidly for another clash of the titans, but problems were piling up at Parkhead and O'Neill faced playing the Govan outfit without three central defenders; Bobo Balde was banned and Joos Valgaeren and Johan Mjallby were injured. Attack-leader Chris Sutton would be pressed into playing at the heart of the defence.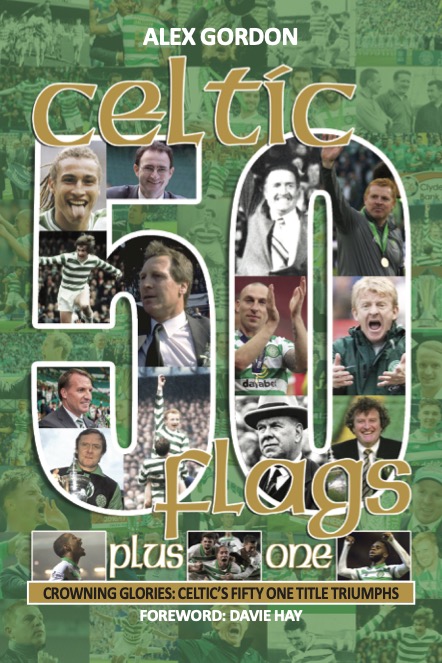 READ ALL ABOUT IT…Alex Gordon's tribute book to Celtic 51 titles – and counting.
It was hardly ideal, too, the manager had to rejig the formation after only twenty-three minutes when Alan Thompson was forced to limp off to be replaced by Michael Gray, a left-back who had just agreed on a four-month loan from Sunderland.
However, a mere eighteen seconds into the second-half, Hartson nodded on a long ball to Larsson, moved intelligently into space to take the return, clipped in a right-foot shot which flicked off Zurab Khizanishvili, the Georgian defender newly signed from Dundee, hit the underside of the crossbar and bounced down behind Stefan Klos.
It was the Welshman's fiftieth goal of his Celtic career with the special significance of it coming against the team who once rejected him on medical grounds.
NUMBER ONE…Stilyan Petrov dives to head the ball past Stefan Klos.
NUMBER TWO…Stan Varga bullets in a close-range header with keeper Stefan Klos flapping.
NUMBER THREE…Alan Thompson flights in an exquisite free-kick.
By the time the old adversaries locked horns again on January 3 2004 at Parkhead, Celtic were leading the table by eleven points and a win over Rangers would give them their record eighteenth successive league victory. Stiliyan Petrov got the party started with a full-length diving header in the nineteenth minute as he turned a left-wing lob from Larsson low past Klos at his right -hand post.
Stan Varga, signed from Sunderland, thundered in a close-range header in the fifty-seventh minute after Hartson had headed on an Alan Thompson right-wing corner-kick and a piece of mesmerising impudence from the English midfielder proved to be the coup de grace five minutes from time when he swirled in a thirty-yard free-kick with the utmost precision.
Anyone gifted with a sense of realism in the 59,087 crowd that afternoon acknowledged there was no other destination for the league title outwith Celtic Park.
As ever, Martin O'Neill read from his well-thumbed script. "Yes, absolutely delighted and I thought the players did really well," he said. "It's a great win for the players and the fans. However – and I realise I always state this – there is a long, long way to go. But I am happy where the team is at the moment."
Rangers got some welcome respite in between losing league points to their greatest rivals when they were drawn to face them in the Scottish Cup quarter-final on March 7, 2004. Once more, though, Henrik Larsson put them to the sword.
The Swede scored the only goal of the encounter and, in doing so, claimed his fourteenth strike in twenty-eight games against the Ibrox club. It was also his twenty-eighth of the season.
SWOOPING TO CONQUER…Henrik Larsson nets the Scottish Cup winner.
Alan Thompson set up the winner with a right-wing corner-kick, Bobo Balde headed down, Stephen Pearson, a £350,000 addition from Motherwell in January, had a shot blocked by Stefan Klos, but punishment was only delayed a mere heartbeat when Larsson latched onto the rebound and fired home.
Three weeks later across Glasgow at Ibrox, McLeish was experiencing the same sinking emotions after the fourth consecutive Old Firm defeat, this time a 2-1 reverse in the league. By the time the debris had cleared, O'Neill's men were an unassailable nineteen points clear at the top and had just registered their thirtieth league game without defeat.
In the twentieth minute, Thompson clipped over an inviting free-kick and Larsson swooped to head in the opener. Thompson added the second in the fifty-seventh minute and Celtic came close to a third when Varga shuddered the bar with a shot from four yards. Steven Thompson got his side's consolation goal near the end and, justifiably, it would be his team's solitary effort against Celtic in five meetings throughout the season.
GLORY BHOY…Henrik Larsson celebrates a strike against Rangers.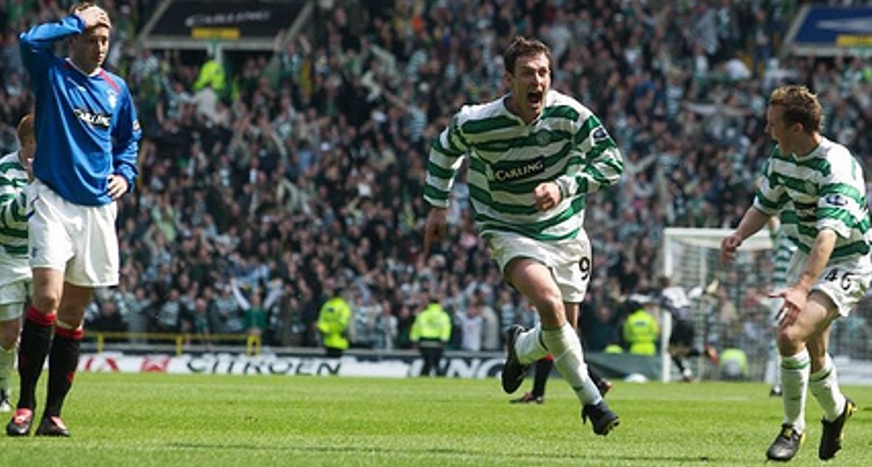 GLORY BHOY…Chris Sutton runs away in triumph after his winner on May 8 2004.
Rangers drew a blank again on the afternoon of May 8 when Celtic completed the season-long humiliation when Chris Sutton scored the injury-time goal in the 1-0 win.
It was a real 'Do-It-Yourself' manoeuvre from the rangy Englishman. Young keeper David Marshall fired a goal-kick deep into Rangers territory and Sutton rose to glide it down to Larsson and raced off to accept the return. The Swede shifted the ball into his partner's path, Sutton positively bullied Frank de Boer – who had joined his twin Ronald at Ibrox – out of the way before curling a spectacular eighteen-yard lob high over Klos.
Asked why he didn't carry the ball into the penalty box, Sutton answered truthfully: "Are you kidding? I was too knackered. I just decided to give it a whack and I was mightily relieved to see it go into the top corner."
Something similar for the Celtic support will be welcomed on Sunday.
Click Here for Comments >