CELTIC legend John 'Yogi' Hughes has told Leigh Griffiths he has four years to claim 88 goals and equal his Hoops record.
The Parkhead great is the seventh-highest scorer in the club's history with 189 strikes – while the Scotland international hit No.101 with his headed winner against Rosenborg on Thursday.
Big Yogi, now 75, said: "Good luck to Leigh and it would be great to see him get there or thereabouts.
"He would have to average 22 goals a season which is a big ask, but he has always been a prolific marksman and I have to admit I like him.
"Leigh is an instinctive penalty-box player who times his runs to perfection with impressive regularity. You only have to look at his goal against the Norwegians the other night to underline that statement.
"He hit the ground running when he came on in the 76th minute for Odsonne Edouard. He put himself about from the first moment he came on the pitch and let the Rosenborg defenders know he was on the pitch.
"I wasn't surprised to see him completely unmarked in front of goal as he buried his header behind the keeper. His anticipation of where he should be at that precise moment is what his game is all about.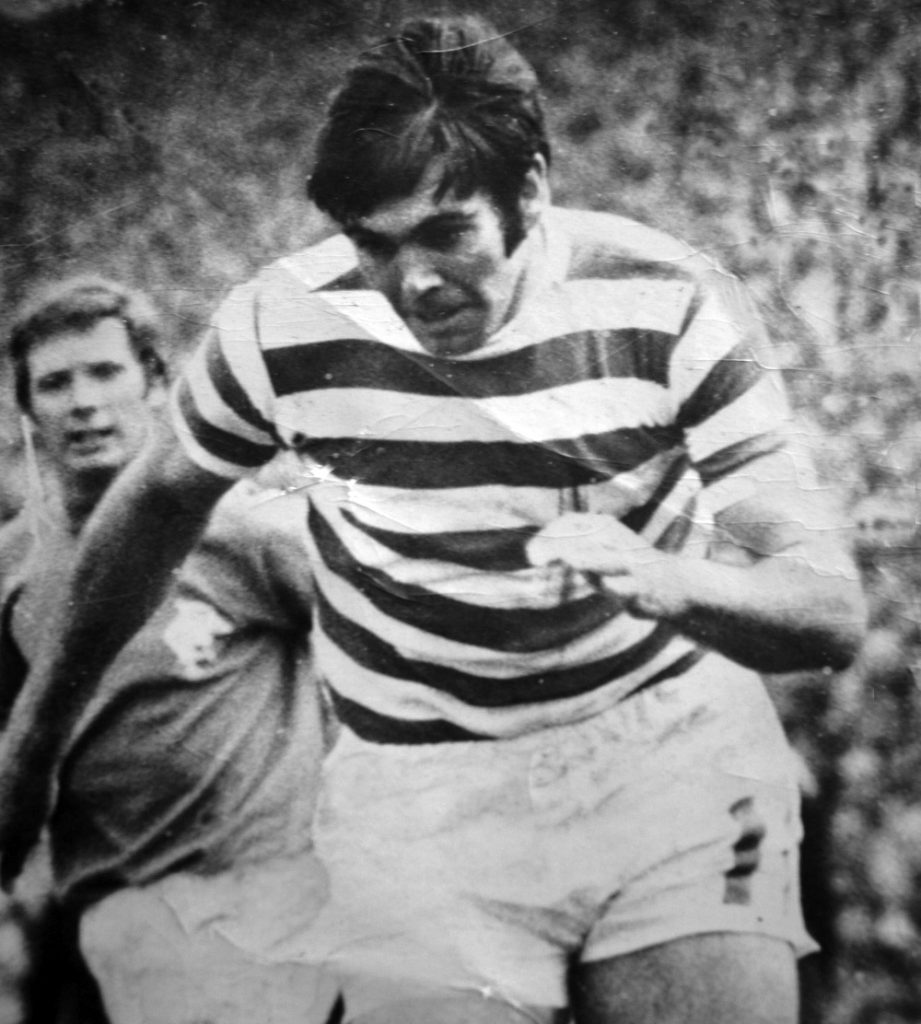 YOGI ON THE RAMPAGE…John Hughes powers past Rangers' Alex McDonald.
"Leigh would have had an idea where the ball might drop as soon as Dedryck Boyata rose to a clever diagonal cross from Scott Brown.
"Even before the ball left the defender's head, Leigh was running into position. There was no way he was going to miss and his header was a winner all the way.
"That is all about instinct, you can't coach that into a player. It's either there or it's not and I recall my old team-mate Davie Hay, when he was at Livingston second time around as interim manager in 2009, talking about a young lad coming through who was worth keeping a look out for – a rookie forward by the name of Leigh Griffiths.
"Davie is not the type of guy to talk up a player's ability without being sure of his facts. He insisted Leigh had all the attributes required to make it at a high level.
"And don't forget it was Davie who scouted the likes of Pierre van Hooijdonkk, Jorge Cadete and Paolo di Canio for Celtic during Tommy Burns' reign.
"I kept an eye on Griffiths' progress as he left Livi for Dundee and then onto Wolves. Mick McCarthy bought him, but didn't seem to know how to use him.
"Leigh, of course, went on loan to Hibs for a couple of seasons and piled on the goals.
"Obviously, I didn't know how he was actually playing in a lot of games, but I did notice the name Griffiths was appearing quite a lot in the goalscoring columns.
"When he arrived at Celtic, I wondered what we might be getting. He had scored a mountain of goals at Easter Road, but, without any disrespect to the Edinburgh side, it's a different ball game getting goals for my old club.
"For a start, teams will sit in and pack their penalty box. You can beat one defender at another team and there's a chance you are through on the keeper.
"That rarely happens at Celtic. How many times have you seen a frontman get past an opponent and there is another smack in front of him?"
Yogi, nicknamed after the popular American cartoon character Yogi Bear, added: "It didn't take long for Leigh to start scoring goals for my old club and, as a Celtic supporter, I hope he continues to do so – starting today against Kilmarnock at Rugby Park.
"Odsonne Edouard has kept him on the substitutes' bench at the start of the last three games against Rangers, St Mirren and Rosenborg, but I would give the nod for Leigh to be in at the kick-off for this one.
"He has already said he wants to be the number one striker at the club and no-one can fault him for ambition.
"Brendan Rodgers paid a club record £9million for the Frenchman from Paris Saint-Germain in the summer following his impressive season-long loan stint the previous campaign.
"If you pay that sort of money, you are bound to want the guy in your team. Odsonne is certainly an elegant player with a lot of skill and, at 20, he will improve as he goes along.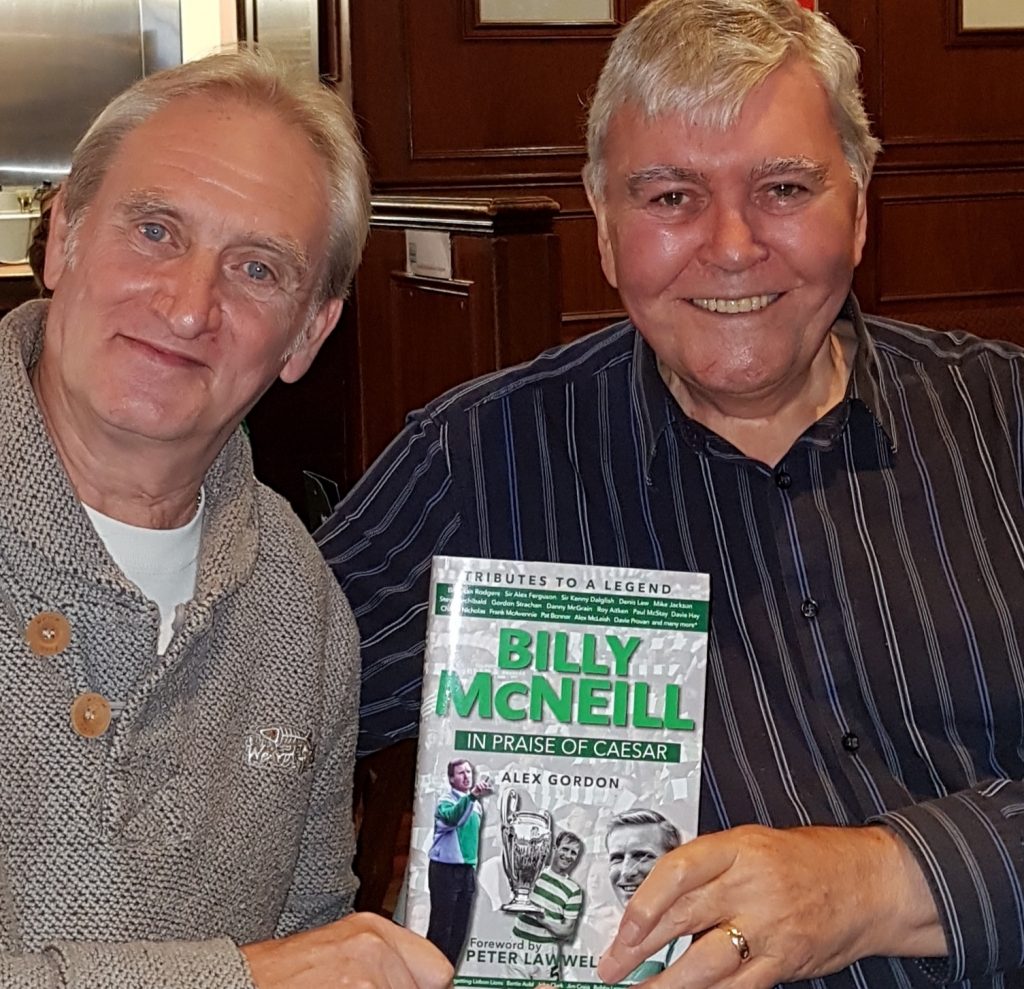 READ ALL ABOUT IT…John Hughes with friend and author Alex Gordon and his latest Celtic book, 'Billy McNeill: In Praise of Caesar'.
"However, from what I have seen so far, he is not an instinctive striker such as Leigh. I think that was shown the other night, as well.
"Tom Rogic flashed in a low shot which the keeper parried to his right and the ball fell to Edouard. I think Leigh would have had that in the net before the Norwegian defence knew what was happening.
"Odsonne, though, took just a shade too long, one long stride too many and the Norwegian goalie was given the opportunity to knock the rebound onto the post and away for a corner-kick.
"Games are won and lost in those moments and my money would have been on Leigh to tuck it away without any fuss.
"I see he has just signed a new four-year deal at the club at the age of 28 and that, ironically, was the same age if left Celtic for Crystal Palace in 1971.
"I didn't want to go, but Jock Stein had other ideas and no-one ever won too many arguments with the club's legendary manager.
"I've been asked how many goals I would have scored for the club I have always supported if I had been allowed to remain.
"Who knows? I would have liked to have gone beyond 200, so it is a bit of a shame I had to leave when I was within 11 goals of that total.
"I'm sure if Big Jock had offered me a four-year extension at the age of 28 there would have been every chance I would have scored those goals over that period of time!"
* DON'T miss the top match report from today's action between Kilmarnock and Celtic at Rugby Park in your champion CQN.
Click Here for Comments >