With an understatement of historic proportions, Scottish Government minister Annabelle Ewing said should would "respect the will of [the Scottish]parliament" and set in motion the process to repeal the discredited Offensive Behaviour at Football Act.  This is a new approach from a government which has ignored the will of the Scottish Parliament on each occasion on this very issue – despite acting like wounded fawns when others do the same.
The Act was the brainchild of Alex Salmond, who exploited a Celtic-Rangers match which saw two Rangers players ordered off and a brief but angry shouting match between Neil Lennon and Ally McCoist. The game, however, was remarkably free from crowd trouble.
For years Rangers fans were being arrested for offenses of a sectarian nature. Celtic fans had rid themselves of 'offensive chanting' but things changed when SNP Justice Minister Kenny MacAskill sat through a Celtic-Rangers cup final deafened by chanting of 'The Billy Boys', he congratulated spectators on their behaviour. This saw the return of political chanting from the Celtic support.
SNP minister Christine Grahame made clear the intentions of Salmond's Bill when she told Justice Committee meeting this Act would allow police to "equalise" arrest figures between Celtic fans and Rangers fans.
It was an appalling piece of governance and sectarian in nature.
61 SNP MSPs voted to retain the act yesterday, as Holyrood heard the most ridiculous nonsense in attempts to justify its place, citing sectarian comments made well away from the football environment. The SNP seem to know there is a sectarian problem, but are blind to any of their own shortcomings.
Credit for this reversal goes in considerable volume to the Fans Against Criminalisation action group, and to James Kelly MSP (Lab), who sponsored yesterday's vote. Ordinary men and women defeated a wilfully blind, Peronist, government.
We can only be grateful that government does not enjoy a majority in parliament. Its authoritarian tendencies are clear, they did not look at the evidence and reverse their view, they simply didn't have the votes necessary to continue to ignore all the evidence.
Win 4 x Walfrid Restaurant Hospitality tickets for Celtic v Hearts on 30 Jan.
Help Celtic FC Foundation in the process.
Generally reflect in awe at the goodness of club sponsor, Intelligent Car Leasing.
Intelligent Car Leasing have offered us 4 hospitality tickets for Tuesday's league game against Hearts.  Winners will eat at the magnificent Walfrid and enjoy a complimentary bar.  I've done this, it is magnificent, a truly great way to watch Celtic with your nearest and dearest.  Proceeds go to the Celtic FC Foundation.
The auction went online yesterday closes on Sunday, so you only have a couple of days to bid.
Good luck!!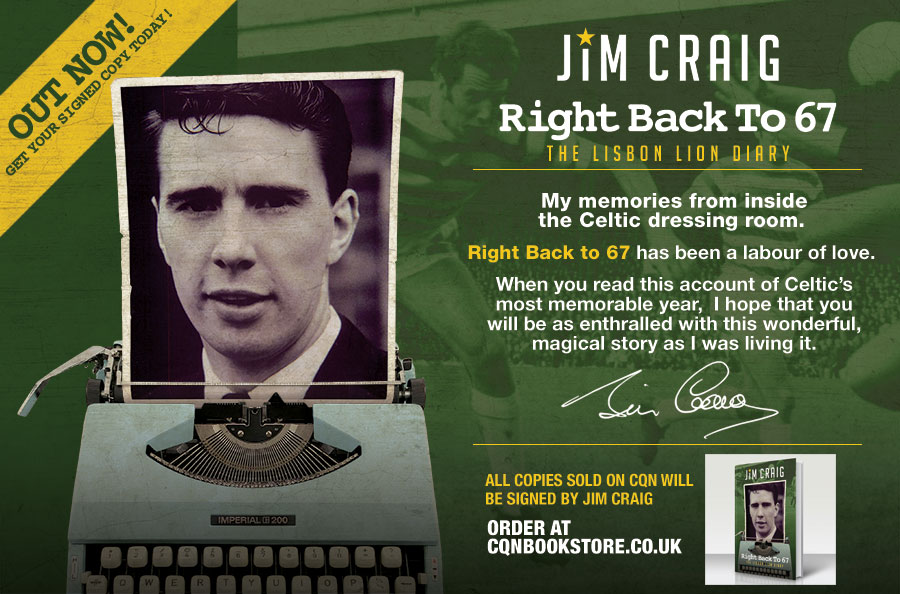 Order Jim Craig's new Lisbon Lion Diary – Right Back to 67 from CQNBookstore.co.uk and you will receive a signed copy from the man himself plus a FREE copy of That Season in Paradise – Ten Months of Celtic Heaven signed by fellow Lisbon Lion Bertie Auld! Simply order Jim Craig – Right Back to 67 and the second book will be sent automatically. Stocks are running very low so hurry! THIS DEAL WILL END IN A FEW DAYS!
Click Here for Comments >