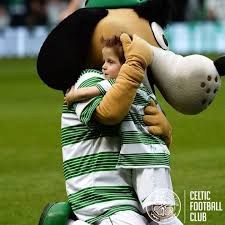 Some of the incredible people from the WeeOscar4Life campaign spoke to Stephen and Leona Knox and asked if it would be appropriate to submit an article to CQN for today, the first anniversary of Oscar's passing.
What started in the Celtic community went worldwide and had a profound effect on Oscar, his family and the wider community.  We lost Oscar, but there is a legacy which continues to help children similarly afflicted.  It's right that you should read the effect of what you did for Oscar, and what continues to be done in his name.
This is the article:
To Stephen and Leona he was their son, to Izzie he was her brother to the rest of the world he was known and revered as 'Wee Oscar' however Oscar Knox was also known 'Bravest boy in the World', 'an inspiration to a Nation' and 'the boy who united Northern Ireland'.
Oscar's story first came to light on the Celtic Quick News blog where Stephen (Knoxy2000) posted about Oscar's fight against cancer.  A number of CQNer's decided they wanted to help and this is where WeeOscar4Life started. The WeeOscar4Life campaign team organised various fundraising events and activities for the Oscar Knox Appeal.  Collections that raised in excess of £2,800; CQN badges raised over £3,600; however there has been one event so far that completely surpassed all expectations and really proved beyond doubt that the Celtic supporters are amongst the most generous in the World.
On Saturday 22nd September 2012 at Celtic's game against Dundee at Celtic Park, over 200 volunteers collected money on behalf of the WeeOscar4Life campaign as part of the Oscar Knox Appeal.  Wee Oscar's Green Bucket Army raised an astonishing £32,000 in just two. When you include a very successful race night at Celtic Park and a sponsored cycle to Belfast; the WeeOscar4Life campaign raised well in excess of £100,000 for the Oscar Knox Appeal.
Stephen and Leona had made the decision that a proactive social media campaign would be their best chance of raising the much needed money to enable Oscar to be sent to America or Germany for the specialist treatment that would give him the best chance of beating the neuroblastoma cancer. The Oscar Knox Appeal raised the £250,000 target in just 3 months and has raised over £700,000 now in total. The profile of their campaign and appeal ensured that Oscar's story became news the world over.
The WeeOscar4Life campaign also relied heavily on social media to raise awareness of our events. Our campaign team was just a few therefore the support and help of the wider online community was essential. Every one of the WeeOscar4Life campaign team would like to personally thank and show our appreciation to everyone who shared our calls for help.  Most of all, from the bottom of our hearts, thank you to each and every person who made donations.
Something that you should be aware (and extremely proud) of is that when you raised £32,000 at the Green Bucket Army collection, your money was the catalyst and final piece of the jigsaw that made it possible for Oscar to fly to America for the specialist treatment he so desperately needed.
As it turned out the trip to America did not go to plan and very quickly Oscar's health deteriorated to the point that the Doctors didn't believe Oscar would survive the night.  God knows how Stephen and Leona coped being stuck many thousands of miles from home with a bunch of strangers and having to watch their son slip away in front of their eyes. However Oscar showed that fighting Irish spirit and that Fearless determination and somehow pulled through. Unfortunately due to the medical complications that Oscar had developed he was unable to receive the specialist treatment he so desperately needed and had to return home where it was unclear what the next steps in Oscars treatment were and all that remained was a massive £250k medical bill and a wee boy that now had even more medical complications and battles ahead.
But as we all know Oscar had already proven what a fighter he was and amazingly his health did improve and even more amazingly during the early months of summer 2013 Stephen and Leona had announced that to the surprise of everyone that tests had shown that Oscar was cancer free.
Normal Life would mean that Oscar would be able to go back to playgroup again and the thoughts turned to planning Oscar's step up to the big school in September. In May 2013 Oscar had the chance to spend time in his new school, meet his teachers and classmates, and even get fitted for his new uniform. This trip to school meant the world to Oscar and his extremely proud family.
The summer of 2013 and normal life involved a short holiday at Centerparks which the family absolutely loved, and then a short break in Scotland, where they were able to visit family and friends. There was also the Champions League qualifier against Cliftonville at Celtic Park where Oscar was the Celtic mascot.
Watching Oscar come out onto the pitch hand in hand with Captain Scott Brown was a moment that the thousands who attended will never forget. The moment that Oscar ran to hug Hoopy will be the lasting memory for hundreds of thousands if not millions of people across the world. Although I think that Stephen enjoyed his time just as much as Oscar and taking penalties into the Celtic end goal after the game gave him a smile almost as big as Oscar's.
Sadly shortly after returning home from their time in Scotland Stephen and Leona knew that something was not quite right with Oscar's health so back to hospital and their specialist they had to go. Their Doctor informed them that the cancer had returned; this was going to prove to be Oscar's biggest battle of all.
Despite the earlier disappointment of having to postpone Oscar's primary 1 start in September 2013, due to his chemotherapy and hospital treatment, he finally got his biggest wish when he was able to start school on the 7th January 2014. Leona says "If it was possible, Stephen and I wore even prouder smiles than this as we drove him to school on that first morning."
In March 2014 Leona and Stephens worst fears were realised when scans revealed that the neuroblastoma had overrun Oscar's wee body – devastating news.  But this wonderfully dedicated and kind couple never gave up hope for Oscar's sake and it's obvious that Stephen and Leona's ability to maintain a positive environment around Oscar contributed immensely to Oscar wonderful positivity.
On Thursday 8th May 2014 Oscar sadly lost his two and a half year battle with Cancer and passed away at the Northern Ireland Children's Hospice in his Mum and Dad's arms. The news broke with a message from the family saying "Our beautiful amazing and much loved Son Oscar James Knox gained his angel wings yesterday afternoon. Sleep tight little man xx #TeamOscarForever". It seemed like the whole world was grieving with Stephen, Leona, Izzie and their entire family with literally thousands upon thousands of Facebook and Twitter messages being sent to the official Wee Oscar accounts.
The hundreds of ordinary people who came to honour and show their love and pay their respects to Oscar were joined by prominent politicians and sports personalities including, Deputy First Minister Martin McGuinness, Belfast boxers Carl Frampton and Paddy Barnes and award-winning restaurateur Michael Deane amongst others.
Hundreds of people lined the streets, some gave polite applause when Oscar passed, Police Officers saluted, people took off their hats and bowed and some held homemade banners. One of these banners read "You'll Never Walk Alone RIP Oscar #TeamOscar Brave to the very end". Little children many wearing football kits and tops of many teams including Celtic, Cliftonville and Rangers were seen; but football was irrelevant and rivalries were forgotten as everyone came to show their love for Oscar and their solidarity with Stephen, Leona and Izzie.
The funeral mass was a wonderful celebration of Oscar's short life and proved to be a very fitting send off. Near the end of the service both Stephen and Leona said a few words and they both spoke with a dignity, compassion and bravery that is hard to comprehend. They are truly amazing people and wonderful parents. While people applauded Stephen and Leona's courage and heartfelt words I suspect the congregated masses were also saying to them 'thank you for letting us be part of your beautiful family's and especially Oscar's life'.
On the same day as Oscar's funeral Celtic played Dundee Utd in the final game of the SPFL Premiership season; the day that Celtic would be presented with the League trophy; a day that would have been emotionally charged at the best of times however on this day it was even more emotional. The Celtic players all wore black armbands, before the game started a tribute was displayed on the big screens as they played "You'll never walk alone" over the PA system. RIP Oscar Banners were displayed throughout the stadium showing their love and support for Oscar. One of the most poignant and appropriate was displayed by the Green Brigade that said "Heart of a Lion – Courage of a Champion – RIP Oscar". On the 5th minute (Oscar's age) the entire stadium got to their feet to applaud; including the Celtic management team and substitutes in the dugout in what was a genuine show of respect, love and acknowledgement of what a personality and amazing bhoy that Oscar was.  After the applause turned to another chorus of "You'll never walk alone".
The final celebration of Oscars life was a service at Roselawn Crematorium the following day in South Belfast which was predominantly attended by family and close friends; however just like his funeral mass there were a few notable and instantly recognisable public figures there including Celtic's Kris Commons and his partner Lisa Hague who have both been wonderful supporters of the Oscar Knox Appeal as well as Jordan O'Keefe the Britain's Got talent finalist who wore his #TeamOscar wristband with pride throughout every round of the live TV shows which helped to raise massive awareness for Oscars plight.
Quite a few people have repeated Stephens words that "Oscar achieved more in his 5 and a half short years that most of us ever will in a lifetime" and how true these words are; some of this "big man for a wee mans" achievements include raising global awareness of neuroblastoma, increasing blood donations across the UK and Ireland, bringing diametrically opposed politicians together and being the catalyst for the first ever professional boxing event to be hosted in Belfast City Hall. He inspired people from many Countries across the world to go out and fundraise (which they did to the tune of just over £700,000 for the Oscar Knox Appeal) and even in death Oscar continues to inspire people to donate to worthwhile causes with over £36,000 raised within days for the Northern Ireland Children's Hospice and Children's Haematology Unit in his memory.
These are just some of the things that Oscar achieved, however without doubt Oscar's greatest legacy is that he made us better people! You could not help but be inspired to be happier and smile a bit more than we normally would, to be more courageous and determined (given what Oscar was going through everything else paled into insignificance) and if nothing else just to be a better person I mean how could you not be inspired to be a better person?
WeeOscar4Life was set-up to help Oscar and his amazing family get through the tough time of raising money to help Oscar get the much needed treatment that in the end he was sadly unable to get despite the truly heroic efforts of Stephen and Leona. Oscar will forever be in the hearts and minds of many people around the World and we are certain that memorials in many shapes and forms will be created for Oscar. The WeeOscar4Life team are delighted to say that with the support of many CQNer's we have been able to create our own lasting memorial for Oscar with the installation of a Paving Stone at Celtic Park. However the true purpose of WeeOscar4Life means 'for life' and our thoughts, prayers and best wishes are with our friends for life, Stephen, Leona and Izzie. Be assured that we will be here to walk with you on the next steps of your journey as friends.
It has been an honour and a privilege to have known Oscar and we are proud that you, Stephen and Leona, let us become a small part of your journey with Oscar and that we were able to share some of the highs and lows with you and your beautiful family.
Rest in Peace Champ, your smile and thumbs up will forever be treasured. Your bravery and inspirational fighting spirit an eternal legacy :'-)
To donate to the Oscar Knox Appeal use the following: http://www.justgiving.com/OscarAppeal
To donate to the Northern Ireland Children's Hospice use the following:
http://www.justgiving.com/remember/123577/Oscar-Knox
Click Here for Comments >