AUTHOR Alex Gordon presented a personal thought on Celtic in his fifteenth tribute to the club, 'Fifty Flags Plus One'.
The former Sports Editor of Scotland's biggest-selling newspaper the Sunday Mail is a lifelong Celtic supporter.
Alex wrote of his pride of being among those followers of a special sporting institution.
Here is the Author's Note in full.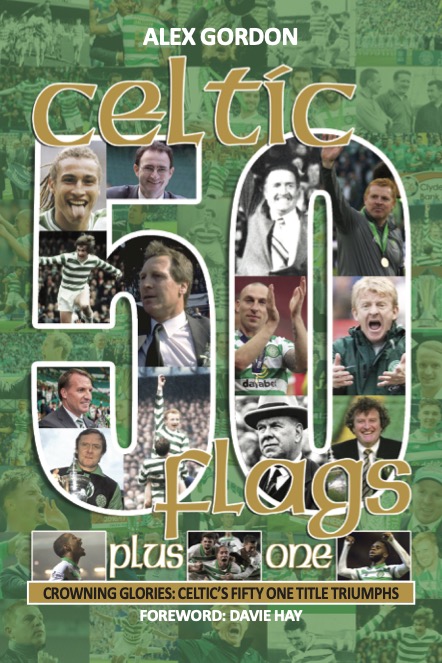 IT'S a journey we, and all before us, have travelled.
A momentous odyssey, enchanting and beguiling, commencing with the initial steps towards irreversible affection, loyalty and commitment from day one of witnessing your team in action. Our team, I should say.
We turn up on matchday, chasing the identical elusive dream, and we share laughter and sorrow, anxiety and anguish, joy and disappointment. On my personal pilgrimage, it's a romance that comes to life amid the grimy splendour of crushed, empty cans and discarded beer bottles beneath the rusting, daylight-peppered corrugated iron roof of the old Jungle.
THE JUNGLE…the area at Celtic Park where Alex, his dad John and uncles Hughie and George supported the team.
The football ground, a vast, colourless colosseum, sits in a neglected part of town; dreary desolation is evident among the utter wretchedness in the shadow of disintegrating buildings propped up against each other, in the ceaseless struggle to remain upright.
This is the east end of Glasgow, the city of my birth, in the early sixties; a part of the world that somehow escaped the intrusion of the twentieth century.
In this decaying corner, there is a geographical phenomenon, an inexplicable gravitational pull where euphoria and woe sit side by side.
Out on the field, green-and-white hooped gladiators are representing Celtic Football Club.
It's a cold and bright Saturday afternoon of November 9 1963 and Patrick Thistle are the opposition. I am an excited eleven year old and my adventure is about to begin. My team – our team – win 5-3 with Stevie Chalmers scoring a hat-trick. Playing that day are Tommy Gemmell and John Hughes. Decades later, I am honoured to write their autobiographies and be afforded the privilege of calling both personal friends.
READ ALL ABOUT IT…Alex with his fifteen Celtic publications.
My dad, John, and my uncles, Hughie and George, adorned in unfeasibly large woollen scarves in the team's colours, are in attendance, as they are at this strategic spot every home game. Reminiscences, warm and glowing, live here.
There is the urgency and anticipation as kick-off nears. Your heroes – our heroes – are about to emerge from the darkness and anonymity of the tunnel. Out they come, one by one, to a welcoming cheer; for some spectators the highlight of their week.
The first stride leads to an expedition through the decades that can excite and exasperate. There will always be something special about this club, our club. Celtic Football Club.
Yesterday has already faded and as today edges towards tomorrow all we will have in common is the memory.
And, for that, we can all be eternally thankful.
Click Here for Comments >