THE questions over the legality of Pedro's stoppage-time winner at Parkhead in midweek raged long after the final whistle and Celtic's agonising 2-1 Champions League loss to Lazio.
The header in the sixth minute of added-on time looked like a decidedly close call, but, curiously, there was no intervention from VAR.
Live TV pictures were far from conclusive with Pedro appearing to be just on line with Matt O'Riley, the last defending Celt.
Armchair audiences worldwide may have puzzled over the lack of the lines across the pitch to prove onside or offside, as CQN asked for an explanation from the VAR officials yesterday.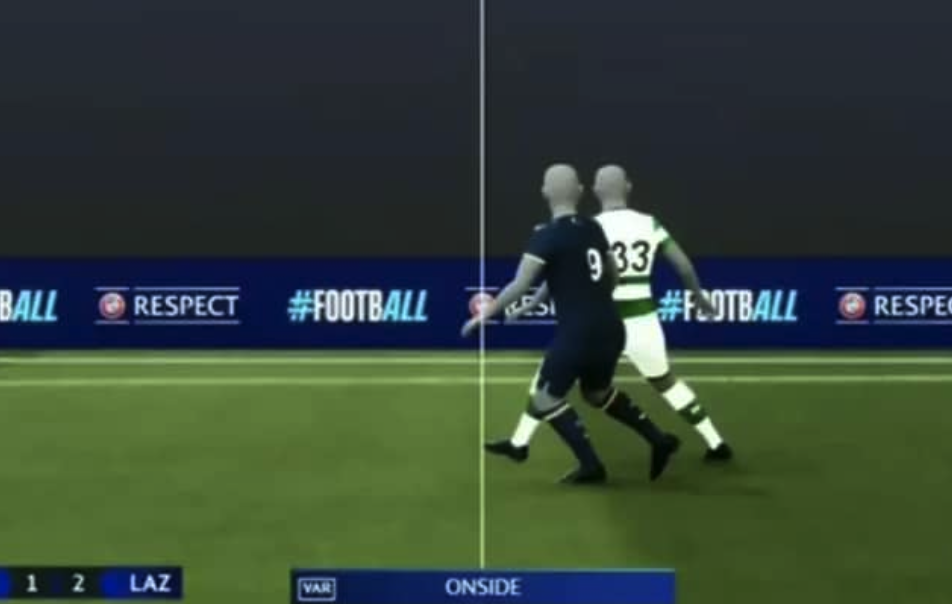 ONSIDE…UEFA image shows Matt O'Riley's left foot playing Pedro on.
UEFA president Aleksander Ceferin is on record as stating: "Thicker lines are essential because the line is drawn subjectively."
Possibly, UEFA have had another rethink about the technical decisions because there were no signs of any lines at Parkhead, thick or thin.
However, there was evidence they were in use for Europa League games last night.
Fully FIFTEEN minutes passed after Pedro's goal, long after the match had been concluded, a break for advertisements and an interview with O'Riley, before an image came on the screen to at last shed some light on the subject.
Images appeared to show O'Riley's left foot playing Pedro onside. The artwork looked straight from a Walt Disney production.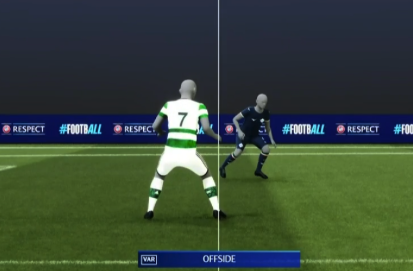 OFFSIDE…Luis Palma is in an illegal position, according to this VAR image.
It was a similar situation when Luis Palma had a goal disallowed in the 81st minute. The Honduran was inches offside after Alistair Johnston's delivery from the right had taken the merest of touches off Daizen Maeda on its way to the winger.
Once again, there were no lines drawn and viewers had to wait FIVE minutes before an image came on the screen.
That is VAR too long to explain decisions that can prove to be the difference between success and failure where margins are wafter-then, as they were in the east end of Glasgow in midweek.
We were reassured in the summer that "video officials now have semi-automated 3D technology, known as the SOAT system, to help them make offside decisions more quickly. In UEFA competitions, it is the assistant VAR who focuses on offsides calls."
More quickly? If Walt Disney worked at the same rate as VAR, we would still be waiting for Sleeping Beauty to appear at the movies.
Click Here for Comments >