CQN is turning the spotlight once again on the Celtic players who never had the honour of playing for their country.
Peter Latchford was a Jock Stein signing in the legendary manager's seemingly never-ending search for a replacement for Ronnie Simpson. He had bought the likes of Evan Williams, from Wolves, Ally Hunter (Kilmarnock) and Denis Connaghan (St Mirren), but he still wasn't satisfied.
The jovial Englishman got his opportunity to impress during an initial loan spell from West Brom. Big Jock liked what he saw and made the switch permanent. However, the netminder was never deemed good enough to get into a full England international squad.
Here is Peter's story in another EXCLUSIVE CQN series.
PETER LATCHFORD
was good enough to play twice for the English Under-23s, not concede a goal on each occasion – and never get a call-up to the full international squad.
And, amazingly, it was England manager Don Revie who paved his way to Celtic in 1975. Latchford agreed a loan deal from West Brom which was extended into a permanent contract that kept the ever-popular goalkeeper at Parkhead until 1987.
Back in the mid-seventies, Jock Stein was on the hunt yet again for a new shotstopper after growing frustrated with the erratic displays of Ally Hunter and Denis Connaghan. He cast his gaze towards Leeds United and their reserve David Stewart, who had been bought by Revie from Ayr United during his spell as Elland Road gaffer. Big Jock and Don maintained a friendship despite the Hoops' historic home-and-away European Cup semi-final triumphs over the Yorkshire outfit in 1970.
MY BALL…Peter Latchford takes a cross in the 3-1 Scottish Cup Final victory over Airdrie at Hampden in 1975.
Jock wanted an update on Stewart, despite the fact Revie had since moved up to take over as international supremo in 1974. Revie pointed his former foe in the direction of Latchford at the Hawthorns. He arrived on a temporary contract, blundered to gift the opponents a goal in his Parkhead debut – a 3-2 win over Partick Thistle in February – but still did enough in the remaining months to convince Jock to make the move permanent. It was one of the best transfer deals the Celtic manager ever did for a keeper. He got his man for only £35,000.
The amiable Brummie won his first medal with the Parkhead side later that season when Airdrie were beaten 3-1 in the Scottish Cup Final on May 3 – ironically, Billy McNeill's last game for the club.
Latchford became a mainstay in Big Jock's starting eleven and, effectively, ended the careers of Hunter and Connaghan who left for pastures new in the pursuit of first team football. Roy Baines, an arrival from Morton, briefly threatened for a run of five games in 1977. However, after a shock 3-0 setback against Motherwell, Latchford was reinstated and remained No.1 until a hand injury allowed Pat Bonner to make his debut in a 2-1 win over Motherwell in March 17 1979.
HAMPDEN HOORAY…Peter Latchford celebrates the 1975 Cup Final win.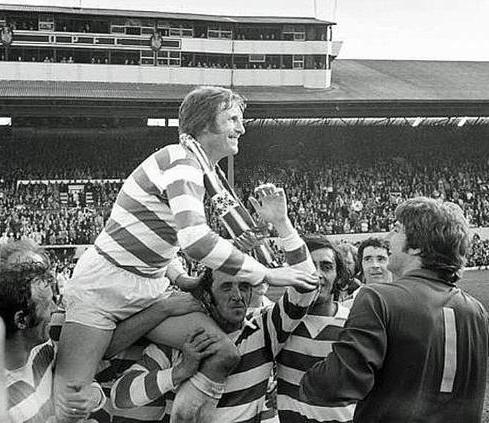 FINAL FAREWELL…Billy McNeill, watched by Peter Latchford, is hoisted high after his last game for Celtic, bowing out as a winner at Hampden in 1975.
However, the resilient Englishman fought back and, of course, his finest memory was the 4-2 Premier League title clincher over Rangers on the last day of the 1978/79 campaign.
"What a night that was," enthused the keeper. "The fans were astonishing. They were everywhere and they urged us forward throughout that night. Even after we lost wee Johnny Doyle when he was sent off early in the second-half, we knew we would win."
Latchford remained with the club until the summer of 1987 when he left to play for Clyde for two seasons. Now 70, he retired at the age of 35.
He has oftened been asked why he hung around for so long when Bonner was the man in charge. Latchford always answered: "It was an honour to play for Celtic. I was happy to remain loyal to them. I was always there if they needed me."
Click Here for Comments >