PETER LAWWELL will return to Celtic as chairman when he succeeds retiring Ian Bankier on January 1 2023.
Author Alex Gordon, who has written 15 books on the club including the autobigraphies of Hoops legends Bertie Auld, Tommy Gemmell, John Hughes and Davie Hay, first met the former chief executive in January 1996.
Both had been invited to join the Mike Galloway Benefit Match committee after the player's career had come to a premature end following a car accident while he was on loan at Leicester City in August 1995.
Alex recalled the eventful meeting of almost 27 years ago. The former Sunday Mail sports editor and Daily Record chief sports sub-editor told CQN: "Raymond Sparkes, the agent for the likes of John Collins, Simon Donnelly and Phil O'Donnell, was also Galloway's representative.
"I knew Raymond well and I did a few things for some of his clients in the Sunday Mail. I had left the paper in 1994 to take over a sports freelance agency 7 Day Press which had links to every national newspaper in the UK.
"Basically, he asked me to come on board and handle the publicity for Mike's proposed match. Fergus McCann had set aside a Sunday afternoon on March 3 for the game and we didn't have too much time to get everything organised.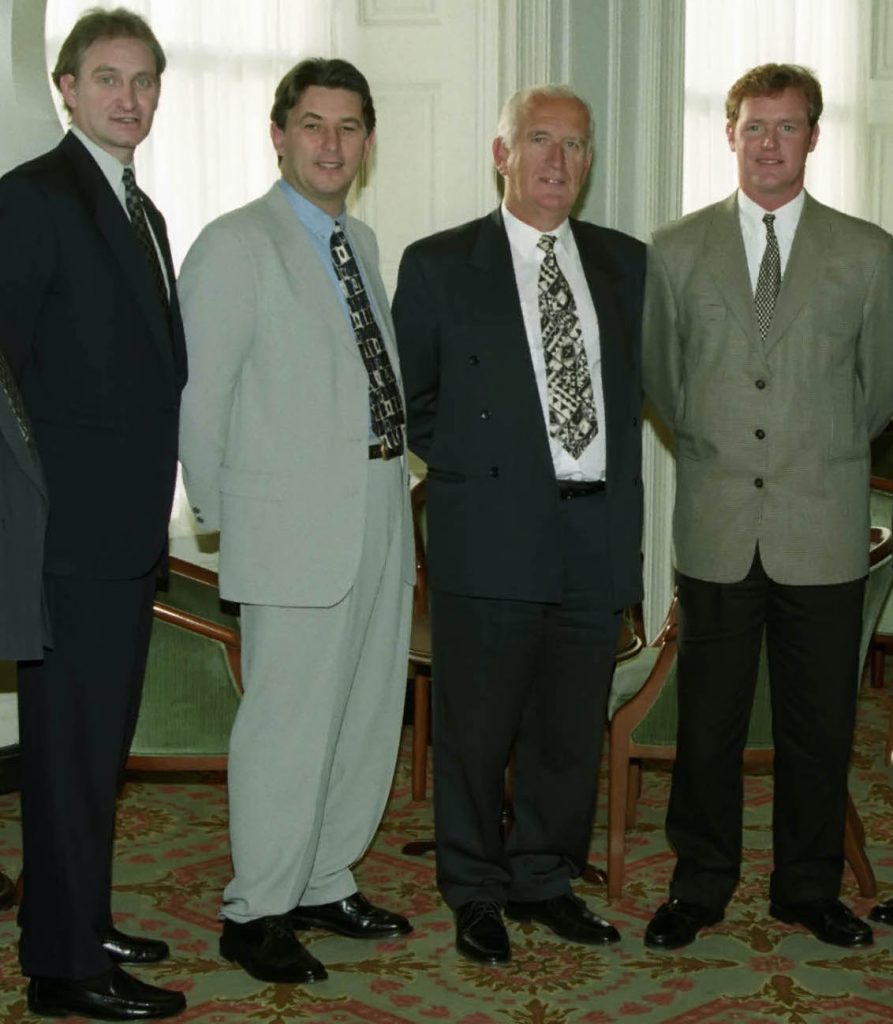 CHEQUE PRESENTATION…Peter Lawwell, flanked by Celtic book author Alex Gordon (left) and top lawyer Len Murray, prepare to present a Benefit Match cheque to Celtic's Mike Galloway in May 1996.
"I have been on testimonial committees in the past for the likes of Davie Hay and Tommy Gemmell, but I had never been on one that had to put together an actual match at Celtic Park. For tax purposes, Celtic, as a football club, could not get involved.
"That meant we had to hire the ground – I remember Fergus gave us a very competitive rate! – and we had to arrange everything from the folk running the bars and dining areas, programme-sellers, people on the door, at the turnstiles and we even had to deal with the police and ambulance authorities.
"Plus we had to pay for the floodlights!
"We were warned off utilising usual staff because it would look as though Celtic would be assisting in the fundraiser and that would alert Inland Revenue who would want a percentage of the funds we were trying to pull together for Mike.
"Basically, we had to start from scratch. If you say it quickly, it's not too painful.
"Raymond began putting the committee together and he wanted Peter Lawwell in to look after the all-important finances. Len Murray, the top lawyer, was also co-opted on board as chairman, and four other businessmen with expertise in these matters were brought in.
HERO'S WELCOME…Mike Galloway is applauded onto the pitch by the Celtic All-Stars' team.
"I had known the name Peter Lawwell, of course, because he had a spell as Financial Controller at Celtic for a year after joining in 1991. Terry Cassidy was the chief executive at the time.
"The committee met in the RAC Club in Blythswood Square in Glasgow for the first time and things were quickly put in motion.
"I was impressed by Peter right from the start. He outlined his plans to bring in as many funds as we possibly could for Mike. Everything had to be done at speed because if we missed the March 3 deadline we had no idea when we might get another opportunity to stage the game.
"It was my job to get players signed up. The first guy I thought of was Kenny Dalglish. They don't come any bigger than Kenny as a legend with the Hoops support and I thought I might as well aim high.
"He was director of football at Blackburn Rovers at the time, so I had to check the fixture list to make sure he would be available. Luckily, the date for Mike didn't bounce off anything.
"I put a call into Kenny. He told me he needed time to put things in order at his end and he promised to get back to me within 24 hours.
"I put it to him that I had a thought of playing him in the opposite team to his son Paul who was at Celtic at the time. He loved that idea. 'I'll be able to show him a few tricks,' he laughed.
"Sure enough, Kenny phoned my mobile the following day and he gave me his word he would play in the game. We had an expenses' budget for guests, but Kenny insisted he would be coming up with his wife Marina and he would take care of the financial outlay. I seem to recall they stayed a couple of nights at The Hilton.
"Anyway, as the date for the match seemed to accelerate, the committee met practically every night at Celtic Park.
KING KENNY…Dalglish in action for the All-Stars in March 1996.
"Good old Fergus made sure we had a bowl of soup waiting for us at the stadium for our meetings during a fierce winter.
"Afterwards, we broke up and headed home. I remember long days back then. My agency, with a staff of eight journalists, opened for business at 8am and there were evenings I was getting home at the back of ten.
"There were a couple of nights where three or four of us went into the city centre for a few beers. We used Molly Malone's, as I remember. I would have a couple of lagers and Peter had a Guinness or two.
"Naturally, all the chat was about Celtic, past and present. Peter Lawwell was as dedicated a Celtic supporter as I have ever met.
"Thanks to everyone's input, the Mike Galloway Benefit Match went ahead on the scheduled date. On the day of the game, we met in the Celtic Park boardroom and, later on, the committee took pride of place in the Celtic directors' box.
"My old dad would never have believed his son would one day be in among the elite at Celtic Park. He watched all his games from the same spot in the old Jungle for years.
"I recall comedian Robbie Coltrane was there that day as an invited guest.
"Kenny played against Paul and the score was 3-1 for the current players against the All-Stars, not that anyone was particularly bothered about the scoreline. The attendance was in the 24,000 bracket as the Celtic supporters rallied to the cause.
"On a May evening, we met again at the RAC Club and a rather large cheque was presented to an extremely emotional Mike Galloway. It was Peter's idea to play down the actual figure raised before the event and Mike was more than happy with that reported total.
"Imagine his surprise, then, when Len Murray made the presentation and the sum was double what he thought he would be picking up.
"In that moment, the hard work and the late nights were all worthwhile.
"No-one on that committee took a penny in expenses, travel or whatever. Everything earned went to Mike, who was clearly a deserving cause.
"Seven years later, Peter took over from Ian McLeod as Celtic chief executive.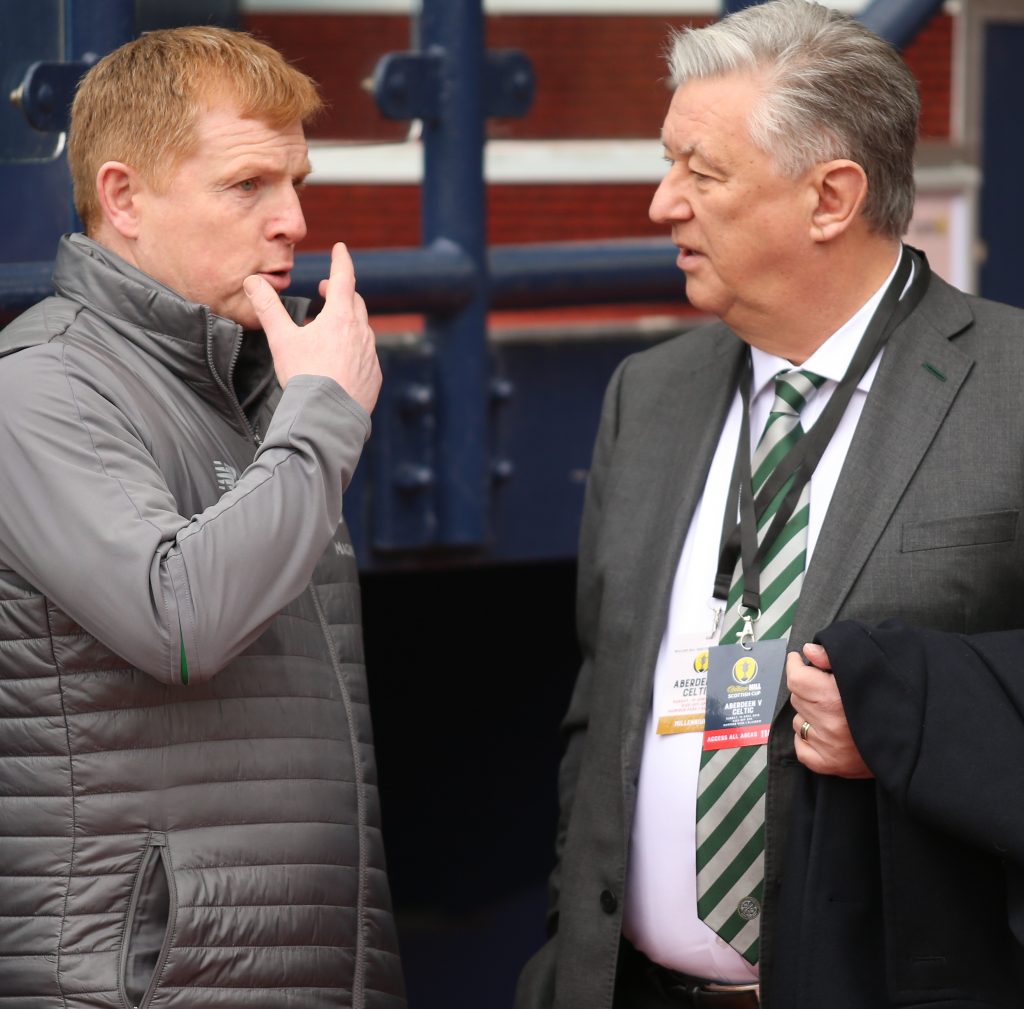 IT TAKES TWO…Peter Lawwell chats with manager Neil Lennon.
"He left on June 30 2021, of course, following a remarkable journey. Peter presided over twenty-nine trophies in his 18 years in the post – including thirteen titles, four domestic trebles and the last 16 of the Champions League on three occasions."
Gordon continued: "I am aware of things Peter has done for those among the Celtic family. I know he has gone out of his way to assist former players, for instance, but he would not thank me if I ever went into print about these deeds. They were done in his own time away from the glare of publicity. He never sought applause for these endeavours.
"I was sitting with him in his office at Celtic Park in April last year. As we were reminiscing about our first meeting and how life had taken some strange twists and turns, there was a knock at the door. A secretary handed in a brown paper carrier bag.
"Unannounced, a fan had dropped off a small gift for the CEO who, in that moment, was quite emotional at the thought behind the contribution. It was an unguarded moment and I could see how much the kind gesture meant to him.
"I've been in his company with the likes of Billy McNeill, Bertie Auld, Tommy Gemmell, John 'Yogi' Hughes and Davie Hay, who is now a club ambassador, of course.
"Peter loved talking about his memories of watching these players as he grew up and was on the terracing at Celtic Park.
"On a personal level, I welcome back Peter Lawwell because I am safe in the certain knowledge Celtic are in the hands of a genuine Celtic fan."
Click Here for Comments >