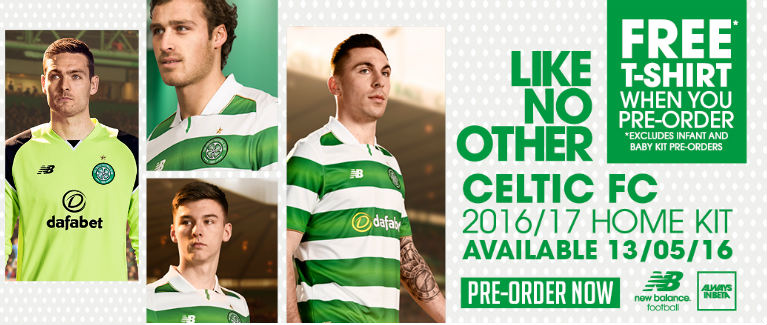 CELTIC supporters groups today hit out at the Daily Record for their insensitive, factually wrong and malicious story about Celtic's safer standing announcement and relating this to Hillsborough.
Celtic have stood beside the Liverpool supporters and the Hillsborough families every step of the way since that awful day in April 1989 at the FA Cup semi-final.
Indeed after weeks of grieving  in 1989 Celtic led the way in helping Liverpool by staging the benefit match at Celtic Park in what was a very emotional day in the East End of Glasgow.
Celtic supporters have never wavered in their support for these Liverpool supporters and Celtic as a club have also shown tremendous solidarity for the Hillsborough families. Indeed when the verdict was reached in the court in Warrington a few weeks ago, Celtic immediately released a statement in support of the families.
Other Scottish clubs may well have done the same.
For the Daily Record to link an announcement from last year on safer standing to Hillsborough and misrepresent Celtic's actions to a Hillsborough family member is quite simply unforgiveable.
Many Celtic bloggers have commented on this in recent days including the Celtic Blog and Video Celts. Paul67 on Celtic Quick News said this:
"Last year Celtic announced they received permission for safe standing at Celtic Park from the start of next season.  The club hasn't spoken about the matter since then, but season ticket renewal information was published yesterday, including details for those in what will become safe standing areas.
"Some sharp-eyed operator spotted an opportunity.  A bereaved Hillsborough mother was called, information put to her which led her to believe Celtic HAD made an announcement this week, before commenting "It's insensitive to announce that right at this time, a week just after the verdicts".
"Readers were then treated to comments from Peter Lawwell to hammer home the point, "Celtic has worked tirelessly on this issue and we are delighted this permission has finally been granted".
"That comment was made in 2015, but was printed in the cont
ext of being made a week after the Hillsborough inquest.  If you want a Celtic comment contemporaneous with the Hillsborough inquest, you're out of luck, none was made.  A comment was taken from the past, dressed up as new – and insensitive to the Hillsborough tragedy – then put to a bereaved mother.
"This beggars belief.  This coverage did not happened by accident, it was planned and executed with a clear objective to undermine Celtic, and the chief executive in particular.  It was a vile act."
Today both the Affiliation or Registered Celtic Supporters Clubs and The Celtic Supporters Association have added their voices to the outrage and anger within the Celtic support about this 'vile act.'
Speaking exclusively to CQN Magazine today, Affiliation spokesman Kevin Graham said:
"Celtic fans have been boycotting papers for years and I'm sure this episode only strengthens that resolve.
"We feel that the club needs to defend themselves more in public but understand the balance they need to strike.
"We were always open about talking to journalists but in recent weeks there has been a few stories and instances that has now put that stance in serious doubt.
"We will be discussing this in the coming weeks.
Tomorrow we take part in the Hillsborough presentation Pre match. Like in 1989 and in the proceeding 27 years Celtic have provided support and solidarity with the Liverpool FC and the people of the city in their campaign for justice.
The Daily Record story was sickening and no hollow apology undoes this."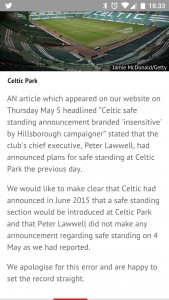 Faced by unprecedented outrage from Celtic supporters the Record moved to 'clarify' their position – see the graphic.
And on Twitter the paper's head of sport Keith Jackson, instead of offering his resignation, blamed the 'separate digital department' and said that it was him that noticed the problem with the story and immediately ordered its removal.
Brass neck or what?
Meanwhile Joe O'Rourke from the Celtic Supporters Association was just as annoyed as the Celtic bloggers or Kevin Graham from the Affiliation.
Joe had this to say today, as he renewed an appeal for Celtic supporters to boycott this paper which he describes as having a agenda to destabilise Celtic.
"It's really hard to believe that some Celtic supporters still buy the Daily Record. We have had a boycott of the rag since the "Thugs & Thieves" headline which eventually cost the editor his job," Joe stated.
"Their latest attempt to bad mouth Celtic Football Club is absolutely scandalous; and deserving of legal ramifications.
"To claim that the announcing of the Safe Standing area was an insult to the families of the Hillsborough victims is right down there with their lowest guttersnipe journalism.
"We all should know the Records agenda; it is to destabilise Celtic Football Club; and to promote Sevco FC.
"So here I am saying it again. DO NOT BUY THE DAILY RECORD. All Celtic fans should boycott the rag. 
I also hope that Celtic Football Club take the strongest possible action against this mob. I would ban every one of their representatives from all media opportunities at Celtic Park."
CQN POLL – VOTE NOW! – Do you agree with Joe O'Rourke at the CSA? Have your say on what action Celtic should take against the Daily Record after this 'vile act. One vote only is permitted.
Sorry, there are no polls available at the moment.
———————————
ORDER CHARLIE GALLAGHER? WHAT A PLAYER! from CQN Bookstore HERE and you'll get a SIGNED copy and a FREE GIFT!
Click Here for Comments >