CELTIC'S three-month search for a new manager came to an end on June 10 2021 with the appointment of Ange Postecoglou.
In another EXCLUSIVE series, we have examined the CQN FILES to look at the breathtaking impact the Greek-Australian had on the club with the Premiership title being handed over on May 14 in the midst of a carnival atmosphere in the east end of Glasgow.
Please enjoy Day Seven of our twelve-part series, 'POSTECOGLOU: A YEAR IN PARADISE', as we chart the months as they tick down to a massive celebration.
SILVERWARE BREAKTHROUGH…beaming Ange Postecoglou proudly holds aloft the League Cup, his first trophy as Celtic manager.
ANGE POSTECOGLOU utilised diplomacy and dry wit when he responded to Robbie Neilson's rant after Celtic's 1-0 triumph over Hearts at Parkhead on Thursday December 2.
Kyogo Furuhashi's 14th strike of a convincing debut campaign settled the issue to keep the Hoops four points off the pace at the Premiership pinnacle.
The Greek-Australian gaffer watched his injury-stricken side grind out the win, despite three players – Anthony Ralston, Filipe Jota and Stephen Welsh – limping off to the disrupt the rhythm of the team.
The Glasgow side would have had more breathing space if James Forrest had not passed up two glorious opportunities – one at the start and the other six minutes from time – while former Bhoys' No.1 Craig Gordon was in defiant move with several top-class saves with Postecoglou's men having TWENTY-FIVE shots at goal.
Joe Hart, at the opposite end, put in his expected professional shift, but was hardly overworked with only two shots on target while his team-mates had a tell-tale 69 per cent of the possession with play mainly taking place in the visitors' half of the pitch.
Astoundingly, Neilson insisted his team "got beat by poor decisions from the officials".
The Tynecastle coach refused to give any sort of credit to his opponents, despite statistics glaringly pointing out his players were clearly second best on the night.
It is the sort of blinkered view the Hoops manager would have been getting used to after almost six months in Scotland.
MATCHWINNER…Kyogo Furuhashi fires the points-clincher past Hearts keeper Craig Gordon.
Postecoglou simply replied that Neilson was "watching a different game" following his bizarre observations.
The only goal of the game arrived in the 33rd minute when Tom Rogic released Ralston on the right and the full-back thumped over an inviting first-time cross to the near post.
Kyogo's timing was perfect as he raced in to meet it on the run and he sizzled a right-foot effort away from the stranded Gordon.
There was no offside decision from referee Bobby Madden or his standside assistant although it was a tight call.
Without VAR – which is hardly foolproof in any case – a lot was made of the validity of the goal, but most angles tended to suggest the Japanese frontman was at least on line with his team-mate when the ball was delivered. No ifs or buts on that one – that makes him onside.
Discussing the possibility of the winner being offside, Neilson claimed: "I've seen it, everyone would agree with it [being offside]. The linesman had a brilliant view.
"I don't want to say too much. The last time I did, at Ibrox, I had the book thrown at me. We deserved to take something out of the game.
"In key moments, Craig Gordon had a few good saves, but we had good chances. But we were done by a very, very poor official."
Asked for his thoughts on his opposite number's comments, Postecoglou replied: "That means the referee's on three points, he's still bottom of the table, isn't he?
"If anyone thinks the referee decided that game, they were watching a different game than I did.
"We should probably should have won by more, that's my analysis. He has his analysis. He can communicate it the way he wants and I'll communicate it the way I want."
Postecoglou smiled and added: "It's a goal, mate. I'll let it go and let our performances speak for themselves."
Looking ahead to the Premier Sports League Cup Final against Hibs which was due on December 19, Postecoglou admitted: "You take on the role of manager of this football club and you're not going to be given three years to win a trophy.
"You've got to do that as soon as you arrive and at the same time as building.
"For us, the challenge this year is we didn't inherit a settled squad, it was a squad that needed rebuilding for a number of reasons. It's not like we just went out and brought in players to complement what we had."
Wizard of Oz Tom Rogic was applauded by his manager after his spellbinding 70 minutes in the 3-0 triumph over Dundee United at Tannadice on the afternoon of the fifth.
It had been a tantalising display from the Australian playmaker who demonstrated his unique skills in the 19th minute as he weaved his way in from the right, nonchalantly skipped past three defenders and completed the move with a low curling left-foot drive into Benjamin Siegrist's far corner.
FAN-TASTIC…Ange Postecoglou holds up a Celtic scarf at the end of the 3-0 win at Tannadice.
It was little wonder his former Australian international gaffer beamed: "Brilliant. I do know him well. He's one of those special footballers.
"When the ball goes to him, I just think everyone stops and sees what he's going to do because you want to be paying attention.
"That's not the time to be looking down on your phone or taking a drink. You want to stop everything you're doing and I'm pleased he got his goal today.
"That's probably the area he's let himself down so far this year. He's had some good opportunities so pleased he got the reward."
David Turnbull doubled the team's advantage before the interval after a fabulous pass from skipper McGregor.
Postecoglou added: "David wants to improve. That's the most important thing. We're giving him information every week.
"You can see him putting it into practice. He wants to become the best footballer he can possibly be and that's what you want from any young player.
"He's still at the beginning of his career, particularly in that position, but what I keep seeing of him, why I keep putting him in there."
Liam Scales, bought from Shamrock Rovers for £600,000 in the summer, celebrated his first appearance in the Premiership with a low left-foot effort for the third goal nine minutes from time.
At the end, Postecoglou held aloft a Celtic scarf and said: "It's just about me showing my gratitude for their support.
"I've said from day one, I'm not sure I'm sort of worthy of the adulation or the support I'm getting, because I've yet to achieve what I want to.
"But I can't dismiss the fact they are right behind me, not just me, but the whole team.
"The atmosphere they create, even on Sunday when a few unfortunately couldn't get in to the ground.
"The ones who were there made up for it with their noise. They are the most important part of this football club."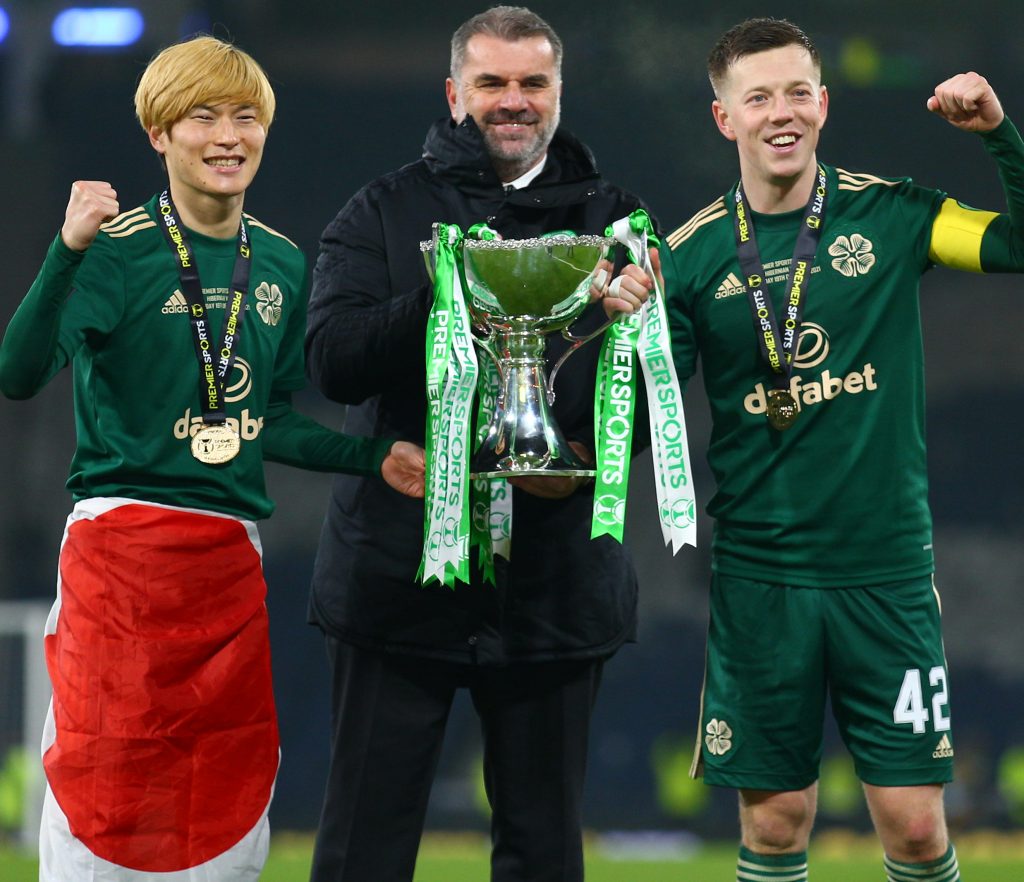 THREE CHEERS…Ange Postecoglou is flanked by two-goal Kyogo Furuhashi and captain Callum McGregor after the 2-1 League Cup Final win over Hibs six days before Christmas.
Celtic completed their Europa League Group G fixtures with a 3-2 win over Real Betis at Parkhead with Stephen Welsh, Euan Henderson and Turnbull (pen) on target.
Postecoglou insisted he had no regrets over a campaign that saw his team concede 15 goals in six games.
On the plus side, the Hoops hammered in 13 strikes of their own – bettered only be three other teams – in an exceptionally competitive group.
Postecoglou saw his side claim nine points after winning three and losing three games to fail to match the Spaniards' tally by a solitary point.
They beat Ferencvaros, who would go on to lift the Hungarian title with 12 points to spare, home and away, 2-0 in Glasgow and 3-2 in Budapest.
Teams with fewer points than nine – notably Giovanni van Bronckhorst's club across Glasgow – made it to the Europa League knock-out stages.
The manager said: "I think we've made progress as the games have gone on.
"The pleasing thing for me is that we made a decision to tackle these games a certain way, irrespective of the opponents.
"My view was let's go out there and test ourselves against the very best and if we fall short at least we know the areas we need to improve."
CUP THAT CHEERS…Ange Postecoglou with the Premier Sports League Cup.
The Hoops were made to walk the tightrope with 10 men in Dingwall in their next outing where a goal from Ralston in the seventh minute of stoppage time gave them a well-deserved 2-1 victory after enjoying 75 per cent of possession.
Two bewildering decisions from ropey referee Alan Muir left Carl Starfelt with a bloodied nose and an early exit as the Parkhead men fought gallantly to achieve the points. In the 21st minute, Liel Abada had rounded off a fine move with an accomplished finish to give the visitors the lead, but some lamentably sloppy defensive play led to a corner-kick for the home side and their 57th-minute equaliser from Jack Baldwin.
Once again, Celtic had a mountain to climb and they had to do so with a man short from the 78th minute on after Starfelt's harsh banishment.
The Swede, who picked up his first yellow card for saying something to the match official after receiving an elbow in the face from Jordan White which left him with blood flowing from his nose, will now realise that, on certain occasions, referees in this country rarely show compassion in such matters. Or common sense.
Postecoglou said: "I'm super proud of the player, they got their rewards in the end.
"They had to put up with a lot of adversity, but they kept playing their football and got a deserved winning goal.
"I thought with 10 men we still tried to play and win the game of football, we didn't just launch it long.
"It was a great ball in from Tom Rogic and it was super for Anthony Ralston to get the winner."
As he prepared for the weekend Premier Sports League Cup Final against Hibs at Hampden, Postecoglou admitted he felt "privileged every day" to be manager of Celtic.
He acknowledged: "It's an honour for me just to be in this position looking at the people who have graced this position before me. Absolutely. That's where the privilege lies for me.
"Sunday is more of a responsibility than a privilege because, when you do take this position, that's what you are expected to do.
"To get this club to the big occasions and bring success to it. That's the precedent that's been set. I feel privileged every day I'm in this position. On Sunday, I'll feel the responsibility of trying to bring success to this football club and continuing the great traditions of the managers of the past."
It took two second-half goals from Kyogo Furuhashi to bring in the silverware after the previous term's trophyless campaign – and Celtic could be the Japanese striker is a person who will not take no for an answer.
Postecoglou had just about resigned himself to the fact the influential attacker, who now had 16 goals to his credit since opening his account with a strike against FK Jabonec in the Czech Republic on August 5, would not be performing at the national stadium.
Kyogo, though, persisted with the notion he had a role to play against the Edinburgh club – and the Greek-Australian relented and named him in his starting line-up. Breathtakingly, he responded to the challenge of not letting down his manager, team-mates or supporters with two marvellous strikes within 22 second-half minutes to win the twentieth League Cup for the Parkhead side.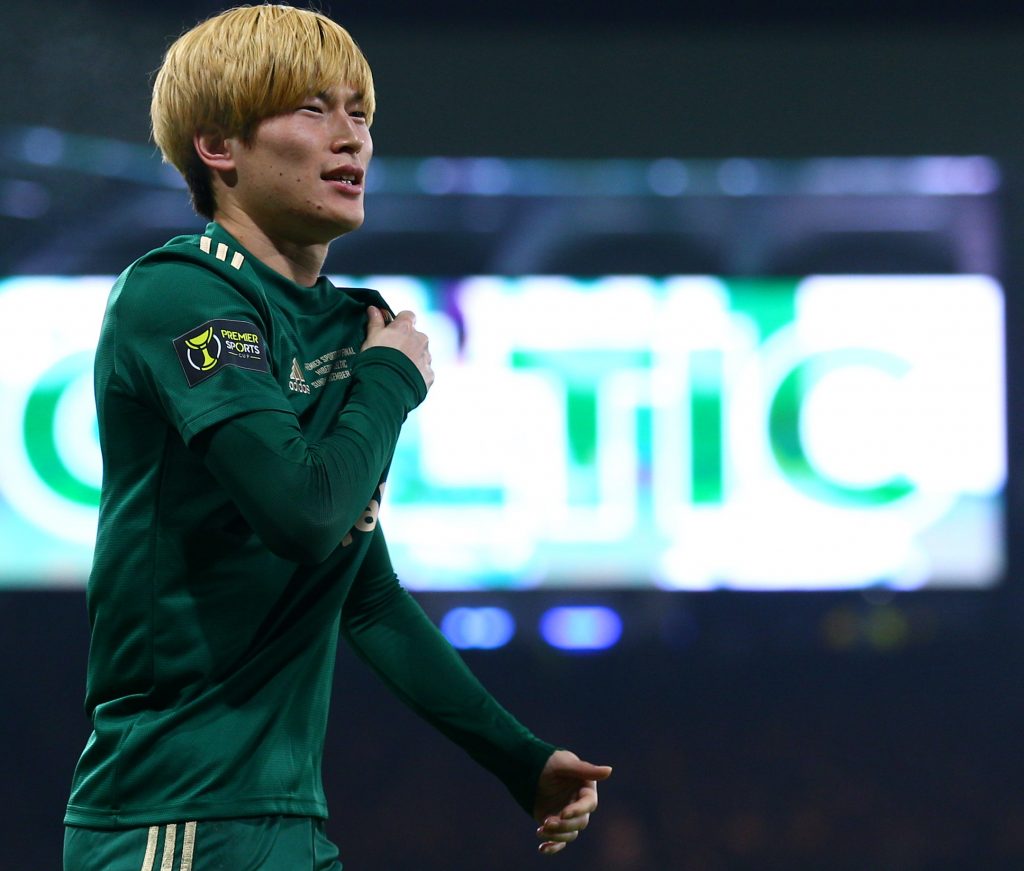 ILLUMINATING…Kyogo Furuhashi lit up Hampden with his two-goal dispay against Hibs.
The team boss admitted: "Of course there is risk, but good luck trying to keep him out.
"There was no chance. He would have snuck on the bus or snuck onto the field at some point.
"He just had it in his head that he was going to play. He wanted to help the players and the team and to be part of this.
"Having worked in Japan, I know the mentality. They have a really strong culture in facing up to their responsibilities.
"I think he felt responsible to go out there and help the players.
"From the moment he picked up the injury, there was no way he was not going to play, irrespective of what I was saying or the medical team were saying.
"This football club and him are a match made in heaven."
Postecoglou added: "Everywhere I've been I've had success. I think that's a driver in me. I think that will probably be with me until I decide to retire.
"Maybe I create that scenario a little bit, too, just to try to keep myself motivated. Not to prove people wrong, but to prove me right more than anything else."
The month neared its conclusion with a disappointing scoreless confrontation against St Mirren in Paisley and Postecoglou bristled at suggestions he rested players. Talisman Kyogo, keeper Joe Hart and central defender Carl Starfelt were just three of the regulars who were absent on an evening of toil where two points were carelessly discarded.
The Hoops drew a blank for the FOURTH time in the Premiership – a dreadful sequence that has seen TEN points dropped – with the Hoops now six adrift at the top of the table.
Postecoglou stated: "Nobody was rested tonight. I don't know where that came out. I don't rest players.
"If they want a rest, they can rest when they are 45.
"Everyone who wasn't playing tonight was unavailable, either suspended or injured, that was the case."
A double from the nippy Liel Abada and another from Nir Bitton made certain of a 3-1 success over St Johnstone in Perth on Boxing Day.
And Postecoglou insisted afterwards he had no intention of taking a breather during the 20-day winter break following his whirlwind six months at Celtic.
He was poised to raid the transfer market to continue his rebuilding job and he had been linked with a return to the J-League where he spent £4.6million in bringing in Kyogo from Vissel Kobe in late July and others are reported to be on his radar such as frontman Daizen Maeda, versatile left-sided operator Reo Hatate and midfielder Yosuke Ideguchi.
Postecoglou promised: "No breaks. We keep cracking on. There is plenty to do.
"We've been working on it for a while, knowing that we needed to strengthen the squad during January.
"This gives us a chance, with no games, to push along with that. Hopefully, we get some good news in the New Year and bring in some reinforcements."
Asked about taking time off, the boss answered: "Nah. I had a nice Christmas morning with my family.
"I've got some young ones who were causing chaos with their gifts from Father Christmas and that was great.
"But look, I love what I do. I don't need to switch off. It's fine.
"I've really enjoyed the first six months, as challenging as it has been. I've enjoyed every minute of it and I know there are massive challenges ahead so I'm looking forward to that.
"I've got plenty of energy. I'll have plenty of time to switch off, mate, when I'm old and grey."
RESULTS
December 2: CELTIC 1 Hearts 0
Kyogo
December 5: Dundee United 0 CELTIC 3
Rogic, Turnbull, Scales
December 9: CELTIC 3 Real Betis 2
Welsh, Henderson, Turnbull (pen)
December 12: CELTIC 1 Motherwell 0
Rogic
December 15: Ross County 1 CELTIC 2
Abada, Ralston
December 19: CELTIC 2 Hibs 1
Kyogo (2)
December 22: St Mirren 0 CELTIC 0
December 26: St Johnstone 1 CELTIC 3
Abada (2), Bitton
*TOMORROW: Don't miss the eighth thrilling instalment of CQN's EXCLUSIVE tribute to the Celtic manager. 
Click Here for Comments >