CELTIC'S three-month search for a new manager came to an end on June 10 2021 with the appointment of a manager virtually unknown in Europe.
No-one could have even dared to guess what was about to happen as the fortunes of the club somersaulted into an exciting new era as the incoming boss gate-crashed Parkhead history with his refreshing, attractive and positive style of football.
In another EXCLUSIVE series, we have examined the CQN FILES to look at how the breathtaking transformation took place from day one to the Premiership title being handed over on May 14 in the midst of a carnival atmosphere in the east end of Glasgow.
Please enjoy our twelve-part series, 'POSTECOGLOU: A YEAR IN PARADISE', as the months tick down to a massive celebration.
ANGE HAS LANDED…Celtic's new manager Ange Postecolglou arrives in Glasgow on June 23.
ANGE POSTECOGLOU had more than an inkling all was not going well in Celtic's three-month pursuit of Eddie Howe to name the Englishman as their new manager.
The Greek-Australian, who was then in charge of J-League outfit Yokohama F Marinos, had already been sounded out by a member of the Parkhead club's hierarchy about his thoughts on the possibility of a move to Scotland.
Right from the start, Postecoglou offered a positive response.
On May 28 2021, the club issued a terse statement which read: "Following very positive and detailed discussions with Eddie Howe, with the belief that he would be an excellent candidate for the position of Celtic Manager, we allowed time for the process, given he'd previously made it clear he was not looking to return to management until this summer at the earliest.
"We can now confirm that Eddie will not be joining the Club, for reasons outwith both his and Celtic's control. We wish Eddie success for the future.
"As part of the ongoing process we have engaged with a number of candidates. We fully appreciate our fans will be seeking clarity on this matter and we aim, very shortly, to announce the appointment of a Manager with the quality and desire to take Celtic forward and bring further success to our supporters."
Step forward, 55-year-old Ange Postecoglou.
The immediate response, of course, went along the lines of: "Ange Who?"
CELTIC VIEWS…Ange Postecoglou gives one of his first interviews.
Thankfully, though, Peter Lawwell, the club's chief executive who would be leaving his post on June 30, had monitored the former Australia World Cup gaffer's progress for three years.
He revealed: "He first came to my attention via my son Mark, who said a guy called Ange Postecoglou is the manager of Yokohama. This guy's the real deal.
"That got my interest. I watched him carefully over that period. As CEO, I've always got a list of six names in the top drawer – you never know what can happen with the manager.
"Ange was on the list for three years – just before he won the league with Marinos in 2019. I watched him, liked him. He won the league and had great success.
"In my initial chats with Ange, I got a really great impression. He was experienced, mature, had courage in his convictions. And, having watched him over the years, he played football the right way.
HOOP HOOP HOORAY…Ange Postecoglou poses with the Celtic shirt on his first day at Celtic Park.
"He was a football enthusiast, a football nut. He not only knows about Japanese, Australian and European football, he knew about Scottish football and Celtic, he knew the task that was (potentially) ahead of him. He knew Celtic.
"I'd spoken to his agent, Frank Trimboli, a couple of times in the process to gauge Ange's availability and interest – we were looking from February onwards.
"Frank said he'd be interested, so we kept him in mind. When Eddie pulled out at the end of May, we went to the list.
"We agreed that I would speak to Ange and then Dermot would speak to him.
"Dermot had a Zoom call with him and called me back and said: 'We don't need to talk to anyone else'.
"He thought Ange was the real deal."
Celtic's search for a manager was about to come to a happy conclusion.
Six days after Celtic's announcement, they agreed a six-figure compensation with the Japanese club to release their head coach from his contract. On June 5, the Hoops admitted they were poised to name their new gaffer and inside a week Postecoglou had been identified as Neil Lennon's long-term successor – 116 days following the Northern Irishman's departure.
Not everyone was sold on the appointment and Chris Sutton was quick to go public with his thoughts: "I actually feel sorry for the guy. He's walking into a Mission Impossible job right now."
READY, STEADY, GO…Ange Postecoglou gets down to work at the Lennoxtown training HQ.
On June 18, eight days after the announcement, Postecoglou, who emphasised the courage of his convictions by agreeing as 12-month rolling contract, admitted: "I've been hard at work already and it's been great to connect with everyone at the club and get to know everyone.
"I'm keen to try to get as much work done before I get there, but my own view is that we can't be more prepared than we are at the moment in terms of the conditions we've had to face.
"I'm fully confident that once I hit the ground running, we'll get started and I'm really excited about the fact that we've got something to look forward to and a bit of a target there over the next four or five weeks."
Postecoglou added: "The target is that first Champions League game, but we've got a lot of work to do before that.
"It's obviously a very significant fixture for us and it comes pretty early. It's exciting for me, for the players and the whole club."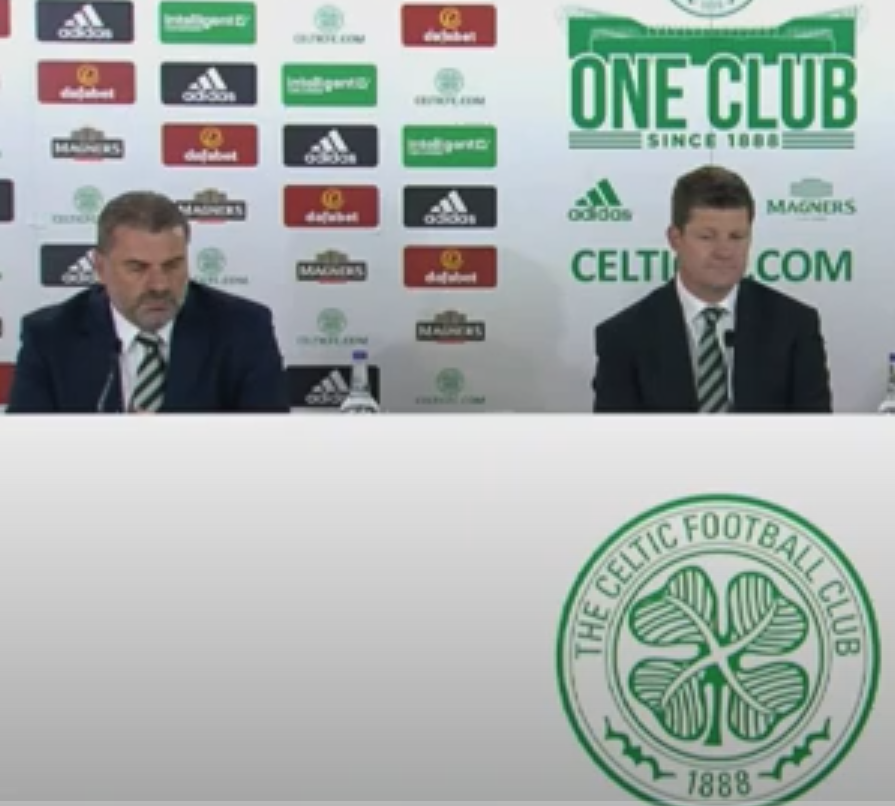 WELCOME TO CELTIC…Ange Postecoglou and new chief executive Dom McKay at the official announcement.
On June 23, the new team boss arrived in Scotland to kick-start his Celtic Revolution. He flew in from London after completing his period of quarantine and was welcomed by Lawwell's successor, Dominic McKay, before being given a tour of Lennoxtown.
The following morning at the training HQ, the new man said: "It's great to be here. It's been a tough three weeks to get here, but I'm super happy to be here now.
"It's been a bit of a whirlwind and I knew it wouldn't sink in that I'm the new Celtic manager until I got here. Now I can get cracking and start working.
"I got to meet everyone and put everything in place that we need to. It's been fantastic. I already had some familiarity with it, but it's a great set-up.
"The people here are fantastic and I'm looking forward to working with everyone."
* TOMORROW: Don't miss the second thrilling instalment of CQN's EXCLUSIVE tribute to the Celtic manager.
Click Here for Comments >