"THE secret of being a good manager is to keep the six players who hate you away from the five who are undecided."
The words belong to legendary Celtic boss Jock Stein.
Author Alex Gordon has written fifteen books on Celtic including his involvement in several autobiographies of Hoops heroes including Bertie Auld, Tommy Gemmell, Davie Hay and John 'Yogi' Hughes.
"All four were absolutely unanimous in one thing," says Alex, "Big Jock was not interested in winning popularity contests among his players.
THAT'S MY BHOY…Jock Stein and skipper Billy McNeill celebrate another Hampden triumph.
"He didn't lose sleep if he upset an individual with his decision-making.
"Tommy, Davie and Yogi did not want to leave Celtic during Jock's reign, but he made up his mind it was time for them to go and they knew there was little point in arguing with the manager.
"He could be resolute and ruthless. Bertie, at 33, knew time was against him when he eventually departed, but he was adamant Big Jock broke up the Lisbon Lions too quickly.
"Four years after the historic European Cup triumph, Bertie, John Clark and Stevie Chalmers were on their way – Ronnie Simpson, at 40, had been forced to retire with a shoulder injury – and it wasn't long before Tommy, Yogi and Willie Wallace followed them.
"Bobby Murdoch was only 29 when he was freed in 1973. Jim Craig was released at the same age the previous year. Jimmy Johnstone was only 30 when he was told his time was up.
WATCHFUL GAZE…Jock Stein keeps an eye on John 'Yogi' Hughes during training.
"These were difficult decisions for Jock Stein, they were not carried out on a whim. He had youngsters such as Davie Hay, Kenny Dalglish, Danny McGrain, George Connelly and Lou Macari pushing for first-team places and he made hard pronouncements for the benefit of Celtic.
"The football club was Jock's sole priority, the team he put on the field on match day dominated his thoughts and nothing would ever sway him from reaching his goals.
"Sentiment did not come into focus. He was prepared to stand up and be counted as he relentlessly – and, yes, remorselessly – pushed Celtic to heights thought unimagineable to a club that had been among the also-rans for eight seemingly ceaselessly miserable years before he arrived in March 1965 and revolutionised the club from top to bottom.
"He made changes that may have seemed harsh, even brutal, but he didn't hesitate when he made up his mind. There was nothing personal in his judgements, everything was done for the good of Celtic.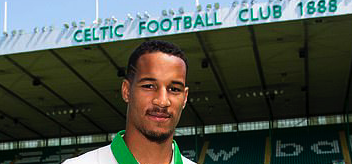 IN THE BEGINNING…Christopher Jullien in Paradise after his £7million arrival from Toulouse in June 2019. 
"And that takes us to the present era where Ange Postecoglou has had to make some extremely difficult decisions before a club disappeared into the mists of mediocrity following the unforeseen and abrupt halt to four wonderful years of domination.
"We can read what we like into Christopher Jullien's emotional farewell to the club. It was an unanticipated ending for a popular player among the support.
"The manager did not get a mention in the Frenchman's final goodbye. Like Jock Stein decades before him, Postecoglou has unwaveringly given precedence to the team, his emphasis has not shifted from day one of walking into the building.
"With Kristoffer Ajer on his way and Shane Duffy returning to Brighton, the central defence urgently required a revamp. Nir Bitton was drafted in as an emergency centre-back and, after his red card in the first leg in the 1-1 draw with Midtjylland, the manager, in only his second competitive game, was forced to team up Stephen Welsh and Dane Murray in Denmark.
RISE AND SHINE…Carl Starfelt in a mid-air duel with Ross County attacker Jordan White.
"It was far from ideal and an an extra-time winner ended any thoughts of qualifying for the latter stages of the Champions League.
"Carl Starfelt was brought in as one of the boss' first signings and he was joined by Cameron Carter-Vickers in a loan deal just before the transfer  deadline in August.
"It would have been a challenge too far to throw Jullien into the mix and such a drastic action would have inevitably brought the direst of consequences.
"The player had missed the second half of the previous season following his unfortunate collision with a goal post in a 3-0 win over Dundee United at Parkhead on December 30 2020.
"The frustration of Jullien was understandable when he announced he was 100 per cent fit shortly after the turn of the year.
HAIL HAIL…Ange Postecoglou acknowledges the travelling support after the 3-1 win in Dingwall.
"Undoubtedly, Postecoglou would have been aware of the defender's condition, but, as Stein would have done back in one of the most glorious chapters in Celtic history, the current manager remained focused on his quest.
"Jullien, regrettably, did not play a part in that plan. And, as we can plainly see by his social media message, he was desperate to participate in what is happening at the club during these exciting times.
"Postecoglou, though, has remained utterly engrossed in doing what he believes is best for Celtic football club while he single-mindedly goes about the business of fashioning a team that can be successful on match day and the weeks and months that follow.
"Tommy Gemmell, Bertie Auld, Davie Hay and John Hughes all had their differences of opinion with Jock Stein, but it is interesting to note all four unequivocally agreed on one thing – he was a great Celtic manager.
"You don't have to win popularity contests to win football games."
Click Here for Comments >