ANGE POSTECOGLOU insists he is ENJOYING the unrelenting challenge of trying to turn things around at Celtic.
The Greek-Australian manager watched his team collapse to a 4-0 home loss to Bayer Leverkusen on Thursday in their second consecutive Europa League Group G defeat following the 4-3 reverse from Real Betis in Seville last month.
It was the seventh time the Hoops have crashed in the boss' 17 games in charge, with two also ending in stalemates.
Postecoglou steps into the glare of the spotlight again tomorrow when he takes the side to Pittodrie to take on Aberdeen in the High Noon shoot-out in a crucial Premiership confrontation. It will be Neil Lennon's successor's fourth league game on his travels – and he has lost the previous three at Tynecastle, Ibrox and Livingston.
HANDS UP…Ange Postecoglou is animated during the match against Bayer Leverkusen at Parkhead.
In truth, it is not impressive reading and the critics have taken aim, but the manager reckons he will make them eat their words some day.
Postecoglou said: "I love this. This is what I'm passionate about and I'll make sure that we get to where we want to get to.
"This part of the process is not new to me. You know it's going to be a hell of a challenge because we have changed 50 per cent of the squad, we've had significant injuries to key players, we are trying to change the way we play, all of those things.
"I felt we could have been further along, but that doesn't mean I'm going to shy away from it or that I have lost any resolve in what I'm doing.
"My history, wherever I've been, the starts were always difficult, always challenging.
"There were always people who were going to be sceptical about it inside and outside the dressing room.
"I enjoy the bit where it's up to me to make people believe in what we're doing and it starts with the players. I've got to get them to believe in the journey we're on.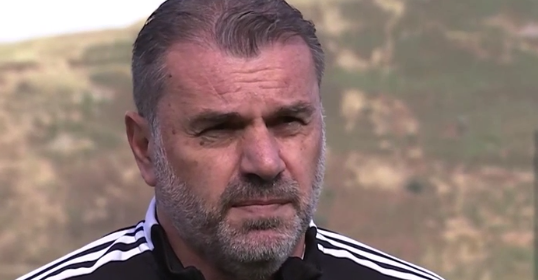 THOUGHTFUL…Ange Postecoglou admits he will not change his ideals at Celtic.
"Instead of just dragging people along, I need them to join in on where we're heading and lead from the front. But I love that bit. I enjoy that bit. I don't want to shield the players from the expectations.
"They've got to want this as much as I do and as much as the fans do and they've got to want to turn it around."
Postecoglou, speaking to the Daily Record, continued: "There is nothing wrong with adversity. I grew up understanding it's what makes you strong and you've got to go through it.
"I can't shield the whole group from the adversity we are going through because if you can push through it you'll become stronger out of it.
"Over time, I am happy to be judged. But this has been consistent throughout my whole career. Wherever I've gone it has taken a certain amount of time for things to kick in.
"It's up to me to show the way forward. That's why I'm here and I will. All I need is a few to keep us moving forward and the rest will buy in.
"I'm really passionate about this and I'm not going to shy away from the fight.
TOUCHLINE TORMENT…Ange Postecoglou makes an appeal in the Europa League Group G loss to Bayer Leverkusen.
"It's all-consuming for me, but that doesn't mean that it gets me in a space where I'm not positive, not thinking clearly or not enjoying it.
"Bizarrely, I love this part of it, which people won't understand. But I'm hoping that in six months' time, when they look back, they will know why I have been so resolute and persistent about what we are doing."
Postecoglou added: "Individual errors are easily avoidable if people are disciplined and understand the consequences of their actions rather than just going through games and accepting mistakes.
"You can actually be stronger mentally to avoid that happening. It is a test and there is no place to hide on a football field.
"Leverkusen are an outstanding team. If we had lost 2-0 or 2-1 you would have said: 'Okay, there is a gap there'.
"But when you let it go to 4-0, I don't think that's a good reflection on us."
Postecoglou will remain positive at Pittodrie, but, as he acknowledged, there is no hiding place in football and he will also know that the snipers will open fire tomorrow evening if he and his players find themselves nine points off the pace in the race for the championship.
Click Here for Comments >