The Scottish newspapers are going to spend the next week hounding these Dundee United supporters after doing this last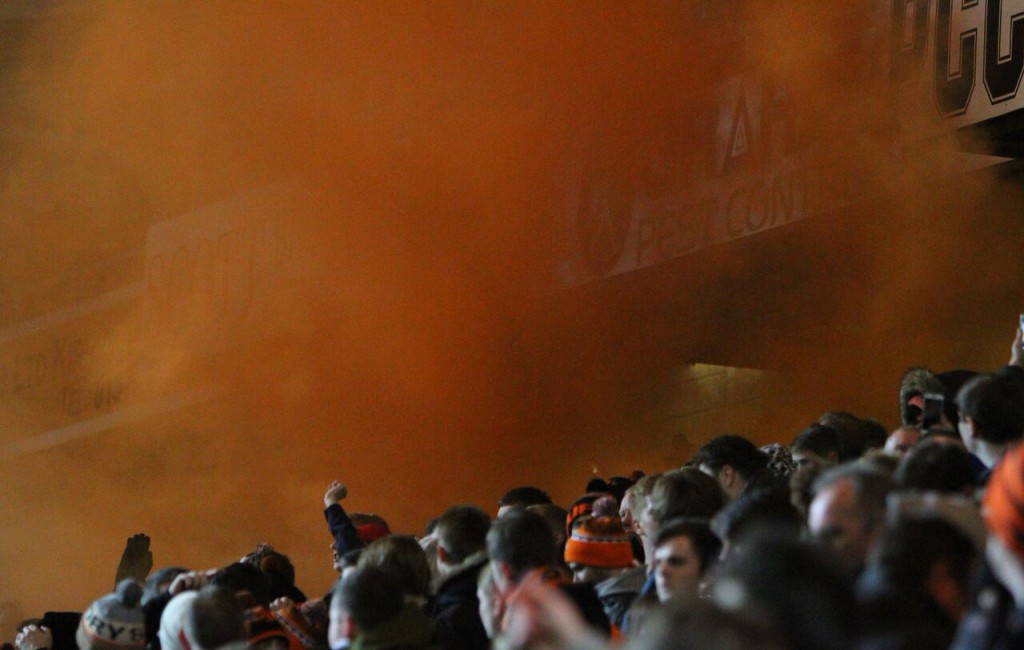 night…
CQN Magazine posted this on Facebook last night and here are some of the readers comments that followed…
Laughed at this one:
'Pyro hoax as a Dundee Utd supporters packet of wotsits explodes!!' (Joe Lee)
More seriously…
'As a 20 year firefighter and as a fire steward at Celtic Park, I have seen visiting supporters set off pyrotechnics at a cost. At the last Hearts game, Hearts supporters set off a pyrotechnic and it resulted in a 10 year old suffering 1st degree burns to his leg. I've been at the sharp end, as us fire fighters like to call it and have seen the effects smoke has on people. When those that have respiratory problems say it has detrimental effects to how they breath, OF COURSE IT HAS! It is not smoke, to explain it as a fire fighter would, its UNBURNT PRODUCTS OF COMBUSTION. It's chemicals, it's toxic, it detrimental to your health. It will effect. Stop the pyrotechnics. They are for idiots. And idiots are not welcome at my club.' (Neil Gillespie)
Iain Welsh had harsh words for the BBC…
'Just the bbc's vendetta against Scottish football. It serves them to demonise the support and blow all incidents out of proportion. This allows them to pay less and less to show the footy fans what they want. Winwin for the British broadcasting conspiracy.'
Liam Kyle questioned the lack of immediate response from the Evening Times…
'The Celtic smoke bomb was reported by the Evening Times 30 mins after it happened. It'll be interesting to see if this is even mentioned by any media source.'
And referring to the coverage of the flares at Stranraer gerry McIntyre commented:
The 'Daily Record had pictures on twitter before the game had finished. Almost like it was planned… I think they're On The Level.'
Gerry McGhee gave this explanation…
'It was an undercover Celtic fan in the Dundee Utd end… That's the only explanation.'
While Gerry Shields and John Magunnigal predicted today's headlines…
'Celtic fan buys wrong colour of smoke bomb exclusive' predicted Gerry while John went for this one:
'Smoke bombs and pyromaniacs at Celtic game.'
BK Home opted for this one…'Celtic involved again.'
Meanwhile load this banner from the Celtic support who were in magnificent voice all night. Around 50 Celtic supporters buses were stopped on the way to Stranraer last week and Police Scotland confiscated any alcohol found.
The Police last night ejected around 30 Celtic supporters from the last scheduled City Link bus from Dundee to Glasgow for singing on the bus. It was freezing in Dundee and some of these young supporters had no means to sort out the situation. Hardly responsible policing.
Click Here for Comments >