CELTIC boss Brendan Rodgers has asked referees to take control after Sunday's Betfred League Cup semi-final war game at Hampden.
The Hoops gaffer was not impressed by Steven McLean's handling of Motherwell's 2-0 win and claimed Ibrox defender Fabio Cardoso left the pitch looking like he had been shot!
Ryan Bowman, who was involved in a sickening challenge on Kieran Tierney last season, was again at the centre of controversy.
Rodgers demanded refs do their duty – as they are risking players' lives by refusing to make the right calls.
He said: "It's either officials who unfortunately don't have an eye for the game, don't have a feel for the real details of the game, or who are frightened to make a decision.
"The centre-half came off the pitch on Sunday – if he'd been shot, he wouldn't have looked worse. It was unbelievable.
"With Sunday's game, what you are looking at is authority. You want officials with authority.
"They may not always get decisions right, but don't just let the game go and hope the players officiate it.
"That was a dangerous game on Sunday. You are endangering players' lives and careers with some of the challenges we saw.
"That's not the first time. It's been ongoing.
"You need officials with authority, but the game got out of control on Sunday.
"That's a prestigious game, the League Cup semi-final on TV with kids watching and it's not what you want to see.
"There was a couple of incidents there that went unpunished.
"You maybe would've got away with that in the '80s, but certainly not now. It certainly shouldn't have been the case."
———
KEVIN GRAHAM hosts another match day podcast from Hampden on Saturday featuring some of FIFA's Best Supporters in the World.
This week's Matchday Special saw Brendan Rodgers' side carry a 59-match undefeated domestic run into the League Cup semi final against Neil Lennon's Hibs.
Kevin provides pre and post-match discussion with members of his CSC, as well as in-match analysis in what will be a regular Celtic State of Mind feature.
Connect with A Celtic State of Mind @PaulDykes, @anorthernprose and @CQNMagazine.
JUST OUT! MATCH DAY SPECIAL CQN PODCAST FROM HAMPDEN, FEATURING SOME OF FIFA'S BEST FANS IN THE WORLD…
ORDER Charlie Gallagher? What a Player! and we'll send you a copy of The Winds of Change for FREE only at www.cqnbookstore.com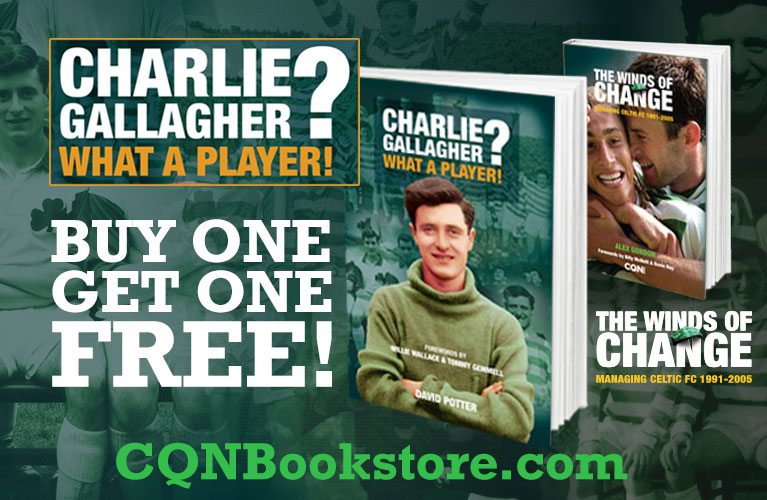 Click Here for Comments >