Let's be clear, the job of chief executive of the SFA is thankless and destined for failure, of one variety or another. Even if you have the necessary skills to deliver commercial success (which the last two incumbents didn't), if you appoint a national team manager who qualifies for a tournament, if your internal Data Protection systems are fit for purpose and you insist on doing the right thing, you are going to fail.
The SFA member clubs (there are over 90), it's legions of utterly useless committee members, each without anything better to do than attend committee meetings, anchor the organisation in inept conservatism.
There was a gleam of light when Stewart Regan was appointed in 2010. They realised Gordon Smith, who did not meet the advertised criteria for the job, did not have the experience required to run an organisation of this size and profile. Regan, with enterprise-level commercial experience, as well as his gig at Yorkshire County Cricket, met all the criteria. He should have been a good appointment.
Instead, over 7 years later, his board made it clear his resignation was required.
Rejecting a request by the Scottish Professional League for a review of matters into the biggest club failure in the history of the game, one which tainted the immediate SFA past president and a current office holder, is a sack-able offence.
When the professional clubs ask the SFA to examine the conduct of its office holders, it has no choice but to do so. Those who attempt to cover up always fall on their swords.
I am led to believe there was an arrogance about Regan, who saw himself as an impenetrable big beast, who would seek shelter in the numbers of the Highland League, when the game's other big beasts attempted to invoke corporate responsibility. He didn't like dissent and could dismiss whatever he wanted as long as he held sway with those who populated the many and varied committees.
At the first sight of vulnerability, he was gone. Having asked for permission to speak to Michael O'Neill, only to be rejected was enough. He had burned all his bridges.
The SFA now need a competent administrator to downsize the organisation. The Association should be in the business of correctly registering players, training and appointing match officials, running the Scottish Cup and ensuring the various youth and other amateur elements of the game are properly resourced (which they are not currently).
Get out of Hampden, use Celtic Park, Ibrox, (new) Pittodrie, Easter Road or Tynecastle instead of pouring money into another sport's coffers. Cull the useless committees, reign-in the gravy train and have clear and ethical rules of engagement.
Those hoping for change will do well to remember how we thought Gordon Smith's replacement had to be better. Regan was, but he, and the next person, will be appointments of the system. Cultural change at the SFA will take years. But remember, at any point in time, a future SFA board can decide to review matters in the past, including the performance of Mr Regan.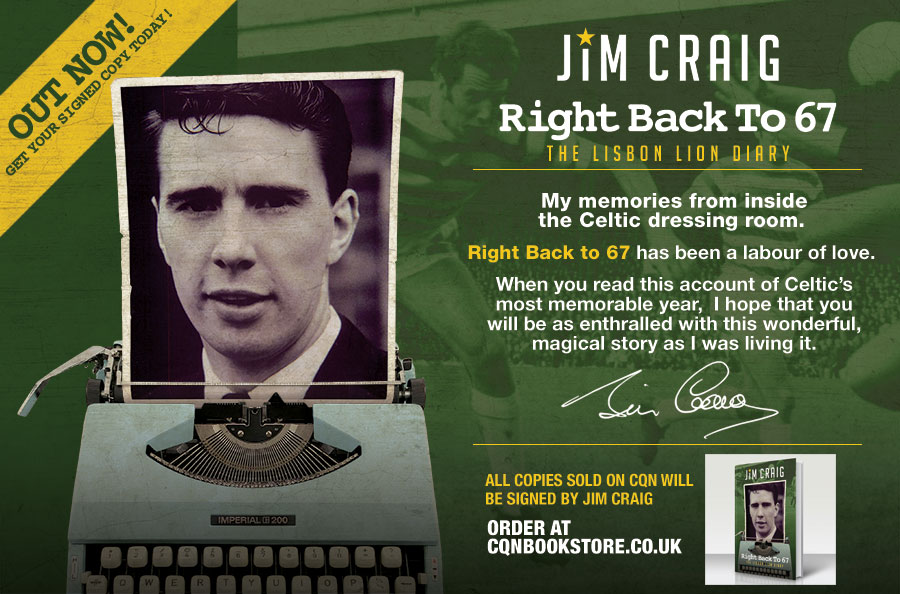 Order Jim Craig's new Lisbon Lion Diary – Right Back to 67 from CQNBookstore.co.uk and you will receive a signed copy from the man himself plus a FREE copy of That Season in Paradise – Ten Months of Celtic Heaven signed by fellow Lisbon Lion Bertie Auld! Simply order Jim Craig – Right Back to 67 and the second book will be sent automatically. Stocks are running very low so hurry! THIS DEAL WILL END IN A FEW DAYS!
Click Here for Comments >