MATT O'RILEY joined Celtic a month after Ange Postecoglou had won his first piece of silverware as Hoops manager following the 2-1 triumph over Hibs in the League Cup Final on December 19 2021.
Four other trophies were claimed in the Greek-Australian gaffer's two years in charge of the Hoops – and the stylish midfielder played his part in the quartet of successes.
It would be fair to say O'Riley has hit the ground running since his bargain £1.5million arrival from English third-tier club MK Dons on January 22 2022.
The London-born former Denmark Under-21 international made his debut four days after signing in a 2-1 victory over Hearts at Tynecastle – and he hasn't looked back since.
BY THE LEFT…stylish Matt O'Riley in a tussle for possession at Rugby Park in April.
Mastermind O'Riley orchestrated some wonderful openings for his team-mate and was the top performer for assists last season although he only claimed four goals for himself.
Amazingly, half of that meagre tally came in one game, the 4-1 victory over Kilmarnock at Rugby Park in April this year.
Looking ahead to performing again at the venue in the Viaplay League Cup-tie on Sunday, O'Riley, who has scored in the opening two games against Ross County and Aberdeen, said: "It's a tough place to go. We know that from past experiences and also other teams finding it hard there.
"At the same time, though, I think we've got enough to win the game. We should always expect it to be a tough test and we need to be as prepared as we can be.
"I do think that if you score the first goal at a place like that, it helps a lot, but at the same time if they were to score first, I think we've got enough in our toolbox to still win the game.
"We're a team that stays calm regardless of how a game's going, so we'll be prepared."
MATT FINISH No.1…midfield ace O'Riley scores to make it 3-1 for Celtic against Kilmarnock in April.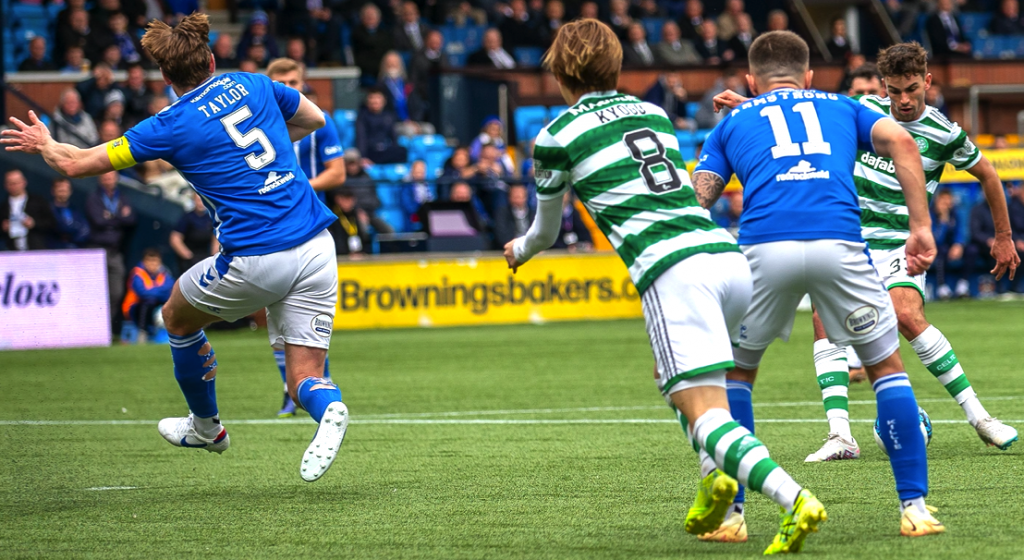 MATT FINISH No.2…mastermind O'Riley prepares to curl in the Hoops' fourth goal at Rugby Park. 
The Hoops, with Brendan Rodgers in charge for a second stint, are looking to emulate last season's silverware haul when the team claimed a world record eighth domestic treble.
O'Riley, speaking to the club website, continued: "We know the demands and pressure of being at Celtic. Every game you have to win so we're well aware of that.
"More importantly, it's just about continuing that winning mentality and trying to win every single game because, naturally, that carries you to the next game from a momentum point of view.
"Like I said, we're at Celtic, so I don't think you should expect anything less than to win and, for me, I think we should have the same mindset when we're in the Champions League, as well.
"As much as Celtic are expected to win all the games, it's a lot easier said than done because winning football matches isn't an easy thing to do, regardless of who you're playing against."
WINNERS AND LOSERS…Matt O'Riley races away in triumph after leaving the Killie defence in disarray. 
O'Riley, 22, added: "Every game poses a different challenge, and when you get through the middle stage of the season and you've got three games a week, obviously it's going to take more of a toll on the body.
"You have to be very focused and relentless with your approach, so I definitely think that gets overlooked by being a Celtic player probably because the demands are high to win.
"Not that I'm complaining, but it's definitely easier said than done . At the same time, I think it's nice to be in that kind of environment where you have to be relentless and you have to really go for it every week because you play football to win."
Click Here for Comments >