CALLUM McGREGOR insists Celtic will have to be prepared for everyone wanting to shoot them down in the new season.
The Hoops captain acknowledged the accolades for what the team have achieved during a phenomenal campaign after the previous wretched year's failure, but he admitted it all starts again in the new term.
And he and his team-mates will have to be better and hungrier to keep the Parkhead club at the Premiership pinnacle.
Ange Postecoglou's side made certain of their tenth championship in 11 years with the 1-1 draw against Dundee United at Tannadice in midweek and McGregor will accept the silverware after the final league game against Motherwell in the 12.15pm kick-off in the east end of Glasgow tomorrow.
PRIZE GUYS…Callum McGregor and his delighted Celtic team-mates celebrate the title triumph at Tannadice.
A 60,000 full house will let the manager and the player exactly how much they appreciated their mighty efforts and the Noise Abatement Society may well be on speed dial.
McGregor will savour the moment and, looking ahead, stated: "The good thing about this is there is much more to come from this group of players.
"He (Postecoglou) is starting to build something, but it is easy to chase people.
"When you're chasing something, it is easy – you have that hunger, naturally, the desire.
"It's now the opposite. Okay, we're champions. Brilliant. Now park it.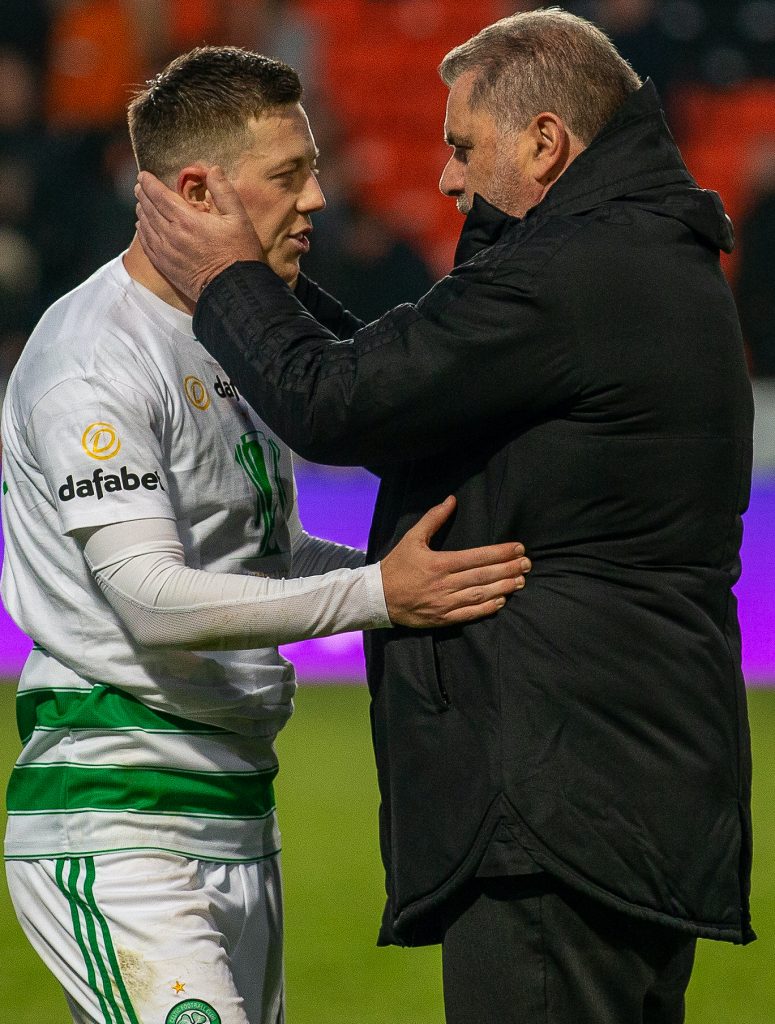 SEEING DOUBLE…Ange Postecoglou has a quiet word with skipper Callum McGregor at Tannadice.
"We'll enjoy it at the weekend, but the minute we leave that building, we go away in the summer and come back, we have to be even hungrier. We have to be even fitter.
"There's a target on your back and that's where good players will show up and say: 'Right, let's go again'. That's what we have to do."
Speaking of the club's charismatic manager, McGregor said: "He's come in and has an authority about him, the way he speaks.
"He's got an identity and an understanding of the game. And he's brilliant with people.
"He's got that something special where, when he speaks, people listen.
"Then he believes in the players, he believes in his way of playing and thinking, and that just transfers on to the team.
"So, when you have got a guy like that at the side who believes in you wholeheartedly, then it's easy for the boys to buy into it because they know that, if anything goes wrong, he will take the responsibility.
A ROUND OF APPLAUSE…Callum McGregor displays his gratitude to the travelling fans.
"That's what he's always saying to us: 'Don't worry about mistakes. I'm asking you to play this way, so do everything you can and if it goes wrong, I'll take the responsibility'.
"That really does help the players and he's been fantastic."
Reflecting on last season's disastrous campaign and the death of a team by a thousand cuts, 28-year-old McGregor, speaking to the Daily Record, added: "When you take a slap in the face – and in football you always get disappointments – you have to bounce back.
"That shows people what type of person you are, what type of character you have inside that makes you different and it's trying to prove people wrong.
"When I stood down there and said what I said, I meant it.
"And this group of players have helped the club and me achieve that. I owe them a lot, the way they've come in and delivered from all over the world, settling so quickly.
"To produce the performances along with the manager's vision and mindset for the club has been spectacular."
No argument, Callum.
Click Here for Comments >