FORMER Swansea star Neil Taylor is backing his former boss Brendan Rodgers to be a huge hit at Celtic.
The Welsh left-back admitted he loved his time working with the Irishman and also reckons he will bring back the European glory nights to the Hoops.
Taylor said: "They've got a top manager on board, that's for sure.
"He's been in charge at Liverpool, which is massive, and I'm sure he can take Celtic far in the Champions League next season, because that will be his aim.
"I'm not surprised they got him. Brendan is an Irish Celtic supporter, so he's got the club in him and it's a job he's had his eye on for awhile.
"It's become available, he's been offered it and maybe feels he can not only win the Premiership, but make a big impact on Europe, as well."
Celtic Park? There will not be a seat in the house!
Celtic supporters have turned out in their thousands this week in a sun drenched Glasgow, where it hasn't rained since Brendan Rodgers was appointed manager, to snap up the remaining season tickets in the general sale which commenced on Monday.
Such has been the size of the queues for season tickets, with Celtic expecting to completely sell-out over the next day or two, Television channels and other media outlets descended on the ground that the supporters call Paradise to cover the story.
Local channel STV joined the BBC and SKY SPORTS on sending a crew to the Celtic ticket office to interview supporters in the long queue. Their reporter asked a fan if he was there because Rangers FC are back in the league next season. His answer was priceless. " It's a season Ticket I'm buying not a time machine!"
Rangers FC ceased to exist in the summer of 2012 when a proposed CVA proposed by their Administrators Duff and Phelps, was rejected by their creditors. Up to £95 million was owed by the bankrupt football club.
Duff and Phelps subsequently sold the assets to Charles Green who had set up an off the shelf company called Sevco Scotland Ltd. Green set up a new club and after changing its name to The Rangers Fc and borrowing players from the Administrators of the old club, they played their first match in July 2012 at Brechin.
Founding Father Charles Green was also able to secure the new club a place in Scotland's fourth tier and the so-called journey was underway.
After numerous mishaps and the building up huge losses, the new club has at last reached the Premiership where they will play against Celtic, Aberdeen, Hearts and the other big clubs next season.
The appointment of Brendan Rodgers as new manager at Celtic Park, raises the stakes on all other clubs in the league, including the one just promoted. Celtic have won 5 league titles in a row and the target very much is to reach ten as a minimum.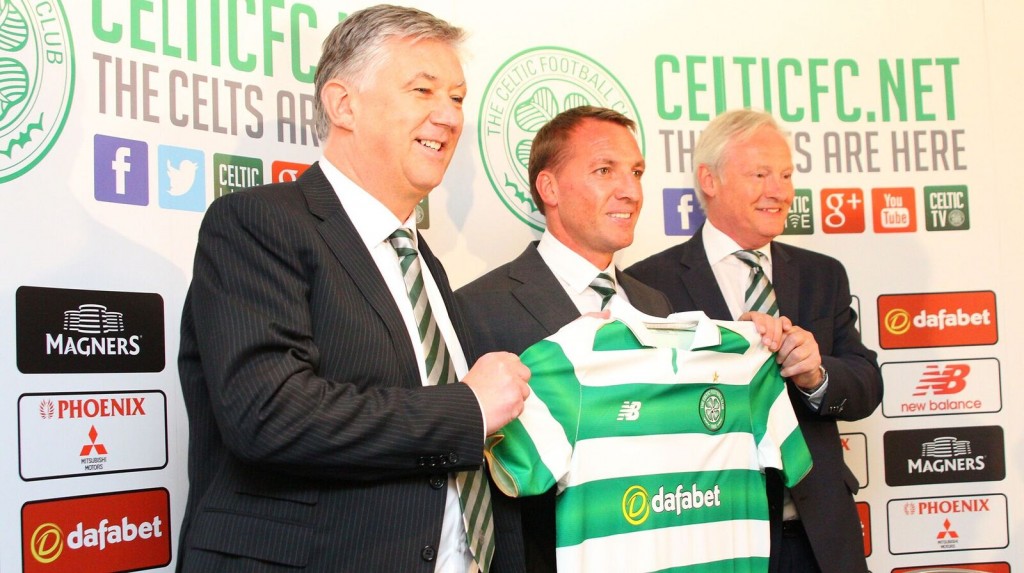 Celtic will be the overwhelming favourites for glory heading into the new campaign. The arrival of Rodgers and undoubtedly a whole host of new faces to Celtic Park mean that they will be offered short football odds by the majority of bookmakers. Bookies.com provide online platform to help you locate the best deals around, and if you are already looking to the future, a bet on Celtic to lift the title for a sixth straight year is certainly a great shout.
Former Celtic man Chris Sutton recently hit back at the new club's chairman Dave King who claim that Celtic's last five titles have been diminished as a result of none of the Ibrox clubs being in the top division.
The first Rangers weren't there because they went into liquidation and ceased to exist. The second Rangers were missing last season because they were thumped 6-1 in the play-offs by a very poor Motherwell side.
Sutton was one of many critics of former boss Ronny Deila during his tenor and has welcomed the arrival of Rodgers.
What is clear is that after four years when Celtic have played the new Ibrox club only twice, both in cup matches at Hampden, the supporters will have to get used to playing the new club four times next season in Scottish Premiership matches.
With the fixture list still yet to be announced, supporters will have to wait to see when these games will take place. They are bound to be four battles between the Champions and the new club and this will bring additional excitement to some supporters. Scottish football however, and the football odds are likely to be much more appealing to punters as a result.
Click Here for Comments >