BRENDAN RODGERS launched his second stint as Celtic manager with the champions' 4-2 victory over Ross County at the weekend.
The team continued where they left off last season with a win over Highland opposition – Inverness Caley Thistle in the Scottish Cup Final – but the Irishman will not be dwelling on past deeds.
The 3-1 triumph at Hampden on June 3 sealed the Hoops' world record eighth treble, but is now consigned to the history books.
Rodgers has stressed to his players to continue to look ahead and meet and overcome fresh challenges.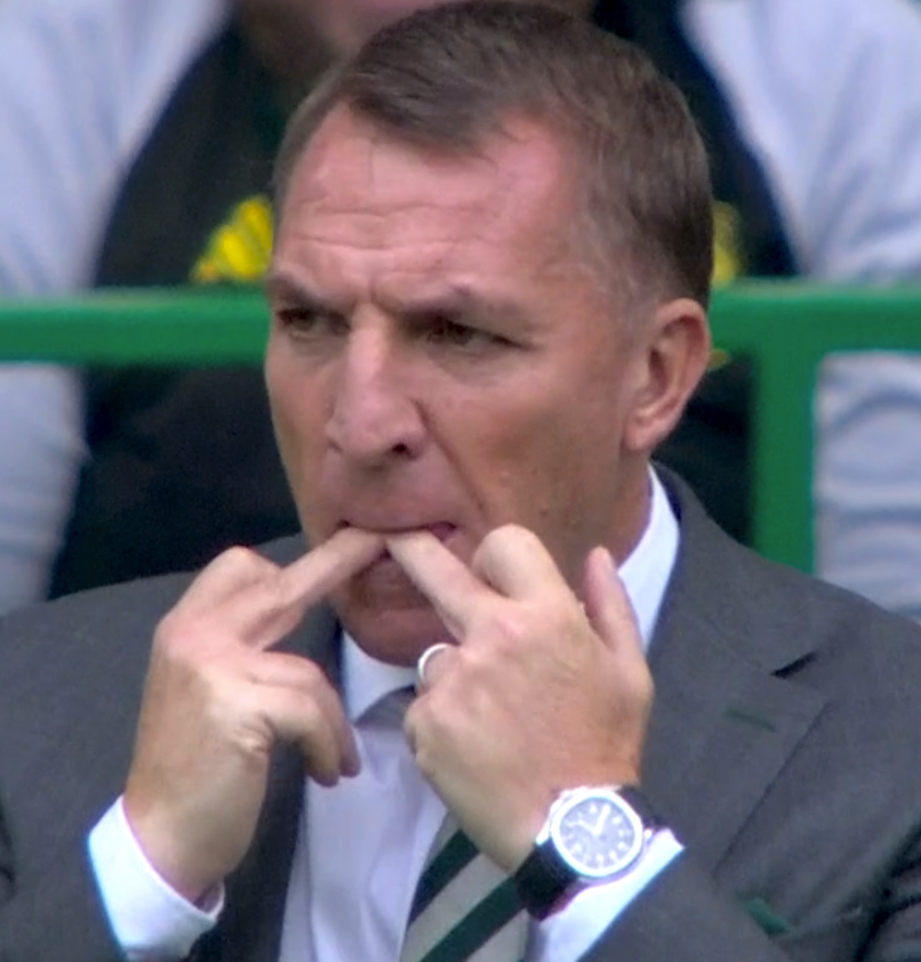 WHISTLE WHILE YOU WORK…Brendan Rodgers attempts to attract the attention of one of his Celtic players.
The Irishman, who won seven successive domestic trophies in his first spell at Parkhead after arriving as Ronny Deila's successor in May 2016, said: "This is the point I made to the players. This is a new cycle for you. It's not a continuation, it's a new cycle, a new manager.
"A lot of the principles will be the same, but there will be changes within that and if we're to continue being successful it's really about proving the point from now.
"I then look at the energy of players, I look at the attitude of players as well as that technical and tactical quality and that's something which has been great over the course of this first seven weeks.
"Firstly, I've always said about working with players, I believe life is about relationships, whether that's personal or professional.
"So, for me, I always want to take the time to build that relationship, just to try and understand what the player's motives are, what their ambitions are because then, from that, that's the start point, that's where the development begins.
"Even though the guys are in a team sport and it is very much a team, individually they all want to improve and they want to be better."
I SAY, I SAY, I SAY…Brendan Rodgers during his exclusive interview at Lennoxtown with Celtic TV.
Rodgers, speaking to Celtic TV, continued: "So, you get that through those conversations and understanding and also for them to understand that it's their responsibility.
"We will create an environment here for them to develop and improve, but to also understand that it's not all on the coaches.
"The environment here will be set up to develop you as an individual and as a team, but then you have to take that responsibility to do that.
"So, it's very much, in terms of that open conversation with them, getting to know them and what their drivers are."
The returning gaffer added: "I also think within the team element, we did some workshops while we've been away just to understand each other, understand what the strengths of this squad are, where the improvements can be made, what the challenges are going to be.
"So, all that type of work goes in to understand what their thoughts are as individual players and as people."
Rodgers' second coming continues with a trip to Pittodrie to take on Aberdeen at High Noon on Sunday.
The champions had a 100 per cent record against the Dons last time round with a late Callum McGregor giving them a 1-0 victory in the north east in December while the Hoops racked up 2-0, 4-0 and 5-0 successes in Glasgow.
* THE full and exclusive interview with Brendan Rodgers is available on Celtic TV to subscribers.
Click Here for Comments >