JOHN HARTSON, who played for the Hoops between 2001 and 2006, is delighted at the ambition shown by the Celtic board in appointing Brendan Rodgers as the club's new manager.  Commenting on the great news for all Hoops fans, Big Bad John said:
"It's a great appointment. Brendan is someone that's proven. He took Swansea up to the Premier League for the first time in 30 years.
"There was many a manager who tried before him. He finished second in the Premier League at Liverpool working with top players.
"He's got a reputation for being a great coach, bringing on young talent and Celtic have several good young players.
"I think they've got themselves a proper manager of the highest regard.
"I think he'll do very, very well there, I really do. It's a great opportunity for Brendan and I think the fans will embrace his appointment.
"
Celtic are currently five-times Scottish champions, they'll be going for their sixth consecutive title.
"I think the challenge will be there, probably more of a challenge next season with (The) Rangers (sic) * in the fold, Aberdeen, Hearts, so I think the challenge is there – but also he's got a little bit of European experience and that's where Celtic want to be back.
"They want to be back in those big European nights that I was very blessed to have played in at Celtic Park.
"They've got some Champions League qualifiers coming up at the end of July – first and foremost they have to get into the Champions League group stages and then they've got those big games at Celtic Park in front of full houses where the atmosphere is like nothing else in football."
* Had to delete the word BACK again. Think we'll need to borrow Paul's CQN yellow card for these ex-players! RANGERS DIED. You don't come BACK from the dead unless you are JESUS!
*We think we know where you were 13 years ago today. In SEVILLE. 
Read all about the supporters' experiences in SEVILLE – THE CELTIC MOVEMENT. It is guaranteed to make you laugh and make you cry. An outstanding book about supporting Celtic.
Order
HERE
for a very special price of only £9.99 or click on the link below.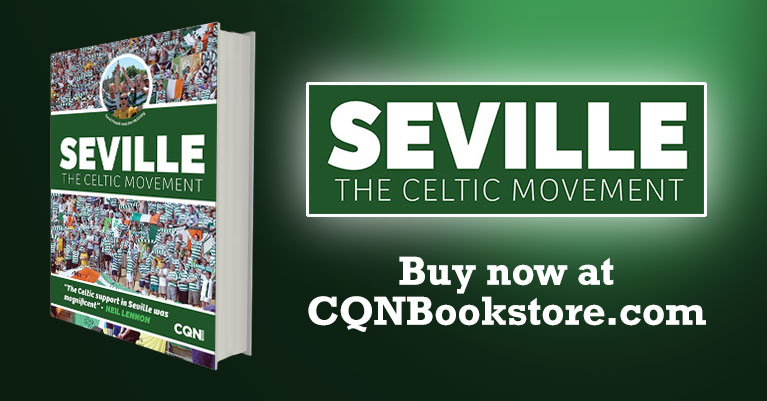 Click Here for Comments >