TOM ROGIC rarely missed a trick in his nine-and-a-half year career at Celtic.
The 29-year-old Australian maestro had the flair for marking the big occasion and it was only right and proper he would leave Parkhead with even more silverware.
And, of course, a Goal of the Season award from his fellow-professionals after his waltzing, solo effort to open the scoring in the 3-0 league win over Dundee United to illuminate a December 5 afternoon at Tannadice.
It was always about timing for the stylish playmaker and, of course, he demonstrated that to the fullest extent on a glorious May 27 day at Hampden in 2017 when he meandered forward in his elegant manner in the fading moments of the Scottish Cup Final.
TREBLE YELL…Tom Rogic roars with joy after scoring the Scottish Cup Final winner against Aberdeen in May 2017 that sealed the domestic clean sweep and capped the Invincibles' remarkable season.
THAT'S MY BHOY…Tom Rogic is congratulated by Brendan Rodgers after the Scottish Cup success.
The game was already in stoppage time with referee Bobby Madden about to blow his whistle to signal extra-time against Aberdeen when the showboating Wizard of Oz demonstrated his breathtaking skills as he skipped past two opponents and neatly stuck the ball between a mesmerised Joe Lewis and his near post.
That spectacular strike completed the Invincibles' season in Brendan Rodgers' debut campaign and the memory is seared into the memory banks of everyone who was privileged to witness a special piece of soccer sorcery.
There was even a clap of thunder to greet the winning goal as the ball collided with the rigging and the elements over the national stadium appeared to join in the applause.
GOAL OF THE YEAR…Tom Rogic elegantly sweeps in the breakthrough strike in the 3-0 win over Dundee United at Tannadice in December.
Rogic has brought down the curtain on his Hoops career after arriving as a 20-year-old virtual unknown from Central Coast Mariners in January 2013. But, Bhoy oh Bhoy, has he left us all with a treasure trove of extraordinary reminisces.
The amiable Aussie said: "I'm very fortunate that I've had great times here and I would say that the opportunity to play week in, week out at Celtic Park is something I won't take for granted.
"The atmosphere in particular on Champions League nights and derby matches were so special.
"In terms of moments, the Scottish Cup Final one sticks out as one, but the number of derby goals and last-minute winners that I can look back on as key moments, I will miss everything.
PARKHEAD PLEASURE…Tom Rogic earns applause from the Celtic support after another special strike.
GOVAN GLOOM…Ibrox fans are silenced as Tom Rogic celebrates a goal at Ibrox.
"That season in particular, unbeaten all season, going for the treble which hadn't been done in some years, to finish it off in that manner in the last minute was special.
"As a season as a whole, it was an incredible one for the club and it's very special."
Crowdpleaser Rogic, who won 16 honours and scored 46 goals in more than 270 appearances, went out to well-deserved rapturous applause from a grateful support.
The international star, speaking to Celtic TV, added: "It's not a decision that was taken lightly. It's been an enormous part of my life for such a long period.
"I can only say good things about the club and my experiences here were incredible and I feel very fortunate to have been at the club for such a successful period as well.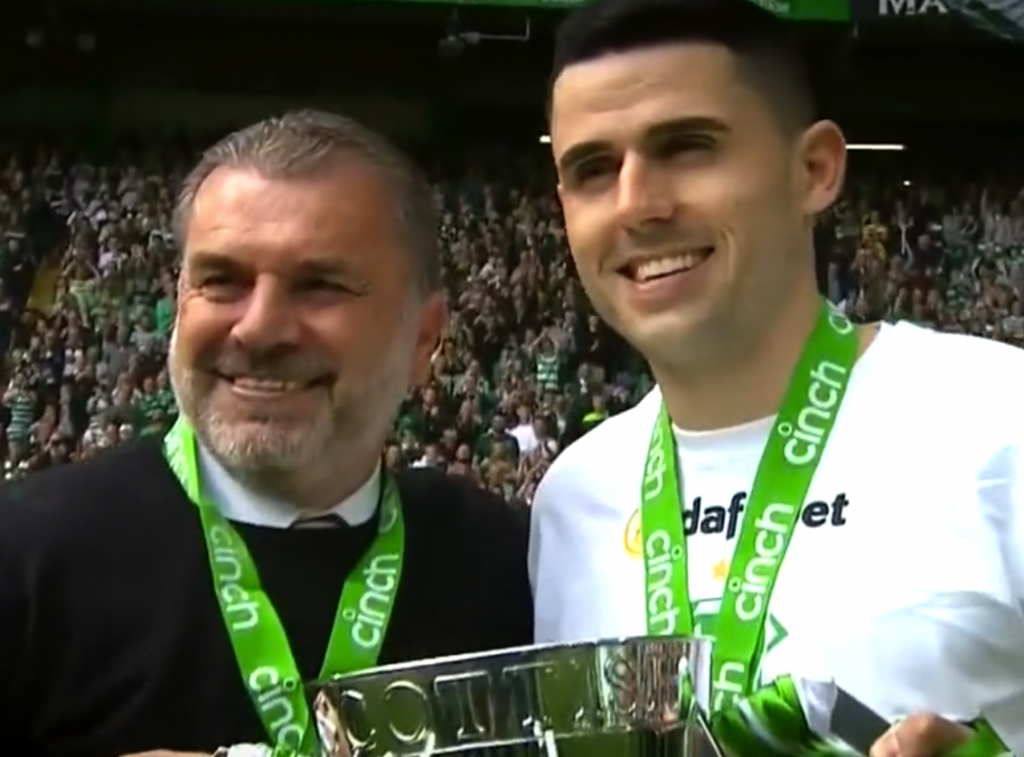 CUP, CUP AND AWAY….Tom Rogic and Ange Postecoglou with the coveted silverware. 
"The period over the nine-and-a-half years, there has been a lot of success.
"You fast-forward to where we are now and the success we've had this season, needing to win the title back, the manner in which we've done it, the football that we've played, it's as rewarding a season as I can remember.
"I did feel it was important for me to go out on a high and leave as a champion after all the success here. It's another great season to have here.
"It's been a special ride and I've been fortunate to experience so many great memories at Celtic Park and with the travelling fans.
"It's something I'll reflect upon with great pride and I'm sure I'll tell my kids and grandkids about it."
Click Here for Comments >