THE champagne flowed – courtesy of Queen's Park.
Billy McNeill's men had just beaten Dundee United in an extraordinarily dramatic climax to the Scottish Cup Final in front of 74,000 hyperactive fans at a throbbing Hampden Park.
Celtic had completed a remarkable Double in their Centenary Year.
And a bemused manager said, 'I believed we had thought of everything, covered every eventuality. The only mistake we made in our preparation was forgetting to bring champagne. So, we had to borrow some bottles from Queen's Park. Thank goodness the amateurs had a few in stock.'
Saturday May 14 was another sun-drenched afternoon in Glasgow, the glorious climate matching the mood of the cavorting, dancing Celtic fans. Dundee United, frustrating, awkward opponents, awaited. The setting was in spectacular technicolour, explosions of green, white and gold streaming down the Hampden terracings with splashes of tangerine.
Everything looked poised for a very pleasurable and eventful occasion. United, managed by curmudgeonly Jim McLean, had a disturbing habit of bringing grey to proceedings. The 74,000 fans were given a surprise even before the kick-off when Pat Bonner failed to turn out and Allen McKnight was in his position.
McNeill explained, 'Pat had a calf muscle injury. On Friday, I told Allen he had to prepare as though he was playing the next day. I told Allen I would let him know in the morning. Possibly, it was unfair to leave him wondering all night, but there was no other way. Pat's injury was camoufaged from everybody as physio Brian Scott tried to get him fit.
'I worked Pat quite hard in the morning and then asked how he felt. He told me he wasn't one hundred per cent and I replied that he had taken a hard decision. So, Allen was in. But Pat's attitude was so typical of the team. He didn't want to risk letting anyone down. I know all of them would have done precisely the same in Pat's situation.'
The first-half passed without any real incident, both sets of players anxious not to make a mistake. However, the situation changed dramatically only four minutes after the turnaround.
The Celtic defence was stretched as Eamonn Bannon sent a searching pass in the direction of Kevin Gallacher, a genuine speed merchant. He raced onto the ball and kept going before lashing a drive wide of McKnight.
McNeill recalled, 'It was a very good goal from Gallacher. Roy Aitken was running beside him, but, having had his name taken shortly before, the risk of a tackle was too great. Roy tried instead to jockey him on the run, but Gallacher was going fast and was in no mood to lose the ball. Now we were a goal down.'
With fteen minutes to go, Celtic were surging forward in torrents while being ever mindful about their rivals' keen ability to break at pace, especially with Gallacher roaming into danger areas.
Then Anton Rogan, Davie Hay's £20,000 bargain buy from Distillery, surged forward on the left and slung in a magnificent cross. Frank McAvennie, as courageous as ever, threw himself at the ball and sizzled a header beyond goalkeeper Billy Thomson.
'Even when we were a goal down, we knew we could make something happen,' said the marksman. 'We also knew if we could score one goal they would collapse.'
McAvennie practised what he preached with only a minute to go.
Joe Miller didn't connect with his right-wing corner-kick properly. It swept low across the surface where Billy Stark fed it back to his team-mate. This time his elevation was better, there was a scramble in front of Thomson and McAvennie hit an effort sweetly into the net.
'We had to finish the game in ninety minutes because we couldn't handle extra-time,' admitted Celtic's match-winner.
'It had been a really hard season and we felt the effects of the tiredness in the last couple of weeks as we wrapped up the league title.'
McAvennie wasn't surprised at Celtic's late, late show.
'Billy Connolly did a sketch about Celtic at that time because we always left things so late. He used to say to his friend, "How long to go?" His friend would reply, "A couple of minutes." And he would go, "Och, plenty of time! I'm away for a coffee."'
Chris Morris, the only player to perform in every game for Celtic throughout their historic season, paid homage to his gaffer.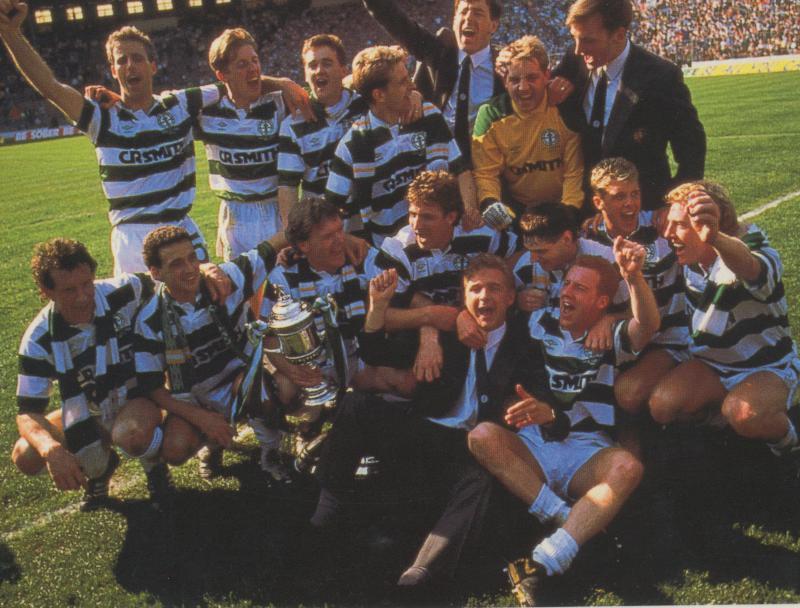 'Billy McNeill was crucial to that success. I got on really well with him and enjoyed his company. He could also be absolutely charming. But, boy, was he a sore loser! I can remember him coming into the dressing room after a defeat and kicking a boot that was lying on the oor. It bounced around the walls before landing squarely on Anton's head. When he spoke, we listened.'
Billy McNeill deserved the accolades.
He said, 'Big decisions had to be made when we went a goal down. I was prepared to leave Celtic short at the back. I said to Tommy Craig, "Right now we've lost the Cup… we've got to go and win it." That's why I brought on Billy Stark for Derek Whyte to give Joe Miller freedom on the other side.
'Andy Walker had probably been asked for too much during the season, so I changed him for Mark McGhee's strength and determination. We stretched United while stretching ourselves.
'While the players were out on the pitch celebrating at the end, I went to the dressing room. I was alone there with my thoughts. The players deserved their moment of triumph because they had won the Cup, not me.
'It is unlike me to want to be by myself, but for once I did. Eventually, Jack McGinn came in and said, "I think they want you out there, Billy." Later I reflected on the past twelve months. I had gone from one extreme to another as a manager – booted by Aston Villa and now lauded by Celtic. That Centenary Double will go down in the rolls of Celtic history.'
Davie Hay, deposed manager but still a Celtic fan, was at Hampden that afternoon.
'I had to laugh at the end when a Dundee United supporter was passing me in the stand. He recognised me and said, "If you had still been their manager, we would have won." I shot straight back, "Aye, just like you did in 1985!"'
The Centenary script had been skillfully written, flawlessly delivered and perfectly followed.
*From Caesar & The Assassin by Alex Gordon with Billy McNeill & Davie Hay. Available from CQNBookstore.com for only £10 plus p&p.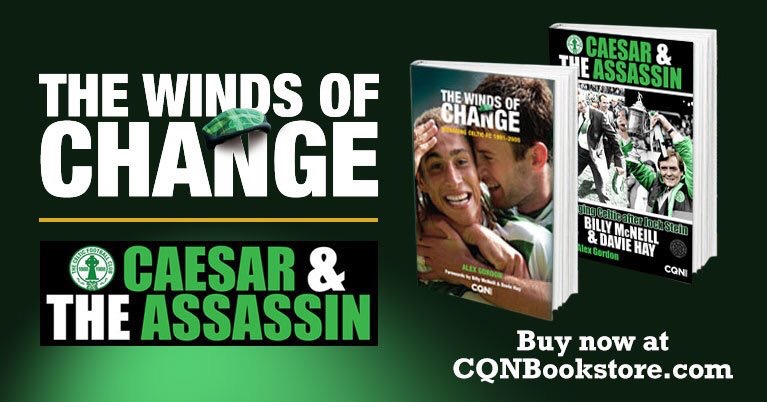 Click Here for Comments >