Many of us, over the past few years, have gone beyond incredulity and exasperation at the cowardly deceptions of the SFA, SPFL, Scottish media and even our own club, Celtic.
I've no doubt, countless numbers live in fear of spontaneous combustion due to the lies, lunacy and blatant manipulation process we've endured.  The despicable nature of this debacle reflects on each and every person within Scottish society.
How on earth do you all sit back and allow "The Rangers' Survival Myth" to survive?  Even the North Korean government would show embarrassment at such a 'cover-up'!  Is Scotland really a forward-thinking, progressive and inclusive nation?  Does the Scotland of today really live in 2016?  I don't think so!
You have 'cut and paste merchants' masquerading as 'award- winning  journalists'.  One of your 'journalists', is so far gone in relation to reality that there is virtually no difference between a parody twitter account and his own output.
Is there no sense of national embarrassment left? Believe me, if this happened in Ireland they would be slaughtered by the vast majority – metaphysically speaking of course!
Should a dissenting voice appear from within the 'Establishment' it is conveniently ignored by all and sundry – except that grouping commonly, and in the most derogatory fashion imaginable, known as 'The Obsessed!'
Andrew Dewar QC:  "The concept of the Rangers Institution continuing exists only in the minds of die hard supporters."  In Scotland, in 2016, that viewpoint is deemed 'irrelevant'.  Judges incomprehension at SFA counsel statements have seen The Rangers lampooned as some type of 'metaphysical being'.  Worthy of a 'wee sports' report, in Scotland?  Not a chance!  Court case after
court case throws up 'astounding' victories for the chairman of a holding company – Yes!  A holding company!  One lauded through your press as a 'Messiah'!
Dear God in Heaven!
What sort of country are you?  What sort of people are you?
Not one united dissenting organisation worthy of note within Scottish society/establishment?  That is as pathetic as it is embarrassing.
Scotland The Brave or Scotland The Wimp?  You decide!
Written by CMG for Celtic Quick News. If you would like to respond or submit an opinion piece article on Celtic, Scottish football or any other relevant topic please email david@cqnpublishing.co.uk
———————————-
CHARLIE GALLAGHER? WHAT A PLAYER! is available now on www.cqnbookstore.com – order your SIGNED copy today and receive a free gift with your book.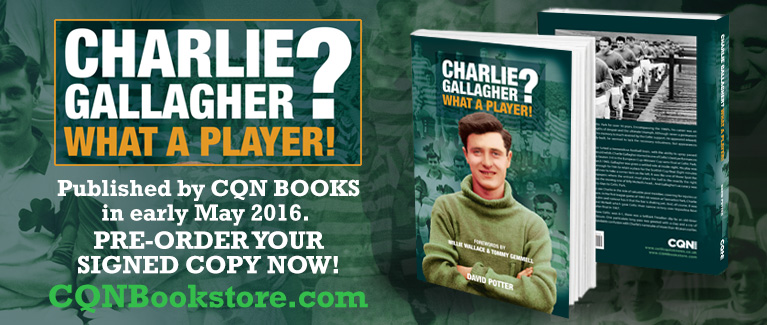 Click Here for Comments >