"If you were too young to remember watching Celtic in the 1980s ask someone who was there and you would be forgiven for being a bit cynical about the reaction you get. The 80s didn't have Stein or the Lions (apart from the odd cameo from Bobby Lennox early in the decade). They started with Celtic losing the championship to Aberdeen and ended with us slipping miles behind Rangers, but in between we some fantastic times.
Few things will get Celtic fans reaching for the channel changer these days than Charlie Nicholas or Davie Provan but in the early 80s they were incredibly gifted footballers. Nicholas was special, but like a lot of naturally gifted talents, he was lazy. His goals at Celtic made him an irrepressible hero, in particular, he was a scourge of Rangers. Memories of him drifting past Rangers players at Hampden in the rain during the 1982 League Cup final, before thrashing the ball into the net, or jinking left and right and smacking one home at Ibrox remain vivid. He was an irrepressible image of what we wanted Celtic players to be.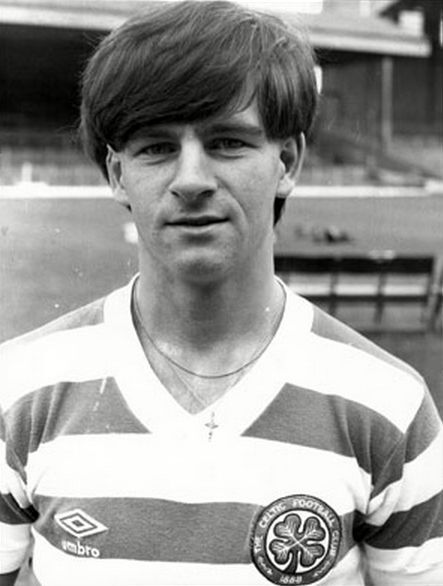 Unfortunately, Charlie wasn't the smartest jock strap in the hamper. He left but instead of moving to Liverpool he took the highest salary on offer, from a notoriously dull Arsenal. His lack of mobility stood out as soon as he arrived in England.
Provan was a favourite of mine. He was skilful, had pace and his work ethic was the antithesis of Nicholas. He destroyed Rangers during that 1982 League Cup final.
The story of the 80s was really the story of strikers. Frank McGarvey pulled defences this way and that, creating space for Nicholas to tend his fringe. His joy at scoring for Celtic, the 25 yarder against St Mirren, which made him sick with excitement afterwards, and the 1985 Cup Final header, were the embodiment of a Celtic fans joy at playing for his team.
Arguably the best Celtic forward during the 80s was Brian McClair. McClair was quiet. Bought by Billy McNeill as a parting gift before he left, we had to wait each game until the young striker was given his chance by new manager, Davie Hay, while Brian Melrose was given a starting spot.
There was, of course, one man, singed from Watford, who played to the gallery. The dyed hair and blessing himself against Rangers, it was cringe-worthy stuff. He as a headline maker but he couldn't lace McClair's boots.
Scottish football was great for most of the 80s. It is to Billy McNeill's credit that he won consecutive league titles against Alex Ferguson's Aberdeen, who were one of Scottish football's all-time great teams. We had Dundee United too, who won a marvellous evening game at Celtic Park 2-3 on their way to the 1983 title.
United came within a whisker of being the second Scottish club to reach the European Cup final but let a two goal first-leg lead slip. They would go on to reach the 1987 Uefa Cup final, beating Barcelona home and away in the process, but the glory days were about to end. Rangers had won only three leagues in over 20 years. They flooded the club with money and the century-old tradition of meritocracy was over."
Written Paul Brennan
CAESAR AND THE ASSASSIN – MANAGING CELTIC AFTER JOCK STEIN 
Caesar & The Assassin provides a compelling insight into life as a Celtic manager for two of the club's true giants.
During an extraordinary, tension-laden thirteen year period, following in the legendary footsteps of Jock Stein, Billy McNeill and Davie Hay were the individuals entrusted to continue the unique traditional one of the world's most famous and romantic football clubs.
There were spectacular highs and heartbreaking lows throughout a remarkable and turbulent period in the club's history. Unforgettable League Championship triumphs and dramatic near misses, breathtaking Cup Final successes laced with suspense and controversy, European nights that, for better or worse, will long in the memory banks.
This is a vivid diary describing the delight and the despair of managing Celtic, the club that was always closest to the hearts of Billy McNeill and Davie Hay. The suspense on the field was ofter matched by the strain off it during a tumultuous, pressurized thirteen-year span for the two leading characters.
Caesar & The Assassin is published by CQN and is essential reading for Celtic supporters everywhere.
Authors: Alex Gordon with Billy McNeill & Davie Hay, now only £14.99 from CQNBookstore.com plus you will receive a FREE copy of The Winds of Change.
NEW CQN PODCAST OUT NOW!
A Celtic State of Mind presents its 23rd instalment of insightful discussion into the culture of Celtic Football Club, the city of Glasgow, and fans of the reigning invincible Scottish champions.
Paul John Dykes is joined by Bafta-winning documentary director, John MacLaverty, and Scottish comedian, Phil Differ.
John's Lisbon Lions documentary – Glasgow: 1967 – is an incredible celebration of Celtic's European Cup win 50 years on.
Phil has been a staple part of Scottish comedy for decades, and has worked on such iconic productions as Scotch & Wry, Naked Video, City Lights, Rab C Nesbitt and Only An Excuse.
The CQN Podcast has gone from strength-to-strength over the last few months, and there are many more guests lined up in the months ahead from the world of sport, music, film, art, broadcasting, literature and politics.
NEW FROM CQN BOOKS! JIM CRAIG – RIGHT BACK TO 67, THE LISBON LION DIARY, ORDER A SIGNED COPY NOW!
Click Here for Comments >