SINNING Saint Chris Kane was extremely fortunate not to see red during a flashpoint incident at Parkhead yesterday – and CQN have the images to prove it.
The Perth striker got involved in an unruly clash with Celtic defender Cameron Carter-Vickers during the Hoops' 2-0 Premiership victory.
Kane appeared to take two kicks at the on-loan Spurs centre-back who was on the ground at the time following a challenge for the ball. Referee Nick Walsh had a good view of the collision and the actions of the visiting player and the prone Celt.
YELLOW PERIL…Cameron Carter-Vickers was booked after being on the receiving end of an assault.
The match official clearlty believed the foul merited a booking and fished the yellow card out of his pocket. As he moved towards the incident a melee broke out and players of both sides got involved. In the midst of the rumpus Kane clearly raised his right hand to his opponent.
It was more of a shove than a punch to the face of Carter-Vickers, but such an action is deemed a red-card offence.
Amazingly, Walsh, no stranger to red cards as Callum McGregor could attest after being banished by the same official in the first-half of the Scottish Cup-tie at Ibrox last season, decided not to replace the yellow with a more suitable colour of card.
Making the situation even more bizarre, the whistler also cautioned Carter-Vickers for attempting to defend himself.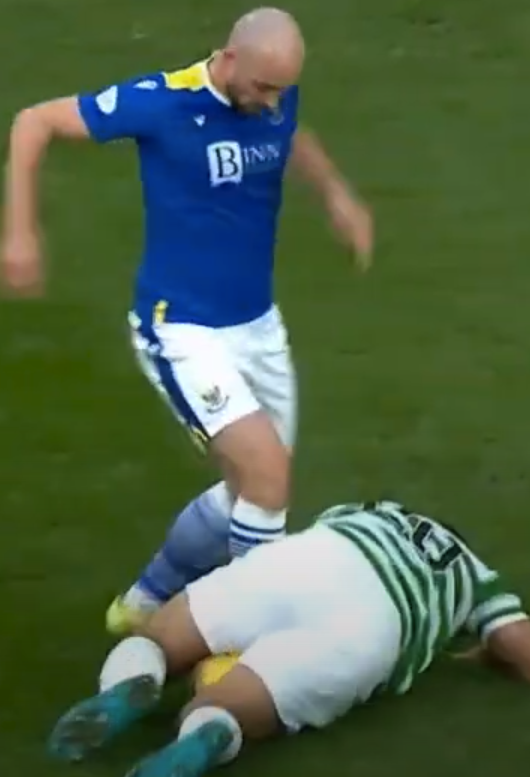 KICKING MATCH…Chris Kane puts the boot in as Cameron Carter-Vickers is on the ground. 
GROUNDED…Carter-Vickers is still on the receiving end as the Saints striker continues his clumsy attempt to kick the ball.
RUMPUS…Carter-Vickers attempts to get to his feet as other players join in.
BOOKING…referee Nick Walsh can clearly be seen with the yellow card in his hand as he runs towards the flashpoint incident.
STRAIGHT RIGHT…Kane lands one on the face of Carter-Vickers in front of the match official who is still holding the yellow card.
PUSH OFF…Carter-Vickers looks stunned as Anthony Ralston keeps Liam Gordon at arm's length.
Former Scotland international forward Chris Iwelumo insisted Kane should have been banished – if the referee saw his part in the commotion. CQN's pictures prove Walsh did indeed get a clear view of the flare-up.
The one-time St Mirren goalscorer, speaking on
BBC Sportsecene
, said: "I know Chris Kane well, he competes for everything."He's very lucky here. There's a coming together and the ball is under Carter-Vickers.
"That (as Kane goes in) can't happen.
"The little swing, he's very, very lucky. He makes connection with Carter-Vickers.
"He goes to grab the throat, but it's a push, as well. It's the use of the hands, if that's seen, it's a red card, there's no arguments there."
Click Here for Comments >