AUTHOR Alex Gordon was present on the day Celtic unveiled Martin O'Neill as their new manager 22 years ago today.
Alex, who is a former sports editor of the best-selling Sunday Mail during a lengthy career in journalism, has had fifteen Celtic books published, including 'Lisbon Lions: The 40th Anniversary Celebration', and '50 Flags Plus One'. He recalled the audience with the incoming gaffer in his first book of newspaper memoirs, entitled 'Jinx Dogs Burns Now Flu', published by Ringwood in 2015.
Here is Alex's recollection of his first meeting with the Northern Irishman.
CHAT'S THE WAY TO DO IT…Martin O'Neill delivers a sermon.
MARTIN O'NEILL fixed everyone in the room with a deadly stare and said: "Just to be absolutely sure about this, I want you all to know that I bear a grudge. No, I'm not joking. Seriously, I do bear grudges. Honestly, I do."
I had been invited to meet the new Celtic manager at the Crutherland Hotel, set back in beautiful gardens on the way to East Kilbride, on a gloriously sunny afternoon in June 2000. About fifteen other sports journalists were being given the opportunity to greet the incoming team boss for the first time.
So, O'Neill, fashionably about an hour late, was addressing a dining room packed with strangers. However, he wasn't hanging about as he laid it on the line during his 'maiden' speech at the end of a rather splendid lunch.
IN WITH A SHOUT…Martin O'Neill gets his point across to his players.
I sat opposite him for an hour or so that day and swiftly realised he wasn't a massive fan of mirth. He appeared to be solemn and withdrawn and made little effort to indulge in idle chit chat with anyone around about him, including me. However, I did get the distinct impression he was sizing up everyone in the room, making little mental notes and gathering strength. He was one serious hombre, I reckoned, with a mean glower to back it up.
When it came to coffee and liquors, the man given the task of breathing urgent life into the ailing giant that was Celtic Football Club moved to the top of the table to grab everyone's attention. He went through the usual preamble; "Big club, big job, big test." All that sort of stuff.
Once he had got the formalities out of the way, the real Martin O'Neill took over and he had no intention of leaving anyone in that room in any shadow of doubt about what he expected in the coming years while he was manager of "one of the greatest clubs in the world."
READ ALL ABOUT IT…Alex Gordon's first newspaper memoirs, 'Jinx Dogs Burns Now Flu'.
He wasn't just talking about his players, either. No member of the press left the Crutherland Hotel that day with any uncertainty about what was around the corner. The feeling was unanimous, "Cross me and you're in trouble." It was loud and clear.
I sat back and I admit I had to admire the man. I'm fairly certain he didn't know too much about anyone in the room – with the possible exception of former Celtic player Davie Provan, who was representing Sky Sports – as he held court. Immediately, he came across as a single-minded, fiercely-committed individual who wouldn't lose a wink of sleep on slamming doors on people.
I can still hear him going through his "I bear grudges" speech. Anyone that day looking at the new Celtic boss and attempting to detect the hint of a smile while he uttered those words was wasting his time. He meant every syllable, no doubt about it. He was laying down the law, setting the ground rules and everyone was warned what to expect if they didn't toe the line. If he was looking for any favours from the media, I must have missed it.
Nope, he was Martin O'Neill and it was his way or the highway.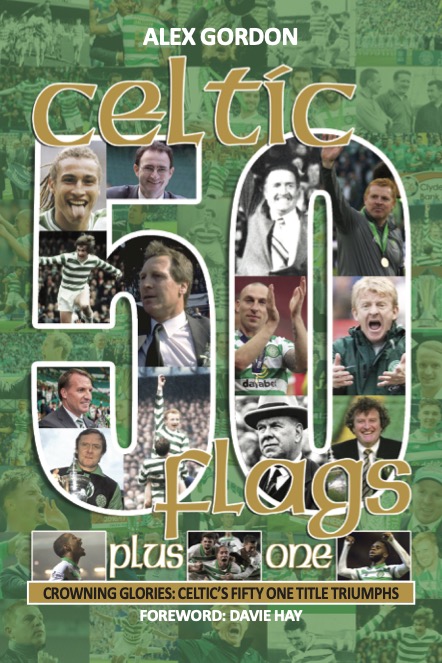 READ ALL ABOUT IT…Alex Gordon's fifteenth Celtic book, '50 Flags Plus One', the tribute to the club's  first 51 untainted titles.
It didn't take him long to wheedle out some information I just knew was part of his agenda that afternoon. He hated leaks from the dressing room, he said, and they would be dealt with. He wanted to know who had loose lips at Parkhead.
Astonishingly, some helpful hack, no doubt trying to curry favour, practically put up his hand like he was sitting at a school desk. He outed goalkeeper Jonathan Gould as being a bloke who enjoyed a good relationship with the press.
"Really?" said O'Neill. "That's interesting to know." The rest of the media scrum groaned; another avenue of information turned into a dead end. It may be a coincidence, of course, but Gould disappeared off the first team radar after the opening thirteen games of the campaign. Robert Douglas was brought in from Dundee and it was curtains for the media-friendly Gould.
They say you only get one chance to make a first impression. I would say that most certainly is the philosophy of a fairly astute chap from Kilrea in Northern Ireland.
Click Here for Comments >