THE Celtic double-act of Anthony Stokes and Liam Henderson combined to wipe out Hibs' 114-year Scottish Cup Final hoodoo in breathtaking fashion at Hampden this afternoon.
The Hoops loanees were the men who mattered as the hopes of Sevco to win their first ever major trophy – after having only five shots on target in two games – were well and truly scuppered.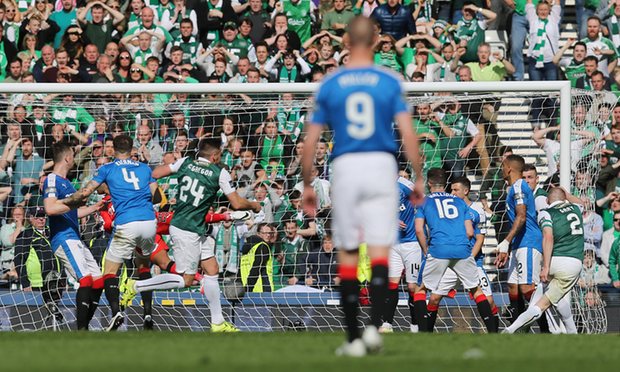 And Sevco's hopes of European football were dynamited along with their meagre, paltry attacking performance over two encounters.
Stokes got the opening goal in the third minute when he ran onto a Jason Cummings' pass, moved elegantly into the box and then sent a sweet low shot wide of the keeper into the far corner.
Hibs could have added a couple more before Kenny Miller headed in the equaliser in the 27th minute after some shocking play from ex-Ibrox player Darren McGregor who was slow to react to a long hanging crossball from the right.
Stoke' reply was instantaneous as he fired a low drive past Wes Fotheringham, but was denied when the ball struck the inside of the right-hand post and rebounded to safety. It was very reminiscent of Leigh Griffiths' effort in the semi-final that hit the opposite post and was then missed by Patrick Roberts.
And it got worse for Hibs when Andy Halliday was allowed the freedom of Hampden to tee up a shot from outside the area and blast a drive wide of Conrad Logan in the 64th minute.
But Stokes had the perfect reply in 80th minute when Henderson sent over an excellent right-wing corner-kick. The Republic of Ireland striker arrived at precisely the right moment and outjumped Jason Tavernier at the near post to bullet an unstoppable effort high into the net.
And there was more drama to come in injury time when Henderson repeated the feat of dropping a right-wing corner-kick into a vulnerable area and this time it was Hibs skipper David Gray who arrived smack on time to blitz a header away from Wes Fotheringham.
Amazingly, the veteran Easter Road captain has scored only five goals in his career – and three of them have been against the Ibrox side.
There was no lifeline this time for the team from Govan – no penalty-kick to get them through.
Against Celtic, they had three shots on target in two hours of football and got two goals. Of course, they then got through on spot-kicks.
Celtic had ten that day – not including two that hit the woodwork – and had to settle for two goals.
Mark Warburton's side in what might be his last match in charge of the four year club if rumours are to be believed, had two shots and two goals against Hibs and were within 10 minutes of lifting the silverware.
Dame Fortune looked the other way on this occasion and the Scottish Cup is now back in Leith where it last paid a visit in 1902.
The excited Hibs fans spilled onto the Hampden pitch at the end and boss Alan Stubbs, an ex-Celtic fans' favourite, was asked if it had ruined the occasion.
"No," he replied.
As a rendition of Sunshine on Leith is being sung, as this is being typed, there are, fittingly, no Huns at Hampden.
Today they 'hunsed' it.
Well done Tony Stokes, Liam Henderson, Alan Stubbs and the rest of the Hibs squad. You put a smile back on the face of Scottish football.
_______
ORDER Charlie Gallagher's new book – signed by the Lisbon Lion himself – and we will send you a copy of The Winds of Change free of charge. Order
HERE
. Enjoy your evening!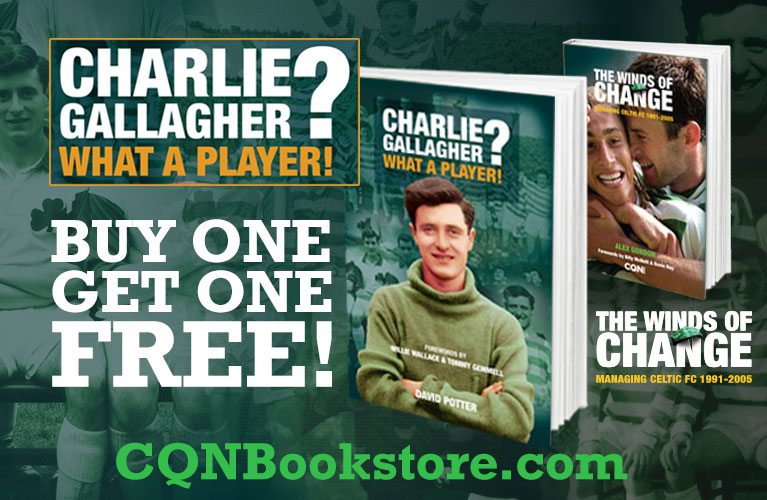 Click Here for Comments >