CQN takes a trip back in time to look at the game everyone connected with Celtic would prefer to forget – the 1970 European Cup Final loss against Feyenoord in the San Siro stadium EXACTLY fifty-three years ago today.
Hoops legend Davie Hay played that evening and devoted a chapter of his autobiography, 'The Quiet Assassin', which was co-authored by his friend and writer Alex Gordon, to the extraordinary happenings in Milan when the team squandered the opportunity of conquering Europe for a second time in three years.
In another CQN EXCLUSIVE, we publish the entire chapter and Davie doesn't attempt to hide behind any excuses.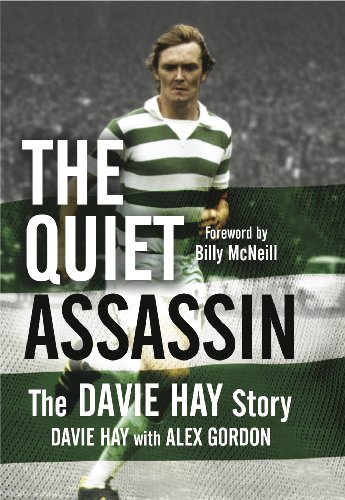 IF only Jock Stein had got his wish and we had been drawn against Feyenoord in the European Cup semi-final of 1970. I am not being churlish, but I know we would have beaten our Dutch rivals over two legs.
They might have caught us cold in the first game, but we would have seen them off in the second, trust me.
It's been a long time coming, but I can only apologise to all Celtic supporters everywhere for our feeble, appalling, miserable performance in the 2-1 European Cup Final extra-time defeat in the San Siro on May 6 1970. I still feel a mixture of embarrassment and anger when I think back to that night in Milan. We let down everyone connected with the club.
Celtic were mere shadows of themselves in the San Siro. We were over-confident, there was maybe an unusual hint of arrogance. Unforgiveably, we might even have underestimated our opponents. Big mistake. We believed we had done the hard work in dismissing Leeds United in the semi-final and it was only a matter of turning up, going through the motions and then collecting the coveted silverware. Or so we thought.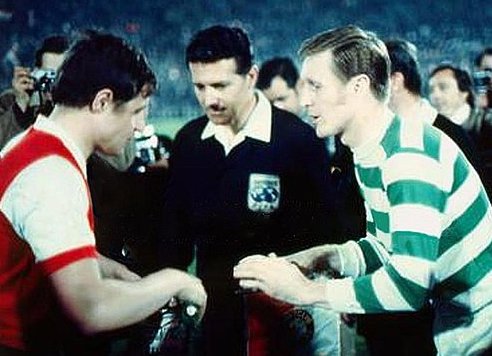 BEFORE THE NIGHTMARE…Celtic skipper Billy McNeill with his Feyenoord counterpart Rinus Israel.
Everything went wrong before and during that confrontation. You would have been forgiven for believing we were gearing up for some sort of bounce game at the end of a gruelling season such was the uncharacteristic ineptitude in our preparation. We are all in the dock and guilty as charged. And I include Jock Stein, our manager who was normally so meticulous and thorough in going through the minute details of opponents before a big game.
For some obscure reason, Big Jock did not prepare as he normally would against the Rotterdam outfit. Maybe he was as culpable as his players into already believing we were the best team in Europe and no upstarts from Holland would stand in our way of conquering soccer's elite for the second time in three years. I don't think anyone should be sacracanct or spared from criticism after by far the worst memory of my playing days.
The better team won on the night and no-one can debate that. The trophy went to the side that deserved it. How much different it would have been, though, if we had scraped a draw in the San Siro. And, remember, we were a mere three minutes from the end of extra-time when they got the winning goal. The alarm bells were ringing loud and clear throughout the two hours of action against the Dutch.
We were well and truly knocked out of our stride by a very competitive bunch of players – future Celtic manager Wim Jansen among them – whose concentration was absolute and their determination abundant.
ON THE RUN…Davie Hay takes on Wim van Hangem.
I'll never know why Jock changed the side from the one that beat Leeds United in the second leg at Hampden. Actually, it's unfathomable and I am not having a go at the man to whom I owe so much just for the sake of it. Bobby Murdoch, George Connelly and Bertie Auld made up the core of that team as a midfield three. They sparked off each other and had the styles of play that dovetailed and complimented perfectly.
Murdy was simply marvellous; a complete team man. His range of vision and the ability to thump devastatingly accurate passes all over the place was breathtaking. Big Geordie had frightening skill. He lacked pace, but he made the ball do all the work. Bertie was immense and would always accept responsibility. He and Murdy went into the tie against Leeds United up against the likes of Billy Bremner and Johnny Giles, two extremely gifted individuals.
Apart from Bremner's goal at Hampden – and Bertie has already held his hands up to accept responsibility for not shutting him down quickly enough – he was mainly deployed in a defensive midfield role over the two legs. Giles, too, was spending too much time chasing back for his own liking against Celtic. In truth, they were largely anonymous and that was down to the fact that Murdoch, Connelly and Auld were ruling the roost.
Then, inexplicably, Big Jock dropped Geordie for the Final and gave him the substitute's role. He went with the two in midfield – Murdy and Bertie – that had worked so wonderfully well in Lisbon in 1967. This was a different game, though. Feyenoord were exceptionally strong across the middle of the park where their main man was Wim van Hanagem, who was dismissed by Jock as being a 'poor man's Jim Baxter'.
CRUNCH…Davie Hay fires into a tackle.
It was unlike our boss to misread a situation, but on this occasion he got it wrong; very wrong. Our line-up played right into their hands. We had Jinky, Willie Wallace, John Hughes and Bobby Lennox as a four-man frontline, but with the Dutch's stranglehold in the middle of the park, they were starved of any reasonable service. Normally, I could get forward when Jinky was buzzing, but the Wee Man was being suffocated by their defence. They double-banked and even treble-banked on him. They tried to force him inside into an already cluttered midfield where they had players waiting to pick him off.
Feyenoord played a pressing game all over the park and we were struggling to get into any sort of rhythm. They worked our defence well and didn't give us a moment's respite. Ove Kindvall, their Swedish striker, was keeping Billy McNeill occupied while Jim Brogan had picked up an early foot injury that curtailed his movement a bit. Tommy Gemmell was getting forward, as usual, but our cavalier full-back also had his work cut out deep in his own territory.
Even our wonderful support seemed to be strangely subdued in the 53,000 crowd. The klaxon horns of the Dutch fans drowned them out and the entire atmosphere appeared to be geared towards Feyenoord. Rather remarkably, we scored a perfectly good goal that would have certainly stood today with all the technology we can call upon.
Bobby Lennox got free on the left-hand side of their penalty box and hammered an unstoppable effort wide of their keeper, Pieters Graafland. Before we even got a chance to let loose a sigh of relief and celebrate we noticed that experienced Italian referee Concetto Lo Bello was blowing for offside.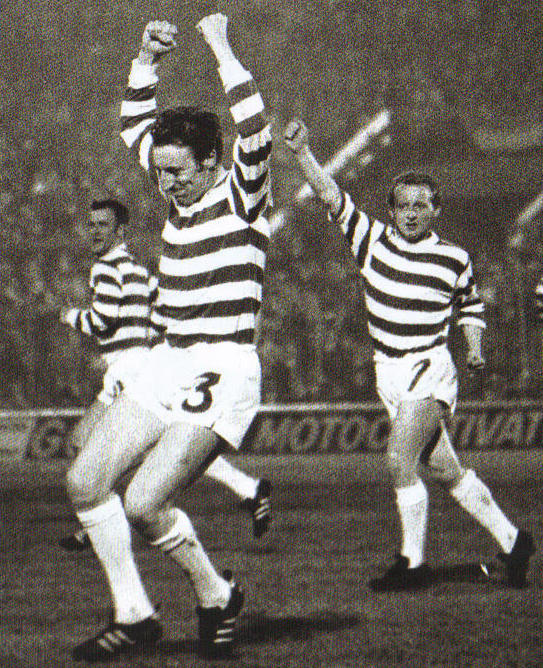 THE BIG SHOT…Tommy Gemmell salutes his goal with Bobby Lennox and Jimmy Johnstone about to join in.
HOOP HOOP HOORAY…the Celtic players dance with delight at Tommy Gemmell's opening goal. 
If you ever get the chance to watch TV replays of that goal again you will no doubt be astonished to find our speedy little frontman was played onside by THREE Dutch defenders. He was too fast for his own good sometimes.
And yet we still took the lead on the night through another whizzbang effort from Big Tommy on the half-hour mark. Murdy neatly back-heeled a free-kick to our rampaging defender and from about twenty yards he smashed it first time with his mighty right foot. The keeper actually looked a bit distracted by the match official who had taken up a strange position behind the Feyenoord defensive wall. He probably wouldn't have saved it, anyway, as it thundered its way low into the net.
That was probably the worst thing that happened to us that evening! If we were more than just a shade arrogant at the start, we were even more so now. We knew we hadn't been playing well, very little was coming off for us in our forward plays, and yet we were a goal in front. We could do no wrong.
That unlikely notion was dispelled rather quickly – all of three minutes to be precise. Our defence made a mess of trying to clear a free-kick from the right and it bounced around until their skipper Rinus Israel got in a header. The ball looped high over Evan Williams and nestled in the far corner. I know better than most that football is all about ifs and buts. However, if we had held that lead until half-time there is no saying what the outcome of the game would have been.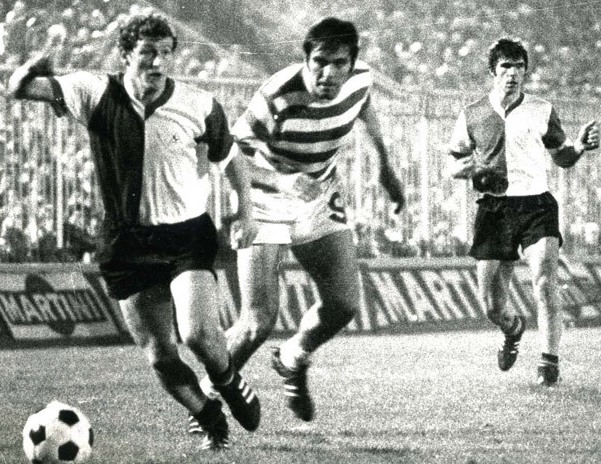 BEAR ON THE PROWL…John Hughes is set to pounce as Wim Jansen and Wim van Hanagem clear the danger.
We could have got in at the interval, had a good talk about what was happening out on the park and where we could hopefully put things right. It was still deadlocked at the turnaround and the dressing room was strangely quiet. There were a few in that Celtic team who liked themselves to be heard, but not on this occasion.
I still think we believed deep down within ourselves we would beat them. 'The first-half was a bit of a fluke', seemed to be the thinking. 'They can't be so good in the second-half.' Or 'We can't be that bad again.'
The Dutch klaxons were blaring once more as we trooped out for the second period and do you know something? Yes, they could be so good in the second-half. And, yes, we could be so bad. It was like stepping back into your worst nightmare after a brief fifteen minute interlude. Hanagem, who went on to win over one hundred caps for Holland, was hitting passes with that gifted left foot; Jansen was playing like a man possessed; running, fetching, passing, shooting.
Kindvall was still a handful for our central defence and we were gasping for air. Now I knew what it must have been like to be a Leeds United player facing us in the semi-finals. Bluntly put, we were getting a going over; a real doing. It was a painful experience, believe me.
Mainly thanks to our overworked goalkeeper Evan Williams we held out to take the game into extra-time. If it had been about 4-1 or 5-1 for Feyenoord at the time no-one could have argued. We defended as best we could against what appeared to be a never-ending onslaught from an eager collection of ambitious, well-primed professionals who sensed blood and knew victory was within their grasp.
I recall one outstanding save from Evan as Jansen drove forward before unleashing a rasping drive from about twenty-five yards that looked destined for the roof of the net. Evan took off, twisted in mid-air and, quite magnificently, held onto the effort. In another game on another night that sort of brilliance would have inspired his team-mates. Not this game and not this night.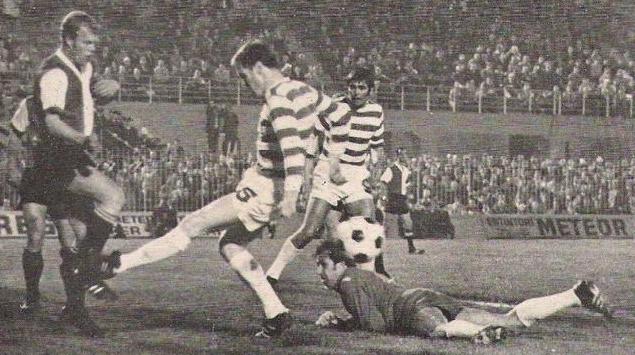 OH SO CLOSE…Billy McNeill just misses during a moment of panic in the Dutch defence.
Three minutes remained when the ref awarded the Dutch a free-kick halfway inside our own half on the right. What happened next would have any self-respecting, defensive-minded coach sucking out his fillings and clawing out his hair. Murdy picked up the ball as soon as Lo Bello whistled for the foul and handed it to an opponent. Within seconds the Dutchman had placed it on the ground, took a quick glance up and propelled the ball towards the ever-lurking Kindvall.
We didn't even get the opportunity to erect a defensive wall or pick up a player. Big Billy was left all on his lonesome as the ball homed in on its target. Our skipper couldn't set himself for one of his trademark clearing headers and as he back-pedalled he threw up his hands in desperation. His actions broke the flight of the kick and the ball dropped perfectly for the inrushing Kindvall.
He raced in, Evan left his line, the Swede got a touch and his effort sailed serenely and precislely into the inviting net. And that was the end of our European dream. Those bloody, infuriating klaxons started up again and kept going all the way through the presentation. We were devastated.
END OF THE DREAM…Evan Williams prepares to take the ball from the net as the Feyenoord players celebrate their winner.
There is absolutely no way that I would blame our world-class midfield man, but if only Bobby Murdoch hadn't been such a good sport. He could have let the ball run on and the Feyenoord player would have been forced to go and fetch it himself, giving our defence the time to get in place. Honours are won and lost in such a manner.
As I have said, Feyenoord deserved their victory and there are no arguments from this quarter. However, I can assure everyone our Dutch opponents would have seen another Celtic, the real Celtic, in the replay. We would have made them pay for what they put us through at the San Siro.
Also, we would have been only too aware of their true abilities and that was something we were not afforded in the countdown to that dreadful night.
Mistakes were made and, my God, were we made to pay for them. The Celtic fans deserved so much better. We failed them miserably that evening. It's a horrible recollection I would dearly love to obliterate from my memory banks. But, deep down, I know I never will.
* DON'T miss the big-name EXCLUSIVES – only in your champion CQN.
Click Here for Comments >