EXACTLY 31 years ago today, Celtic legend Billy McNeill parted company with the Parkhead club.
The manager paid the ultimate price in a results-driven business as the Hoops limped through a trophyless season.
Three years ealier, the European Cup-winning captain had been acclaimed after leading the club to a memorable league and Cup double in their centenary year.
Author Alex Gordon, who wrote the Billy McNeill tribute book, 'In Praise of Caesar' which was published in 2018, looks back on a shameful day in Parkhead history when the man voted the Greatest-Ever Celtic Captain by the fans was dismissed in heartless fashion.
In another CQN EXCLUSIVE, Alex presents an edited extract  from his book, 'Caesar and the Assassin', which focuses on the momentous decision by the board to axe their iconic gaffer.
BEHIND the scenes at Celtic Park, Billy McNeill was well aware a conspiratorial mood was developing. The team were struggling to make an impact during the 1990/91 season and McNeill admitted, 'It was obvious that certain elements in the boardroom wanted me out.'
Many thought the manager's days were numbered when Rangers won 2-0 at Ibrox on January 2. It was Graeme Souness' side's third successive win over Celtic in ten weeks, including a League Cup Final victory in October. The Parkhead men were now a massive fourteen points behind their rivals and for a lot of exasperated followers it was not the last straw. It was the one after it.
The rumblings were not lost on McNeill. He disagreed with the thought process that he had been put in front of the firing squad after the New Year loss. 'I believe my fate was sealed the previous month with the appointment of the board's hatchet man, Terry Cassidy,' said McNeill. 'Cassidy was given the title Chief Executive. A more appropriate title would have been Chief Executioner.'
The Press got wind of a clandestine meeting of the Celtic board shortly after the January defeat to Rangers. If it was their intention to relieve their manager of his duties around that period, they were well and truly scuppered. McNeill, astonishingly when everything is taken into consideration, managed to turn things around.
EXTRA-TIME TALK-IN…Billy McNeill gets a point across to his Celtic players as they await an added-on half-hour in the League Cup Final in October 1990.
The team went on an eleven-game unbeaten run, including two back-to-back wins over Rangers at Parkhead in March. Celtic knocked the Ibrox side out of the Scottish Cup with a 2-0 win in a free-for-all that saw Rangers' Mark Hateley, Terry Hurlock and Mark Walters sent off along with Celtic's Peter Grant. The following week, Celtic won 3-0 and Ibrox defender Scott Nisbet saw red on that occasion.
The league was blown, but there was a chance of a piece of silverware to prevent the board from following through with their initial thoughts to rid the club of an individual whose loyalty to the cause was boundless; a fact that was transparently obvious to all, with the sad exception of some members of the club's board.
Celtic faced Motherwell in the Scottish Cup semi-final while Dundee United met St Johnstone in the other last four tie. On April 3, McNeill saw his team held to a goalless draw by Tommy McLean's Fir Parkers. Six days later in the replay, Celtic led twice before capitulating 4-2 in shocking, unacceptable circumstances. Tommy Coyne and Anton Rogan scored, but their efforts were wiped out by a double from Motherwell's fiery little raider Dougie Arnott.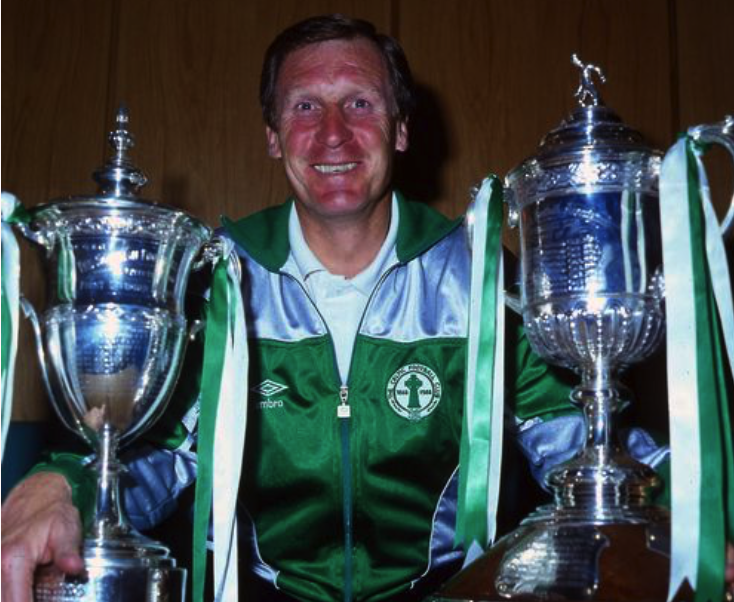 CENTURY BHOY…Billy McNeill in happier times at Celtic with the league and Cup double won in 1988.
In the sixty-seventh minute, Colin O'Neill hit a happy-go-lucky strike at goal from fully thirty-five yards and the ball arrowed straight into Pat Bonner's top left-hand corner. O'Neill had never hit, nor would ever hit again, a shot that accurate. It was all over four minutes from the end when Steve Kirk rolled in the fourth.
The League Cup offered hope, but Celtic matched the bleak conditions at Hampden on a grey afternoon on October 22 as they toppled to a 2-1 extra-time defeat to Rangers in the Final. Again, they had no excuse for their failure.
Paul Elliott gave Celtic the lead with a smart header after a John Collins corner-kick seven minutes after the interval. But the defence was too easily shredded when Ally McCoist set up Mark Walters for the equaliser in the sixty-sixth minute.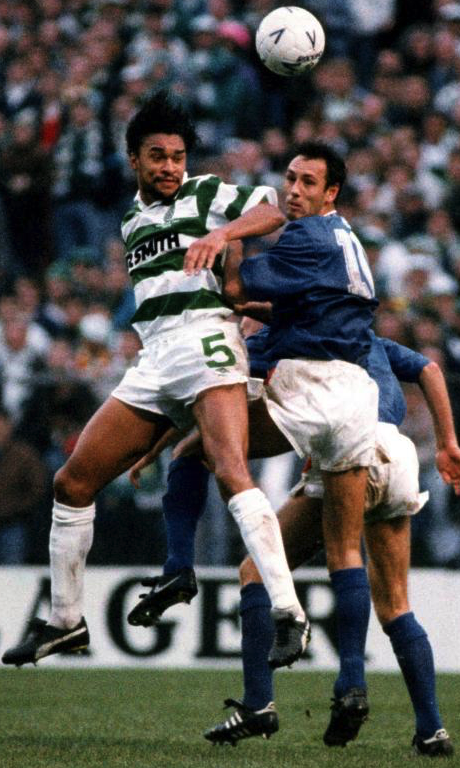 AIR RAID…Celtic centre-back Paul Elliott outjumps Rangers striker Mark Hateley.
The winning goal arrived in the one hundred and fourth minute and, once again, Richard Gough was the beneficiary of some lamentable Celtic defending. Trevor Steven swung in a straightforward free-kick from the right that shouldn't have created a problem. Disturbingly, Pat Bonner and Chris Morris got into a terrible fankle and the Rangers skipper merely had to prod the ball home from close range.
If any goal starkly illustrated the deficiencies in the porous Celtic defence it was that one. A lack of communication, awareness, bravery and positivity all combined to surrender a trophy. Throughout the error-strewn term, the Celtic rearguard was an accident waiting to happen. Ultimately, it would cost Billy McNeill his job.
Celtic won their last four league games against Dunfermline (5-1), Hearts (1-0), St Mirren (1-0) and St Johnstone (3-2) to claim a place in Europe in the forthcoming season. But McNeill admitted, 'I knew deep down that winning those four matches and getting a place in the UEFA Cup would not be enough to save me.'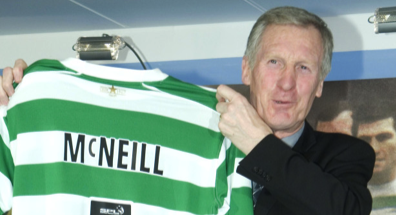 THE FANS' No.1…Billy McNeill holds aloft a Celtic shirt.
On Wednesday May 22 – eleven days after the final league game of the season against St Johnstone – McNeill, as he had been previously tipped off by friends in the Press – was summoned to Celtic Park for a 10am meeting with the directors. He was sacked moments after arrival. Jack McGinn expressed deep regret that the board had been forced to take such a 'painful' decision.
A short statement was passed onto the waiting newspapermen, alerted to attend a hastily-convened Press Conference, to the effect that the club had decided to terminate Billy McNeill's employment.
'That day was the lowest point of my life,' admitted McNeill. 'I had no qualms about the directors deciding I was no longer the man for the job, but I don't think I deserved to be sacked in that manner. The fact is, if a manager fails to produce the results then he deserves to be kicked into touch.
"If the board wanted shot of me, all they had to do was come up and say to my face that my time was up. All the manipulation and conniving was so unnecessary.
'I was very disappointed by the directors' treatment of me, but I was not surprised. I felt the people running Celtic at that time had lost the ability to behave with dignity.'
It was a cruel, sad and pathetic end to a career that had spanned eighteen years as a player and nine as a manager.
* DON'T miss the big-name EXCLUSIVES – only in your champion CQN.
Click Here for Comments >