CHRIS SUTTON believes Celtic's hopes of making progress in the Champions are practically a write-off even without a ball being kicked in anger.
The former goal hero insists it's Mission Impossible when Ange Postecoglou embarks on his Hoops managerial career with his first competitive game against FC Midtjyllland at Parkhead on Tuesday.
The first leg of the second round qualifier for Europe's money-spinning elite competition has come up too fast for Neil Lennon's successor, according to the media pundit.
But Sutton has made it abundantly clear the new manager will NOT be to blame for any prospective Euro flop – and the blame lies higher up the pecking order at the club.
POINTING THE WAY AHEAD…Ange Postecoglou gives the orders.
The one-time England international striker said: "Celtic need a Midtjylland miracle if they're to even reach the next stage of Champions League qualifying.
"With just over three days to go until the first leg I can't ever remember the squad being this disjointed.
"The club is all over the place.
"It's a shocking state of affairs. Every season when it comes round to the Champions League we seem to be talking about the same situation, the same dilemma because Celtic haven't acted quickly enough."
Sutton continued: "But this is not on the manager this year. This is on the hierarchy for sitting on their hands.
"Celtic fans always have hope and expectation for qualifying for the Champions League group stage. This season I don't think that's there.
"In my opinion, they'll be lucky to qualify for even the Europa League group stage.
"We all know the importance of the Champions League and the pressure on the club given the financial benefits it can bring. It's absolutely massive.
EURO OUT…Vasilis Barkas is beaten at Ferencaros' second goal – and the Champions League dream is over for another year.
"But Celtic haven't been this depleted going into the qualifiers since before my time at the club over 20 years ago. I can't remember a squad so stretched in all that time.
"It's a hit and hope against Midtjylland and the Danes are clear favourites. They are a good side and settled.
"They were in the Champions League last season and thumped Young Boys and Slavia Prague to get there before drawing with Liverpool in the group stage.
"They are clearly no mugs. Then you look at the teams Celtic have fielded in the friendlies so far and you think: Blimey! He has got very little to work with.
"It's not on Ange Postecoglou, though. If they go out in the qualifying rounds this year then the board and the club's hierarchy will carry the can.
"Dominic McKay has come in and Celtic are so far behind where they should be. It's worse than last season.
"And it's put Postecoglou in an impossible position. The Aussie has gone into clubs before and shown he's not scared to make changes.
"But he's been here such a short space of time, how can he analyse what he has in front of him and have a clear plan?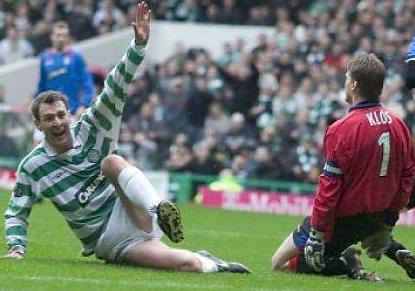 PAST GLORIES…Chris Sutton celebrates a goal against Rangers keeper Stefan Klos.
"He hasn't got a chance. This is stuff of miracles if he can get a tune out of this team and turn round a 25-point gap on Rangers.
"I like the way he speaks, he is a straight shooter. But he needs time, He needs a year. I've said that all along.
"He's a very brave man to take the job in the circumstances.
"The whole situation with no director of football doesn't help.
"Yes, it's good that Celtic are starting to bring signings in now. We are led to believe Liel Abada is one of the most exciting prospects to come out of Israel in a while.
"He scores plenty of goals, is quick, dynamic and on paper it's exciting. Likewise Kyogo Furuhashi seems to have the knack for scoring goals and if Carl Starfelt can get over the line that will, hopefully, bolster a creaking backline.
"Let's hope Celtic have got it right because they have a lot wrong in recent times in terms of recruitment."
MAKESHIFT…midfielder Nir Bitton may be drafted into defence against the Danes.
Sutton, speaking to the Daily Record, added: "But it's too late for Tuesday. These guys won't be in a state to play against Midtjylland.
"And that sums up the whole problem.
"This is last-ditch recruitment. Pin the tail on the donkey, in some respects. It's rushed, panicky and these signings are going to be under massive pressure.
"Hopefully, Starfelt will come in and Christopher Jullien will be back eventually, but just look at Celtic's back-line for Tuesday.
"Is it going to be Ralston, Welsh, Bitton and Taylor? Look at the goalkeeping situation – that's not been resolved.
"Is that back five good enough to get Celtic into the Champions League group stage? I can't say it is.
"It's a massive game on Tuesday. Celtic need to ensure they are still in the game heading over to Denmark.
"But, as I said, it's miracle stuff if they get past Midtjylland."
* DON'T miss the unbeatable match report from Celtic v Preston this evening – only in your champion CQN.
Click Here for Comments >