One of the drawbacks of football – at any level – is the ever present risk of injury. Over the past half century, Celtic have lost many fine players, often with devastating results for player and club. Hugh Gallagher has been looking at 6 such players this week. He's already featured  Joe McBride, George Connelly, Brian McLaughlin and Steve Murray. Now it's the turn of Pat Stanton…
PAT STANTON'S Celtic career had many similarities to Steve Murray's. Stanton joined Celtic later in his career, made an immediate impact but had his career cut short by injury.
When Pat Stanton joined Celtic, shortly after the start of the 1976-77 season, with Jackie McNamara (senior) moving to Hibs, it took the football world by surprise. Stanton, who was almost 32, was already a Hibs' legend, having joined them in 1963 and it was assumed he would see out the remainder of his football career there.
Stanton had played 16 times for Scotland, which was an astonishing total, partly because Hibs' players, like all players, playing for Scottish clubs other than Rangers, found difficulty getting large numbers of caps and partly because of the calibre of player he was up against for a midfield spot at that time – MacKay, Bremner, Murdoch, Hay, Cooke, McCalliog, Gemmill, Graham etc.
When Stanton joined Celtic, it was at a  difficult period. The happy memories of 9 in a row were fading and Celtic were no longer a force in Europe. Rangers had won the last 2 leagues and, to compound the problem, had just completed their first treble in over ten years.
The central defensive positions were giving particular problems. Billy McNeill was never going to be easy to replace; Roddy McDonald was struggling and his inexperience was showing through. Stanton's signing proved to be yet another master stroke by Jock Stein. He moved Stanton from his normal midfield role and played him as a sweeper behind McDonald. The transformation was immediate. McDonald's confidence immediately improved; he attacked the ball, showed great aerial ability and was confident that anything he missed, would be swept up quietly and efficiently by Stanton.
Pat Stanton's football ability seemed to invigorate the whole team, whose passing game was attractive to watch and helped Celtic once again overtake Rangers. Celtic got the League Championship back and Stanton and McDonald were magnificent in the Scottish Cup Final 1-0 win over Rangers.
Celtic scored early on but the rock of Stanton/McDonald proved impossible for Rangers to breach. Celtic were tantalisingly close to wining the Treble in 1976-77. Celtic lost 2-1 to Aberdeen, after extra time in the League Cup Final. Pat Stanton was ineligible to play, as he'd played in an early round for Hibs. His steadying influence was missed and many people were of the opinion that the result would have been different if Stanton had played.
Pat Stanton's first season had been a huge success. The whole club had been transformed and Stanton had played a huge role in that transformation. Optimism was high at the start of 1977-78. Jock Stein had created his third excellent team in 12 years. A highly successful Far East pre season tour had been completed and Arsenal and Red Star Belgrade beaten.
With the hugely talented youngsters, Roy Aitken and Tommy Burns having made the breakthrough, a typical starting XI looked like being-
LATCHFORD
McGRAIN, McDONALD, STANTON, LYNCH
GLAVIN, AITKEN, BURNS
DOYLE, DALGLISH and CRAIG
However, disaster was around the corner. In early August, Kenny Dalglish, who'd just completed a fantastic season, joined Liverpool.
A few days later, Stanton picked up an injury from which he never recovered.
The trilogy of bad news was completed when Danny McGrain received an injury that would sideline him for 16 months.
Without Stanton's influence, McDonald again struggled. Dalglish's impact only became truly appreciated after he'd gone. In his last season, he'd scored over 20 goals; not only that but, thanks largely to Dalglish, Ronnie Glavin also scored over 20 too and striker Joe Craig almost 30. In 1977-78, they scored only a handful between them.
Celtic had a nightmare season, Rangers won another treble and, at the end of the season, Jock Stein's 13 years reign was at an end. Billy McNeill came in to replace him. Pat Stanton was unable to make a return. Although his time at Celtic was short, Celtic fans will always remember his contribution.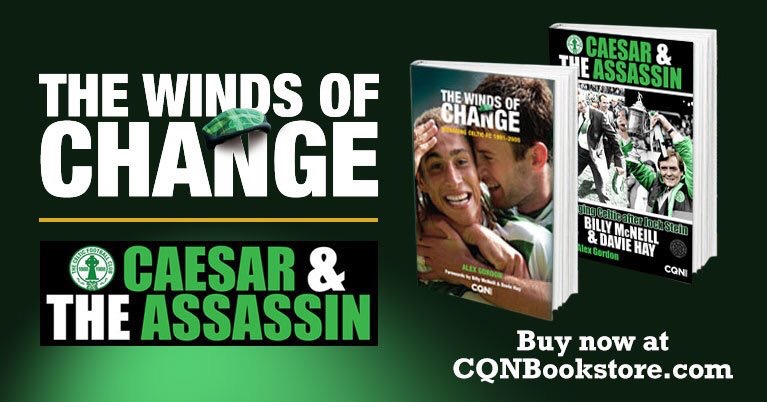 Click Here for Comments >