TOMMY GEMMELL DAY on CQN was Wednesday 12, February 2013. CQN readers posted questions for Tommy and he did his best to answer every single one of them, what a man Tommy was, what a great Celt!
CQN contributors posted questions for Tommy to answer and both these questions and Tommy's answers are included in a series of articles we will post  today. Please take the time to read them.
The affection, admiration and awe that the Celtic support had for Tommy is easily spotted in these heart-warming exchanges.
Tommy Gemmell, Celtic legend….
Q1: When you chased that German to boot him up the bahoochie, was it the fastest you had ever run and the hardest you had ever kicked? And was it the first time you completely missed the ball? By the way Tommy. We all appreciate your efforts over the years and I for one will make no more reference to the incidents mentioned previously. Otherwise, you'd be as well to call the book 'Tommy Gemmell Kicks Ass!' BOBBY MURDOCH'S  CURLED UP WINKLEPICKERS
A: That was the angriest I have ever been on a football pitch. Helmut Haller deliberately tripped me just as I was about to shoot from my favourite distance – about 30 yards out – and I just saw red. There was a minute to go and Scotland were losing 3-2 to West Germany in Hamburg in a vital qualifier for the World Cup Finals in Mexico in 1970. 
It was bad enough being fouled, but what really got me going was the fact the referee didn't even award Scotland a free-kick. When I turned round I could see Haller running for cover, but I just made a beeline for him. Was it the hardest I had ever kicked? My shots were measured at around 80-miles-per-hour and I think he got the motherload! And, yes, it was the first time I had meant to miss the ball. TOMMY GEMMELL
———–
Q2: Big Tam, your free-kick goal against Benfica is etched on the memory, as is his arse-kicking in the World Club Championship debacle. Can you tell me something about these two incidents in your career? BAWSMAN
A: First up, the goal against Benfica wasn't a free-kick. Wee Bertie took the deadball effort and rolled the ball in front of me about 25 yards out. I just gave it a mighty whack with my right foot and was delighted to see the ball soar into the far corner. 
That European Cup-tie came shortly after I had been dropped by Jock Stein for the 1969 League Cup Final against St.Johnstone. He wasn't happy that I had been sent off in the midweek game against West Germany. But I was brought back against the Portuguese giants and was happy to play my part in a 3-0 victory.
I wasn't proud of kicking the Racing Club player where the sun don't shine, but I'm afraid I had just had enough of the Argentines spitting, kicking and elbowing me during our three games against them. I just exploded. I'm only human, after all. TOMMY GEMMELL
 ———
Q3: Tommy, how long did you play for Meadow Thistle and did you ever bring the Big Cup back to Craigneuk or is that simply Craigneuk folklore? GAZCFC
A: What a good memory! No-one ever asks me about my career with Meadow Thistle! I played for them when I was 14-years-old and we had a reasonable team. 
I recall a player by the name of Tom Duddy who joined Celtic. He never played a first team game, but went onto sign for Cowdenbeath and then Airdrie. And there was a bloke called Eddie King who joined Hibs.
I played in the morning for my school team and turned out for Meadow Thistle in the afternoon. Happy days! And, yes, I did take the European Cup trophy to Craigneuk to show it off to our neighbours. My parents were at Celtic Park when we returned from Lisbon the day after the Inter Milan game. Following all the celebrations at the park, I took a 'loan' of the silverware for the rest of the evening.
Incredible! Could you imagine that happening today? I simply lifted the Big Cup and took it over to where I stayed with my parents in Craigneuk. There seemed to be about 300 people there to welcome me home. It was just fabulous. My parents' home was a second floor apartment and I think everyone – and I mean EVERYONE – crammed into their wee place that night. TOMMY GEMMELL
—————
Q4: Big Tam, I think you kicked that bassa from Racing Club harder in Montevideo! Hardly anyone in the stadium saw it except for the TV cameraman. Belter! Can you tell me why you kicked him? GER57
A: I'm pretty sure the guy's name was Norberto Raffo. He had been at it against us in the games in Glasgow and Beunos Aires. He was a streetwise guy. 
He would spit on you, tap you on the ankles and give you a dig in the ribs. But when you tried to give him a dull one, he was alert and sneaky enough to get out of the way. He would jump out of tackles and leave you frustrated. When there was yet another lull in play he was standing there, just smirking. 
I lost it. That's when I decided to mete out some justice on behalf of myself and my team-mates. I'm not proud of it, but he had it coming. TOMMY GEMMELL
————-
Q5: When you kicked that German player in the Germany-Scotland game (3-2 defeat) was it frustration because Muller fouled in the build-up to the German goal or did that particular player do something to annoy you? 79CAPS
A: No, it wasn't Gerd Muller who fouled me. As I have answered elsewhere, it was Haller. Gerd was great at sticking his backside into defenders and making it virtually impossible for them to get in a tackle, but, on this occasion, it was their midfield player Haller who did the dirty. By the way, I didn't realise he could move so fast! TOMMY GEMMELL
Q6: Welcome, Tommy, and thanks for many of my finest memories. My questions are. 'What was in your mind when you stepped up to take a penalty-kick? And did those thoughts change the more penalties you took?' PHYLLIS DIETRICHSON
A: My main thought when I was taking a penalty was to get the ball on target. Obviously, that was a must! And I wanted to hit it as hard as possible. With that combination, I reckoned I stood a good chance of scoring a goal. 
I made my mind up very early in my career that was the way to take them. I rarely changed my mind when we got an award. Get it bang on the button and leave the problem with the goalie! TOMMY GEMMELL
 —————-
 Q7: Can you recall the most motivational team talk that you heard from a manager? And if so, can you tell us a bit about it? TINYTIM
A: Not a lot of people know this, but most of Jock Stein's team talks were done well before a game. He would go through everything in meticulous detail when we were at our training HQ at Seamill. 
He would drum things into us and, come the day of the game, he would go round us all individually and say, 'Now remember what we spoke about. You know how this guy plays, don't forget what I told you.' And so on. Yes, he had the ability to change things if it wasn't going to plan, but, thankfully, most times it did. But it was Seamill where the real hard work was done regarding tactics and suchlike. TOMMY GEMMELL
—————
Q8: 'Simpson, Craig and Yours Truly.' What a wonderful way to describe yourself.
John Clark can boast, ' Murdoch. McNeil and me.'
Bobby Lennox can leave out the last name of, 'Johnstone, Wallace, Chalmers, Auld and…' and just point to himself.
What a wonderful way to live life. Anyway, my questions for Big Tam are:
Who would come second in a world arse-kicking contest? Could Peter Lorimer kick the ball harder than you? Celtic Wiki says some foreign football journalists voted you the best 'right-back' in the world. Which side did you prefer? SETTING FREE THE BEARS
A: World arse-kicking contest? Is that an Olympic event? If not, it should be! Not sure how I can answer that without lawyers being called in. As for right or left-back, I was comfortable in both positions. I was two-footed, although I would say my right was just a little stronger. 
When I played on the right, I went down the line most of the time to clip over crosses. On the left, I liked to cut in and give the ball a dunt with my right peg. But I was happy in both positions. Peter Lorimer could kick the ball as hard as me…in his dreams! Seriously, the Leeds United player who was known as 'The Lash' could belt the ball at a ferocious pace, so it would be a close-run thing. TOMMY GEMMELL
Q9: Are you still on Ayala from Racing Club's Christmas card list? On current matters at Celtic, would you bring back the Green Brigade? MONTEBLANCO
The name Ayala keeps cropping up, but I don't know if such a player actually played for Racing Club. Possibly people are getting him mixed up with Ruben Ayala, an Argentinian international winger who played for Atletico Madrid and was one of their three players sent off in that infamous brawl at Celtic Park in 1973. 
Either way, no, I've never had a Christmas card from the guy. Can't think why I've been left off his list. The Green Brigade create a fabulous atmosphere at the ground and they bring a splash of colour. But, for me, two things to keep away from sport are politics and religion. 
If the Green Brigade turn up to purely support their team and give the players their wholehearted backing, then they should be welcomed anywhere. TOMMY GEMMELL
—————–
Q10: What were your feelings about the non-PC chant about you coined by the fans of yon Glasgow team no longer in existence? PIGALLE
A: Aye, I used to get it in the neck from the Rangers support – presumably it's the Ibrox club to which you refer! – but it didn't bother me one little bit.
If they were giving me stick, then they were leaving someone else alone. And, by the way, I do have a birth certificate to prove I wasn't born out of wedlock. TOMMY GEMMELL
*We will post more Questions asked by CQN'ers and Tommy's wonderful answers throughout the day. It is clear reading these questions that Tommy is held in the highest of esteem by the Celtic support. We can tell you that in the last few years of his life he enjoyed the company he found on CQN when we managed  to get onto the site for a read.
The last time Tommy made it onto CQN was on a late afternoon last year, appropriately enough on 25th May, when he popped on unannounced and chatted to the CQN'ers who happened to be around. He signed off as his tea was ready.
CQN has a Lisbon Celtic shirt, the last one signed by Tommy, and so far it has also been signed by Willie Wallace, John Hughes and Charlie Gallagher. Paul McStay also signed it when he popped in for a coffee and a chat when he was over from Australia. Willie Wallace will take this very Celtic shirt and get ALL the Lisbon Lions who are participating in this month's 50th Anniversary to sign it too.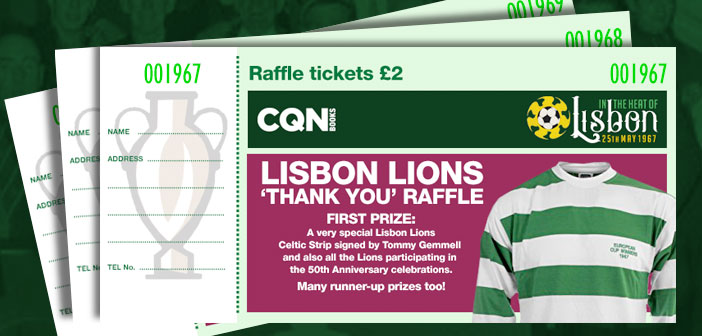 We are raffling this Celtic shirt at the moment on CQNBookstore.com and ALL of the money raised will be used to thank the Lisbon Lions (players from 1966/67 European Campaign) or for those we have lost, their families.
CQN is staging an IN THE HEAT OF LISBON party at Greenock Celtic Supporters Club on Friday 26 May feating Willie Wallace and the Lisbon Lions. This is 50 years to the day since the Bhoys returned to Scotland with the Big Cup. Tickets are £10 and available at the bookstore – demand is very high so please book now.
You can also order our new book IN THE HEAT OF LISBON together with the wonderful CQN Lisbon 1967 JOCK STEIN t-shirt both for just £19.67. The t-shirts sold out but we ordered 100 more to see us through May and satisfy the orders that were coming in. Profits from this to our THANK YOU fund.
Click Here for Comments >