Barcelona 8 Deportivo 0
Barcelona 6 Sporting Gijon 0
Barcelona 6 Getafe 0
Barcelona 5 Celta Vigo 0
Barcelona 8 Valencia 0
Barcelona 6 Atletico Bilbao
Barcelona 6 Roma 1
The above scores are all from last season so what does that tell us?
It tells us that Barcelona are a fantastic football team who will regularly, not occasionally, defeat good teams heavily. Barcelona scored more than 5 goals a dozen times last season; they scored 4 or more goals 21 times. That's a measure of how good they are, not a measure of how bad we are.
At the end of last season I am pretty sure that most of us would have been very doubtful that we would reach the Play Off round for the Champions League let alone the Group Stage. We have, and in doing so have reached our first target this season. Our next target should be reaching and winning the final of the League Cup; then the final of the Scottish Cup. In between those targets we should aim to have the SPFL wrapped up for the 6th time in a row.
That's what we should look for; a clean sweep domestically. Anything else is a bonus, including potentially going unbeaten; a record points total; and a record goals scored total. If we can have one player scoring over 30 goals and two scoring over 20 goals that would be very nice. We could also blood a few of our younger players and prepare them for next season. All of these are achievable targets, but they are achievable in the realms of Scottish football.  That's where the perspective comes in.
That's why I am surprised at the negative comments on CQN and a number of other Celtic fan sites and blogs after the heavy defeat by Barcelona.
Did anyone REALLY expect us to get anything from the game? I didn't. I hoped we would, because I am the archetypal optimistic Celtic supporter whose heart always feels that we can get something out of a game, no matter who we play. However, when the head then brings me back to reality, I can appreciate where we actually are in the grand scheme of things and I can live with that.
I am fortunate to come from a generation that saw us win the European Cup; be runners up a few years later; and regularly reach the quarter- and semi-final stages. It also allowed me to see some fantastic footballers and fantastic teams; and not all of them wearing the hoops. I have been fortunate see Jairzinho, Rivelino, Cruyff, Maradona, Zidane, Ronaldo (both of them), and Ronaldinho in the flesh. Add to that Jinky and the rest of the Lions; Dalglish; Lubo; Henke; and George Connelly.  All of them fantastic players. I have watched Celtic take on and beat Barcelona, Real Madrid, Inter Milan, AC Milan, Ajax, Leeds United, Man United, Liverpool and Juventus. I saw Scotland take on Brazil and Argentina at Hampden (they didnae beat them). So, safe to say I can make an observation based upon a certain degree of knowledge and experience.
The main observation I will make from last night is that with Messi, Suarez and Neymar Barcelona have the best front 3 I have ever seen as a unit. Their skill, movement with or without the ball and their collective understanding was a joy to watch. They scored 131 goals between them last season, 90 of them in La Liga. So for the 3 amigos to score 6 against us including Messi's 40th (yes, 40th) career hat-trick shouldn't be fully unexpected. Add to that a stunning goal from the genius who is Andreas Iniesta; are we really that surprised or disappointed?
You can talk about whether or not the team selection or the formation or the tactics would have made a difference. Personally, I don't. Barcelona were magnificent last night. They were stung by Alaves on Saturday night and hammered us on the back of that.  I doubt that they will play much better this season than they did last night. Part of that is the gulf in class between them and us, but only part of it; the other part is that they were brilliant: they played the beautiful game as it should be played. They were switched on last night and it showed. They can only beat what is in front of them and they did so.
We could deploy the Alan Hansen philosophy that every goal is down to defensive mistakes; or we could be realistic and accept that they out-thought and out-played us and even if we had De Vries and Gordon in goals last night we would still have lost.
We could argue that if Dembele had scored the penalty, the game would have changed. Maybe it would. Maybe we would have lost 4-1 or 5-1.  We can criticise the keeper; in my opinion he could maybe have kept out the free-kick from Neymar. Then it would only have been 6-0.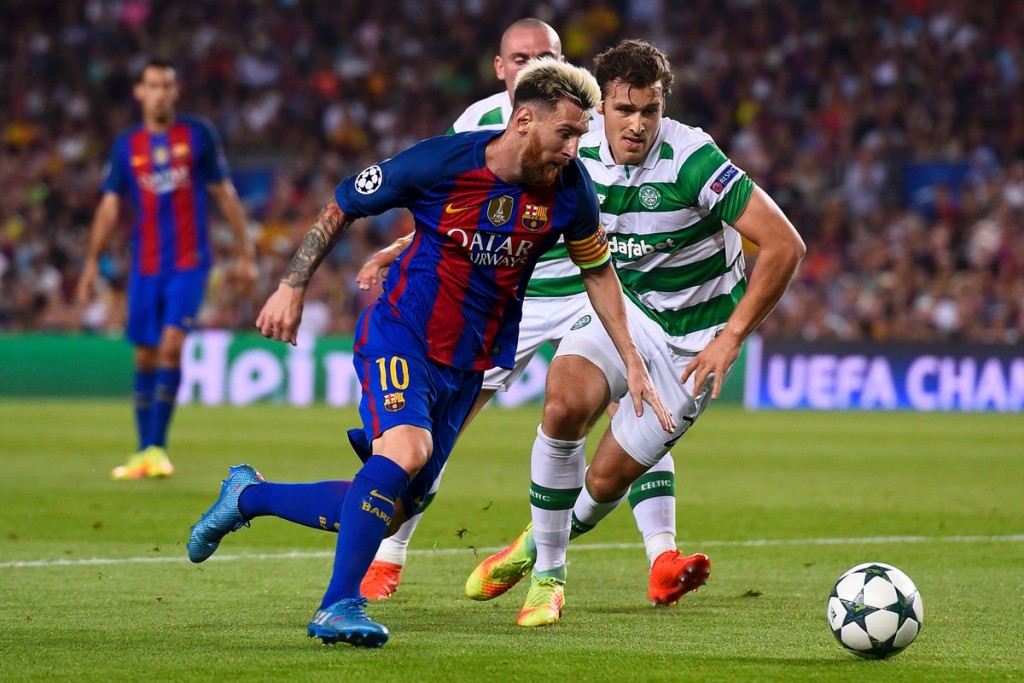 We could moan about the inequality in modern day football and how money has changed (corrupted?) the modern day game – that's another story entirely.
Or we could accept that the Champions (sic) League is a learning experience for us. We didn't expect to be here so let's use this season as a gauge of how far we have to go to improve and qualify for the latter stages from next season on. We could accept that fact that we are as far ahead of most other teams in Scotland as Barcelona are ahead of us in the CL. I honestly believe that Barcelona on that form would have beaten anyone else in the CL last night; some would have escaped with a 1-0 or 2-0 defeat; others would have suffered the same fate as us.
What we should do is get right behind the management and the players on Sunday and every other time we play from here on in.  We might get another footballing lesson at the Etihad fairly soon; we will also dish out a footballing lesson to Alloa next week in the League Cup.
I don't expect that Alloa Quick News will be awash with the hand-wringers after the game next week. It's funny that, eh?
Come on ye bhoys in green!  Onwards and upwards.
KTF
Written by VFR800 for CQN.
*The views of contributors are entirely theirs alone and are not necessarily shared by CQN. If you would like to contribute to CQN please email david@cqnpublishing.co.uk
Click Here for Comments >