LUBO WHO? That was the headline in a few of the Scotland national newspapers when the new broke Celtic had signed a veteran midfielder from MSV Duisburg in November 1998.
It didn't matter that Lubomir Moravcik had picked up 80 caps split between Czechoslovakia and Slovakia and had captained the teams on many occasions, he was still virtually an unknown in the UK.
The gifted little midfielder arrived without a fanfare at the age of 33 and the transfer didn't quite electrify the Hoops supporters or, fairly obviously, the media.
Two games later, it was obvious Moravcik had not joined his compatriot Josef Venglos at Parkhead just to top up his pension.
He notched a double in a 5-1 hammering of Rangers at Parkhead on November 11 – with Henrik Larsson also hitting two and Mark Burchill joining in – but even his presence didn't bring success that year, but, under Martin O'Neill, he flourished on the biggest stage a couple of seasons later.
HAPPY DAZE…Lubomir Moravcik and Henrik Larsson celebrate one of their four goals in the 5-1 win over Rangers at Parkhead on November 11 1998. Vidar Riseth looks pleased.
So, Moravcik knows a thing or two about bargain buys in football and he has pointed his old club in the direction of several countries where he believes they can find top-class performers without breaking the bank.
The Hoops, of course, are poised for a massive summer rebuild and the former fans' favourite believes there are untapped markets waiting to be exploited and raided.
Moravcik said: "We need players who can play quick and are technically good. I watched Rangers against Slavia Prague twice and Rangers, for me, are not such a strong team.
"It's a good team, but I don't think it is a team full of stars or great players.
"It's very solid because they have worked hard with the coach and the manager, but Celtic are 23 points behind because this season it was over very early.
"It's not going to be easy, Rangers dominated the league, but I don't think it's impossible to catch Rangers next season, I think it's possible with a new manager and new players and attractive football.
"It must be attractive football, that's the most important thing, because I hope that fans will be back in the stadium and that will also motivate the players for the new season.
"Celtic are going to be a better team, I'm sure."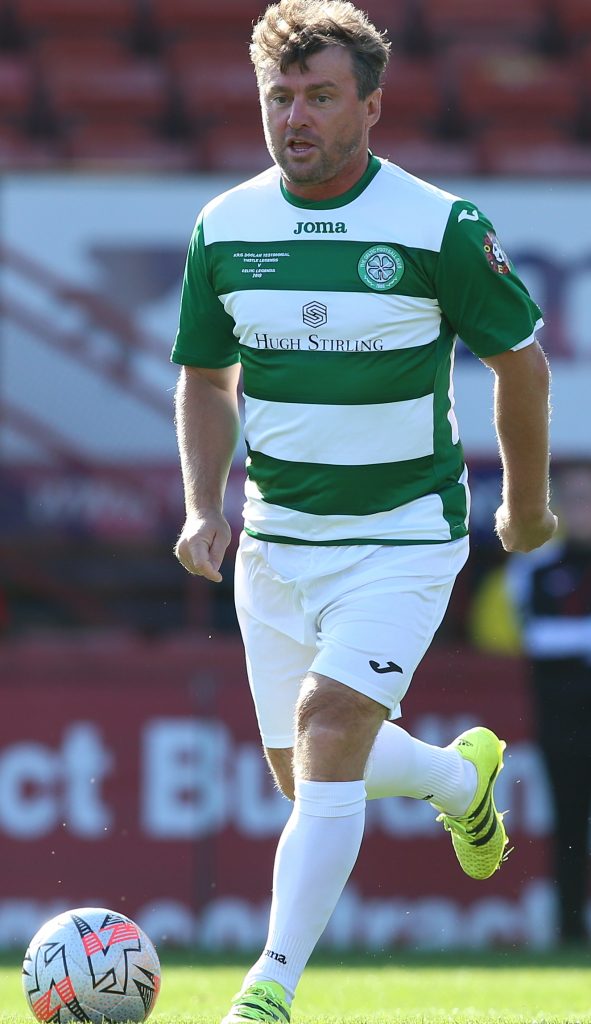 ACTION MAN…Lubomir Moravcik on the ball in a testimonial game in 2019.
Moravcik, speaking on the Celtic Huddle Podcast, added: "It's a big job for Celtic now to bring in new players and that transfers are the most important thing in football now. If you make mistakes, it is difficult.
"There's big competition for players now, especially against the English teams and big European teams.
"Maybe they should go to countries where football is not very rich and find the players there, but it's a difficult job, to be honest.
"You saw Slavia Prague this season in the Europa League, their players aren't too expensive, but they are very good.
"For example, a player like Lukas Provod. He played for a small club last season, moved to Slavia and made big, big progress.
"He's a very talented player, still young, good physically, has a good left foot. It would be very interesting to see a player like that. That is maybe the way to go.
"The Czech Republic, Slovakia, places like Austria or Hungary, there are a lot of players over there to watch.
"Ferencvaros this season played Champions League and there are a lot of good players in the former Yugoslavia, especially at Dinamo Zagreb who also played very well in the Europa League.
"That is maybe where you can look for these quality players."
Click Here for Comments >