STEVIE CHALMERS, the man who scored the most famous goal in Celtic history, passed away four years ago today at the age of 83.
It was the prolific Hoops striker, the club's all-time fifth top marksman with 236 strikes, who diverted in Bobby Murdoch's low left-wing cross for the European Cup winner against Inter Milan in Lisbon on the unforgettable Thursday evening of May 25 1967.
In his book, 'Lisbon Lions: The 40th Anniverary', published in 2007, author Alex Gordon talked at length to the Glaswegian who never gave anything less than 100 per cent for the club. Chalmers revealed all in a compelling chat.
Here is an extract from that interview in honour of a great Celtic in another CQN EXCLUSIVE.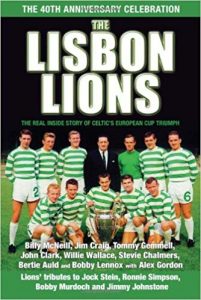 JOCK STEIN conned me rotten. I can never thank him enough for that! He was a master manipulator, that's for sure, and Celtic would never have won the European Cup without him.
He really shook things up when he arrived at Celtic Park in March, 1965. His eye for detail was simply amazing. He knew how to get the absolute best out of a player and I should know because he worked his psychology on me time after time. He would leave me out of the first team and take me aside to tell me: "Look, I know you should be playing. You are better than that mug who's in your position, but I've got to play him. You should be keeping him out of the side, but he's in and you're not and it's up to you to do something about it. Force me to play you."
What I didn't know was the fact Big Jock would be saying the same to the other players. If I was playing, he would grab Joe McBride or whoever and say: "You should be playing, you're better than that Chalmers." It worked a treat, too, didn't it? Everyone wanted into that first team and, even when you were dropped, you were geed up because The Boss thought you were better than the player in your position and you just had to work that wee bit harder to get your place back.
THE GOAL THAT CONQUERED EUROPE…Stevie Chalmers turns the ball past Inter Milan keeper Giuliano Sarti.
I must have done something right because I played in all nine games in our European Cup run in 1967 and that, for me, was fairly impressive.
I might be the guy who got the winning goal in Lisbon, but, believe me, being involved all the way through is something that meant so much.
Okay, how did I feel when I netted against Inter Milan with only five minutes to go? Exhausted! Cramp was coming on, but that evaporated as soon as that ball hit the back of the net.
Okay, it may not have been as spectacular as Big Tommy's effort, but, for me, it was special because it was part of a routine we worked on day in, day out at training at Barrowfield.
COUNTDOWN…Stevie Chalmers and Billy McNeill in training the day before the Lisbon encounter.
Big Jock would get myself, Joe McBride, Willie Wallace, Bobby Lennox and John Hughes to line up around the six-yard line and he would get Big Tommy, Bobby Murdoch, Bertie Auld, Jim Craig and Charlie Gallagher to hammer over crosses from the left and, after that, the right.
Then he would vary the routine with Big Tommy playing the ball back from the line to, say, Bobby to hit the ball diagionally across the face of the goal. He would then do the same on the right with Cairney laying the ball back for someone to hit a similar effort into the penalty box.
This would go on for hours until you knew off by heart where you were expected to be in the penalty box whenever a move was developing. It was no fluke, believe me, that I was standing where I was when Big Tommy pulled the ball back to Bobby to thump in his shot from the edge of the box.
People have said they thought Bobby's effort might have found the net without my help, but Bobby himself would tell anyone his shot was heading for a shy!
I simply sidefooted the ball past Giuliano Sarti, Inter's superb goalkeeper, and the European Cup was heading for the east end of Glasgow. You'll see pictures of Sarti appealing for offside – well, he would, wouldn't he? – but there was no way I was off. I was well onside when I got my touch to the ball.
Big Jock always hammered into us the importance of being aware of where you were in the opposition's box. He didn't want a move breaking down because of a lapse of concentration on anyone's part.
ACTION MAN…Stevie Chalmers in pursuit of another goal.
The whole European Cup run was one great adventure and, like I said, I was just delighted to have played in every single minute of every single game. Ronnie Simpson, Tommy Gemmell, Bobby Murdoch, Billy McNeill, John Clark and Jimmy Johnstone were the others who emulated that feat.
Obviously, scoring the most historic goal in Celtic's history is something I treasure, but I would like to think I also played my part in beating Vojvodina Novi Sad in the quarter-final. And I am not talking about my goal that made it 1-1 on aggregate and set up the grand finale for Big Billy to head in the last-minute winner.
Our skipper was accused of fouling their goalkeeper Ilija Pantelic, but I can now confess he didn't come close to touching him – because I did! It wasn't a foul, though, I hasten to add that. It was something that happened all the time in penalty boxes and I was blocked off a few times myself.
However, on this occasion, I took a wee step in front of the keeper as he left his line in order to cut out Charlie Gallagher's right-wing corner-kick.
PROUD CELT…Stevie Chalmers reminisces about the glory day in Lisbon.
It was only a half-yard or so, but it managed to put Pantelic off his stride. He couldn't get anywhere near the swirling ball and Big Billy, as he did so often, got his head to Charlie's cross to bullet an effort high into the net. Celtic Park erupted!
The Yugoslavs were pointing fingers at everyone. They shouted at the referee, but he was having none of it. The goal was good and he pointed to the centre circle.
These things happen in football. I got knocked around a few times and, of course, I will always remember our semi-final against Dukla Prague in Czechoslovakia. That was the one and only time I was banned from entering my own team's half of the field.
Big Jock laid it on the line: "Keep busy, Stevie. Let them know you're out there." I was never afraid to put myself about and, as I recall, a few players bumped into my elbows that afternoon! It's a man's game, after all.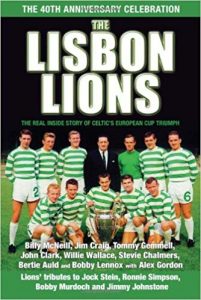 I just kept going for the entire 90 minutes and the Dukla back lot weren't pleased. It was one of the hardest shifts I ever put in, but we were 90 minutes away from the European Cup Final and if that doesn't give you momentum then nothing will.
After Lisbon, I came home to spend my bonus money. To be honest, I can't remember too much about my so-called spending spree. The wife, Sadie, would have got something, of course, and I probably spent the rest on things around the house.
Not exactly Flash Harry, eh? But winning the European Cup was not all about money. It was about football and putting Celtic's name on the European map. We managed that and, of course, Big Jock was smiling afterwards because we did it in the Celtic manner.
Ach, I suppose we weren't a bad side.
Click Here for Comments >