GORDON STRACHAN has admitted he is puzzled over Scott Brown's red card at Rugby Park on Sunday.
The Celtic skipper had just scored a 90th-minute winner against Kilmarnock and showed his obvious delight as he raced behind the goal.
Brown had been booked in the first-half for a challenge on Greg Taylor and was shown another yellow card by referee Bobby Madden when he returned to the pitch after his celebrations.
The 33-year-old had to make his way to the dressing room after being banished by Madden as the game went into five minutes of stoppage time.
But former Hoops boss Strachan is mystified at the action taken by the match official.
He said: "To be honest, I'm still trying to work out exactly what it is that Broony did wrong.
"I'm not sure about the exact wording of the rule, so maybe somebody out there will tell me differently. But I thought Scott stopped about three yards away from the crowd. I've seen that quite a lot in games and players haven't been booked for it.
"Was it his fault that the crowd then jumped out of the stand and came to him?
"Most of the bookings I've seen for celebrations like that have been for players who jump into the crowd or throw their shirts into the crowd and cause havoc.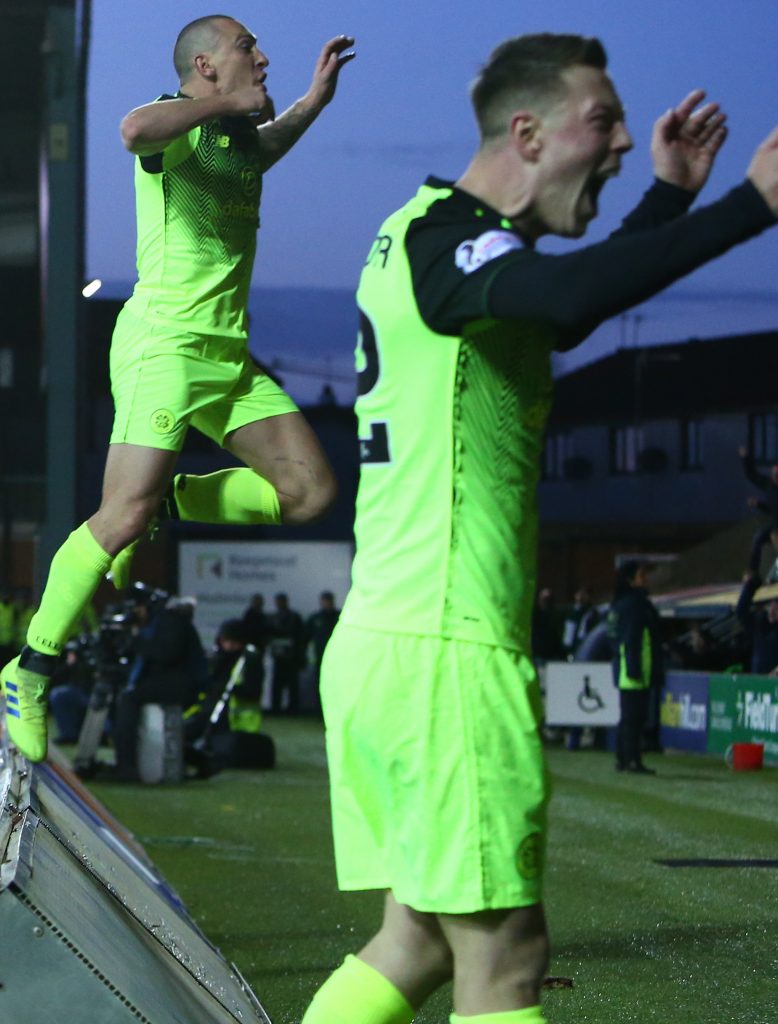 TAKE-OFF…Celtic skipper Scott Brown jumps over the hoarding to celebrate his late strike against Kilmarnock with team-mate Callum McGregor joining in.
"But he stopped three yards away and didn't throw his shirt in, so I don't see a problem with what he did.
"The problem was the crowd couldn't control themselves and that is a worry because it's important to remember that paramount consideration must go to the health and safety of younger and older fans who can be caught up in crowd surges.
"If the rule is that you can't jump over the hoardings then that's another matter.
"But what happens if the hoardings are 15 yards away like they are at Lazio, for example? You can jump over them and nobody gets booked for that.
"But when you are celebrating in front of your own fans and you have stopped three yards away from them? I honestly don't see the problem.
"There will be an amendment somewhere that we don't know about yet that will happen during the night. 'Oh wait a minute, if you look at it closely from this angle and study the video replays then you can see he's clearly broken the rules!' That seems to be the way it goes."
The former Scotland international manager added: "It's all gone a bit too far now when a player can't celebrate a winning goal in the last minute of such an important match.
"I might be wrong. There might be other examples of a booking like that when someone has stopped three yards from the crowd and got a yellow card for it. If there is then there can be no complaints, the argument is killed stone dead.
"But if you can't find an example of that there's an argument that Scott shouldn't have been sent off."
The Hoops' onfield leader, who missed a chunk of the campaign after an injury against Hibs in October, now faces a one-game ban as the champions chase their eighth successive Premiership crown.
Click Here for Comments >