WORLD Cup winner Rivaldo is the one that got away for Celtic manager Martin O'Neill.
The Hoops gaffer eyed the Brazilian superstar as a marquee replacement for Henrik Larsson when he quit for Barcelona in 2004.
Rivaldo was a free agent after leaving Italian giants AC Milan and there was a transfer stampede throughout Europe for the classy midfielder, with the Parkhead outfit among them.
It's history now that Rivaldo chose Olympiakos, but the samba wizard now admits his regret at missing out on the chance of playing in Britain and he said: "Perhaps that's the one thing I missed in my career."
SAMBA SUPERSTAR…Rivaldo.
Now 48, he reflected on the situation 16 years ago as Europe's top clubs battled for his signature before he accepted a lucrative deal with the Greek aces.
"Yep, I remember that Celtic were interested in me back then," Rivaldo told the Scottish Sun. "I do not remember if we ever met to discuss it. I think Celtic sent an offer, like many other clubs at that time.
"I had meetings at Manchester, London and Liverpool. Sir Alex Ferguson was interested as well as Tottenham. We even had a meeting with Daniel Levy and Liverpool, Gerard Houlier called me.
"We also had a meeting in Manchester with Bolton's president and their manager Sam Allardyce.
"I suppose there was no direct contact with Celtic. There was an offer, but it didn't go as far as the ones from Manchester United, Liverpool or Bolton."
Parkhead gaffer O'Neill offered Rivaldo the opportunity to win a deal by joining the club's pre-season tour of America – just five years after being named the world's best player.
The player's representatives were infuriated by the suggestion, with one branding the offer an "insult".
Rivaldo recalled: "Yep, some British clubs offered me a trial, Celtic and Bolton spring to mind.
"At the time it surprised me because I was in good form when I left AC Milan, so I did not understand their offer and the objective of it."
Rivaldo would have relished following fans' favourite Larsson and said: "Replacing one of the biggest players in the history of the club wouldn't have been easy, but I'm sure that I could have made my own story at Celtic if that was to be the case.
"After all, I had some good years between 2004 and 2007 at Olympiakos, scoring many goals and earning some important individual and collective titles."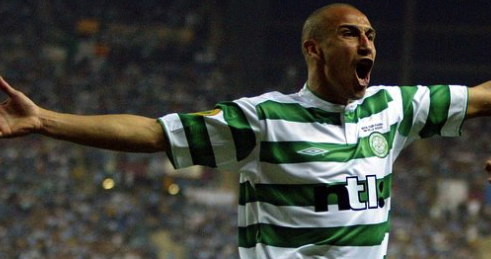 SWEDISH SUPERSTAR…Henrik Larsson.
Rivaldo played for Barcelona among 14 clubs throughout his spectacular career, taking him to countries such as Spain, Italy, Greece, Uzbekistan and Angola.
He added: "I am sure I would have enjoyed playing in Scotland or England.
"Yes, I think that an experience in Britain would have completed my career in Europe.
"Perhaps that's the one thing that I missed in my career."
O'Neill turned his attention to Rivaldo's countryman Juniho after missing out on his main target.
The tricky little winger was handed the iconic No.7 shirt after arriving on a free transfer from Middlesbrough, but the-then 32-year-old raider couldn't settle in Scottish football and left a year later.
He scored one goal in 22 appearances before returning to Brazil to play for Palmeiras.
Click Here for Comments >