HENRIK LARSSON was the headline act at Celtic for seven years with a spectacular haul of 242 goals for the club following his £650,000 'Bargain-of-the Century' move from Feyenoord in 1997.
However, Chris Sutton, his former Hoops team-mate and attack-leader for four years, revealed the Swedish superstar's finest quality was the fact he was so UNSELFISH.
Martin O'Neill assembled a three-pronged assault team in Larsson, Sutton and John Hartson, who joined in a £6million move from Coventry City in the summer of 2001.
AIR WE GO…Henrik Larsson's chipped effort bamboozles keeper Stefan Klos on its way into the net in the 6-2 landslide in August 2000.
The prolific combination of the Swede, Englishman and Welshman terrorised rival rearguards in their years together at Parkhead, including the unforgettable UEFA Cup run all the way to Seville in 2003.
Reflecting on his first meeting with Larsson, Sutton said: "I was aware of him, but the Swedes are a funny lot, they're kind of moody.
"But we were on the coach to Denmark for a game and I said to him: 'I'm here to help you, if I see you in a better position I will pass it to you'. And from that day on he was as good as gold.
"He was a phenomenal player, but the best thing about him was, well I always thought, was that he was so unselfish.
"He was a brilliant finisher, but also a great team player. He could've played in a number of positions and play them well. He had a great football brain.
"He was very individual in terms of his goalscoring numbers and he was the best. In terms of any strike partnership that I've had, he was the best.
"That's not a dig at Alan Shearer, but when I was at Blackburn with Shearer, that was when I was 20, by the time I was at Celtic I knew my game better."
SWEDE DREAMS…Henrik Larsson pounces with Stefan Klos and Scott Wilson struggling.
Sutton recalled Larsson's outrageous goal in the 6-2 win over Dick Advocaat's Ibrox visitors in August 2000 when he got free of the defence, slid the ball through the legs of Bert Konterman and then nonchalantly lifted the ball over the head of the bewildered Stefan Klos for one of the finest goals ever witnessed in the east end of Glasgow.
The one-time England international frontman, speaking in a past interview with Open Goal, continued: "It was 3-1 or 3-2, but Larsson scores his goal where he jinks past four of them and that's where he was just a cut above.
"You know how difficult it is with the ball running away from you and it's a big game, an enormous moment, and then you scoop it over the keeper?
"That's a ridiculous skill. You think you'd need to be an idiot or a genius to do that. There's nothing in between. And, you know, he could do that a lot.
"To have the audacity to do that was incredible."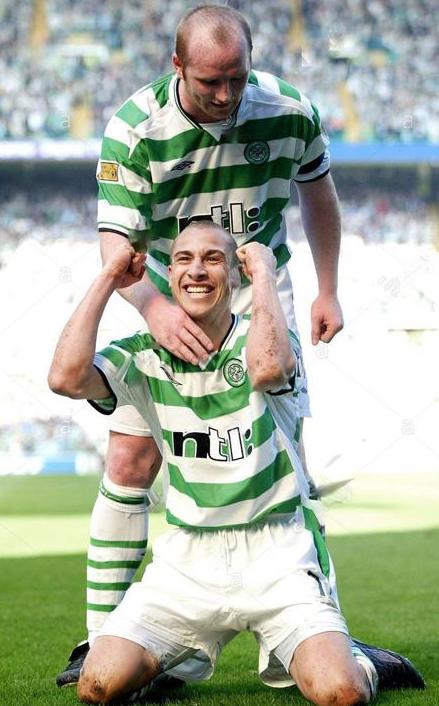 HAPPY DAYS…Henrik Larsson celebrates another goal with a little help from his strike partner John Hartson.
Looking back to the time Larsson finally bade farewell to the Hoops in 2004, Sutton added: "He done seven years in the end, but you're losing your biggest hitter, the guy who bails you out every week.
"We knew it was never going to be the same again and there was a sort of hollow feeling.
"But nobody could begrudge him that move. I always liked the fact that he shoved two fingers up to everybody who badmouthed the Scottish league. He scored goals at international level and at Champions League level and didn't really get the recognition for it.
"There was still a feeling of: 'Oh, it's Scottish football'.
"And then he went to Barcelona and won them the Champions League with his display in the Final against Arsenal and went to Manchester United when he was 'done' and the United fans loved him.
"He was brilliant for them and that was at the end of his career. Imagine if he had gone in his prime? How could you replace him?"
It was no easy task for anyone coming in to follow in the footsteps of the Swede, but the Celtic fans will be forever thankful for the day Wim Jansen and Davie Hay conjured up one of the best buys – if not THE best – in Celtic history.
Click Here for Comments >