ANTHONY STOKES hopes new Celtic boss Brendan Rodgers teams him up with Leigh Griffiths in the forthcoming season.
The Republic of Ireland international striker completed his loan spell at Hibs in fine style by scoring two goals in their 3-2 Scottish Cup Final triumph at Hampden at the weekend.
Stokes insisted: "I have said since day one that I wanted to go back. I would love to play alongside Griff. The first season that Leigh and I played together we scored a barrowload. He came in for five or six months and he is someone I really respect as a footballer.
"He is one of the best finishers I have ever played with and I think we have showed already that we can link up well when we are out there together. He scored 40 goals this season – we could do a fair bit of damage with two of us up there.
"I think, over two or three seasons if I am playing regularly, then I will score 20 or above. If you are a striker at Celtic then that is the standard you should be at. If you are going to play regularly then you have to score at least 20 goals over the course of the season and I would always fancy myself to do that.
Stokes, who still has a year to run on his present contract, has never met Rodgers but believes that the new Celtic manager's reputation precedes him.
He said: "I haven't spoken to the club, but, to be fair, they knew where I was with a few big games on the horizon for me at Hibs and I would hope that over the course of this coming week that I might have some sort of correspondence from them.
"I haven't worked with Brendan or met him. I haven't crossed paths with him in my career at all, but I obviously know of him and I have to say that I thought it was a really great appointment from Celtic.
"He has a great reputation from playing attractive football and setting his stall out to go and win games.
"One of the reasons I wanted to go out on loan was to get fit, play games and be as sharp as I possibly could be. I feel that I am there now and, hopefully, if I get the chance to go back then I will get the opportunity to show that.
"It is a blank canvas for everyone when a new manager comes in and it is a chance to go and stake a claim for a place in the team. I would love to be a part of it."
——————————
Get a FREE copy of THE WINDS OF CHANGE when you order Charlie Gallagher's new biography, Charlie Gallagher? What a Player! from
CQNBookstore.com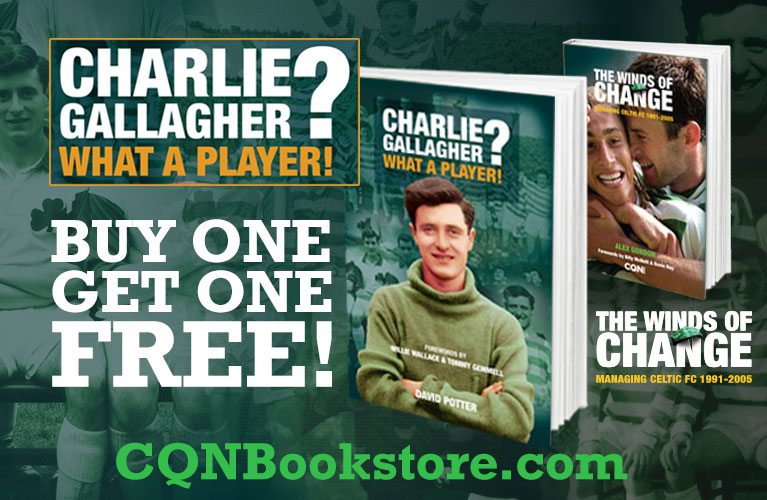 Click Here for Comments >