HENRIK LARSSON bade a tearful and emotional final farewell to Paradise on this date on May 16 2004.
The player known as 'The Magnificent Seven' to his adoring fans marked his last game in the east end of Glasgow with a double in a 2-1 triumph over Dundee United at a packed Parkhead.
The Swede was in tears as the 58,364 supporters remained in place long after the final whistle had sounded on the victory over the Tannadice club.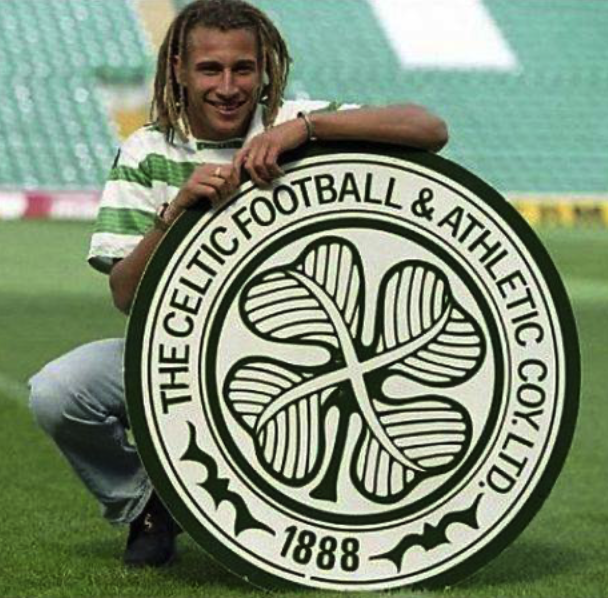 WELCOME TO CELTIC…Henrik Larsson on the day he signed on July 25 1997 in a £650,000 switch from Feyenoord.
It was a moving and heart-rending afternoon in the east end of Glasgow and boss Martin O'Neill summed it up best when he stated: "He says it has been a privilege being here, but the privilege is all ours."
Larsson's goals against United took his total for the season to 39, bringing the overall figure for the club to a phenomenal 240. The ice-cool exterior of the Swede dissolved amid the raucous and sustained applause from the club's followers.
A passionate Larsson said: "I am going to miss all of this. But, as I have said many times, it is time for me to go."
HAIL, HAIL AND FAREWELL…Henrik Larsson celebrates one of his last goals at Parkhead in his double salvo against Dundee United on May 16 2004.
However, he wasn't about to depart without a word of praise for O'Neill. He added: "My whole career here has been brilliant. We have had our ups and downs, but the last four years have been tremendous.
"It has been fantastic and, once the gaffer arrived, things started to go forward and happen.
"It has been a pleasure to be at a club like this. The fans have been tremendous and it is great to have been part of something so special like this. I want to thank you all."
A week later, in the Scottish Cup Final against Dunfermline across the city at Hampden, Larsson bowed out in his customary spectacular style.
Larsson's parting gift, after seven years at the club, was a two-goal salvo as Celtic lifted the silverware for the 32nd time. The Hoops won 3-1  in front of 50,846 fans. The fairy tale was complete as the Fifers were beaten 3-1 and the glorious Glasgow sunshine embellished the moment.
THE FINAL SAY…legendary Henrik Larsson displays his joy after his two goals helped Celtic beat Dunfermline to win the Scottish Cup in his last game for the club on May 22 2004.
In typical fashion, the extraordinarily-gifted Larsson signed off with: "Winning this Cup Final means everything. I didn't want to leave as a loser. It was great to get the two goals to end a fantastic seven years here.
"I never dreamt this could happen when I signed."
The Swede always had a fine sense of timing.
Click Here for Comments >