STEVEN PRESSLEY has told Neil Lennon he should act quickly if he wants to follow up his initial interest in Carlisle United defender Jarrad Branthwaite.
The former Celtic centre-back was manager of the struggling English League Two outfit when he handed the 17-year-old prospect his debut last year before the champions were alerted to the player's qualities, as CQN reported two months ago.
And Pressley believes Branthwaite would get the opportunity to show his skills at the eight-in-a-row champions.
He said: "Neil Lennon has thrown Jeremie Frimpong into the Celtic team and he has flourished, and I think Jarrad would blossom, too, if he goes somewhere with a manager who will give him a chance like that."
Branthwaite has made breathtaking progress at Brunton Park and Pressley, who was sacked as the club's boss in October, isn't surprised  at the interest generated in the youngster he believes will go all the way and become an England international.
Carlisle are looking for something in the region of £800,000 for the 6ft-plus back-four operator after knocking back a bid of £500,000 from Everton at the weekend.
Pressley, speaking to the Evening Times, said: "Since leaving Carlisle, I've had numerous phone calls about him from English Premier League and Championship clubs.
"He is on the radar of so many clubs down south, so it's no surprise to me that Celtic and Rangers would be looking at him, too.
"I haven't heard from either side of the Old Firm yet, but if you are asking me if I think they should act quickly to get him during this window, then I would say absolutely.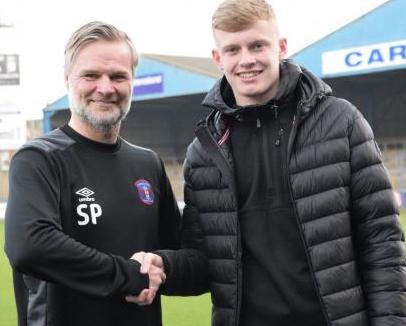 SHAKE ON IT…ex-boss Steven Pressley welcomes Jarrad Branthwaite to Carlisle.
"Some people might baulk at the transfer fee it would take to get him, and, yes, you might not ideally want to pay that kind of money for a 17-year-old. But, trust me, it's the best investment they could make.
"The model on both sides of the Old Firm just now is to identify young talent that will help them in the short term and make them money in the long term, and Jarrad is exactly the type of player they should be looking at.
"Whatever they pay for him just now, they will make TWENTY times that down the line. He's that good.
"He's got everything you need to be a top defender. He's six foot four, he's quick, and he can absolutely play. You wouldn't know what foot is his preferred one, really, because he's so comfortable on the ball.
"For me, he is a future England internationalist. No question about it. That's how highly I rate him. He'll go to the very top of the game."
Pressley, who started his career at Ibrox before switching to Coventry City before Gordon Strachan took him to Parkhead, praised the maturity of the teenager and added: "I first saw him playing in a youth match. He was a midfielder at that time, but was filling in at centre-back. Straight away, I could see that he really had something, and that he was a fantastic prospect.
"I moved him up to training with the first-team as a defender, and he took to it straight away. He threw himself into it and was always eager to learn.
"He's a fantastic kid with a great family, so he is really grounded and humble and is focused on becoming the best player he can be. He adapted to it with no problems whatsoever.
"He was young, but I was so sure of him even at that age that I started to bleed him into the starting 11.
SMASH-HIT…Jeremie Frimpong has been a sensation since his breakthrough.
"I played him in the EFL Cup to begin with and, to be fair, he made a couple of mistakes in those early games, but he didn't let it affect him and soon he was showing everyone just how good he was.
"So, in terms of his temperament, he has such a good head on his shoulders. Nothing has fazed him yet. He took going into that first-team environment with no problems and even when we were playing big games live on the television in the FA Cup, for example, he was never affected by it.
"So, while playing for either side of the Old Firm would be a step up again, I have no doubts at all about his ability to handle it
The physical challenge of playing in Scotland would present no problems to Branthwaite either according to Pressley, having seamlessly handled the rough and tumble of life in League Two.
"Even at 17, there is no way he will be bullied," he said. "He can handle the physical side of the game no problem at all.
"It's a bit of a myth that the Scottish game is over-physical anyway. The game in England is much more physical in terms of the size of the players and the way that the game is played, and especially so in League Two. But it was never an issue for him, he would always fight his corner.
"As I said, his all-round game is so good that it is difficult to pick out many flaws, if any. If I was at either Celtic or Rangers, it would be a no-brainer for me to go and sign this kid."
Click Here for Comments >